Posted on
By Michaela Keller-Miller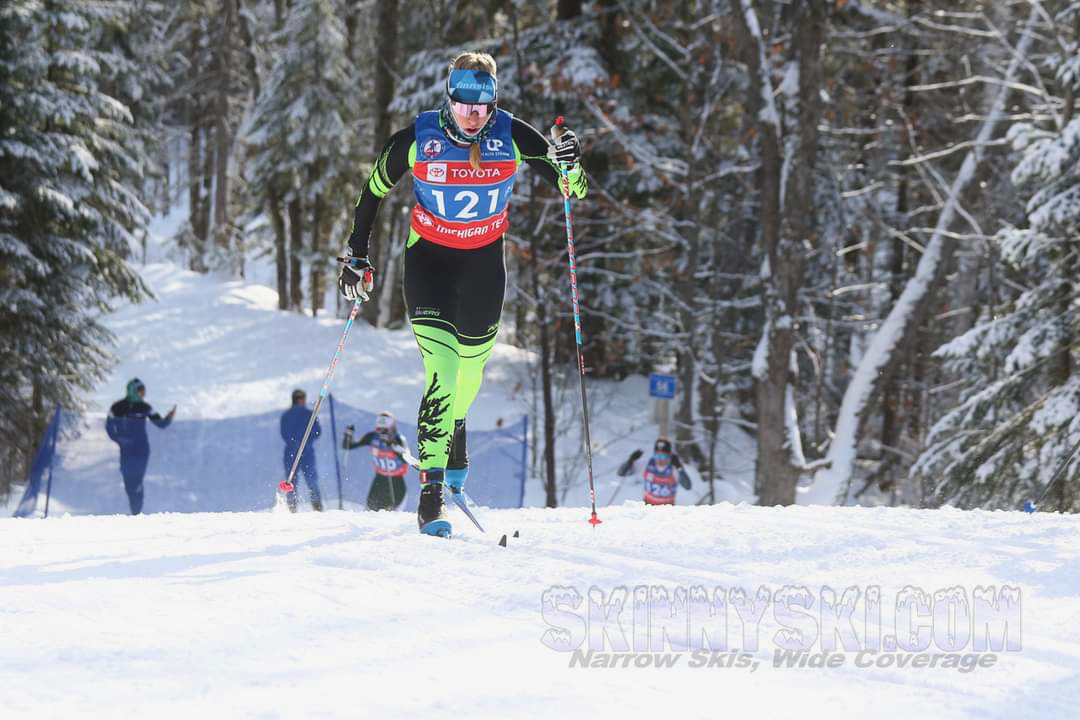 The start of February marks the halfway point of the US SuperTour season. A lot has happened since I checked in after the packed Period I racing schedule in early December; the winter has continued full steam ahead with Eastern Cup racing in Lake Placid, New York, Christmas at home in Minnesota, US Nationals, and the Seeley Hills Classic SuperTours in January.
After a tough Period I in Silver Star and Sun Valley, I opted to hop in both a 10-kilometer classic and 5-kilometer skate pursuit race in Lake Placid, New York. These were a part of the New England Nordic Ski Association's (NENSA) Eastern Cup race series. Simply put, my goal for these races was to find speed. This meant digging deep and taking advantage of skiing relatively short-distance races at sea level. I felt I successfully accomplished this goal, so I was happy with the weekend. Pursuit races are always fun, as they bring back fond memories of the Minnesota State meet, though I wonder how we used to race back-to-back 5k's on the same day.
I spent the rest of December catching up with friends and family in Minnesota, complete with intervals at Wirth, a Christmas ski at Baker Park, and a long ski on the Birkie trail. From there, I headed to Houghton, Michigan for US Nationals. US Nationals is always an important set of races for World Cup selection as well as a good jumping off point for the rest of the season. After an effective tune-up in Lake Placid, I felt ready and hopeful for a week of personal best results.
Unfortunately, an ill-timed cold a few days before the first race had me questioning whether I should start the 10-kilometer interval start skate, one of my favorite race formats. I was disappointed, but ready to sit it out if that meant feeling better for the rest of the week. I'm adamant that racing (or training, for that matter) sick is almost never a good idea; the possibility of a mediocre sick race isn't worth the risk of prolonging a cold for weeks… or longer.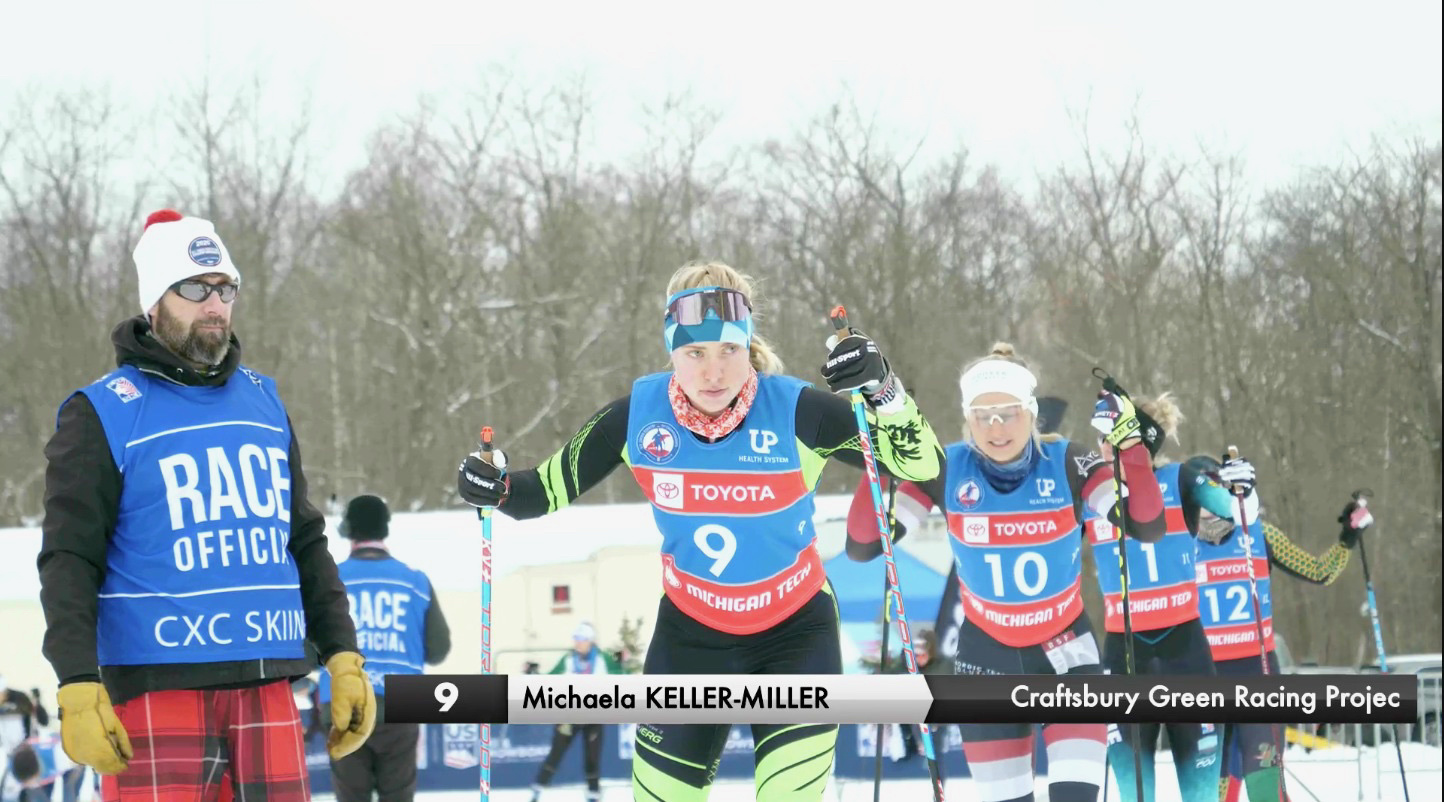 At the start of the 10-kilometer skate race at US Nats.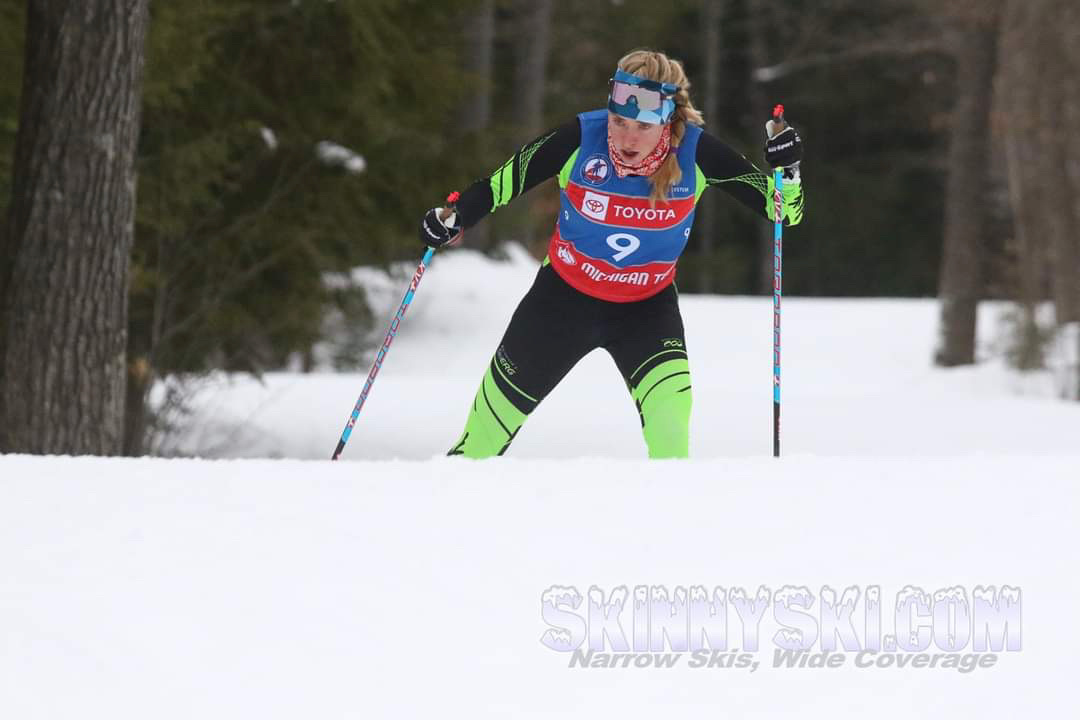 Powering up one of the climbs in the 10km skate. Credit: Skinnyski.com/Bruce Adelsman.
Luckily, the cold ended up being very mild and I made the 7am game-day decision to race. Nonetheless, I had to reel in my expectations and be happy with just getting to toe the line. I came away with a strong effort and was proud of how I pushed the up hills, which was all I could've asked for given the circumstances. Moreover, the cold didn't return in full force, so I felt validated in my decision to trust that my body was well enough to race.
The week continued with a classic sprint; I just barely eked into the heats, qualifying in the 29th position. My quarterfinal heat started out hot, and I spent the race hanging on and feeling a lot less chill than in the qualifier. Failing to advance further to the semifinal, I turned my focus to the classic mass start. I got off to a bit of a slow start, struggling to jockey for a position in the tracks and falling back into the field of skiers. The course was four laps of a five-kilometer loop, and I worked my way up throughout the race, feeling better as I progressed and ending the day in 24th place. For feeling a little off at the start, I surprised myself by feeling better by the last lap and even wishing there was another lap or two to keep moving up!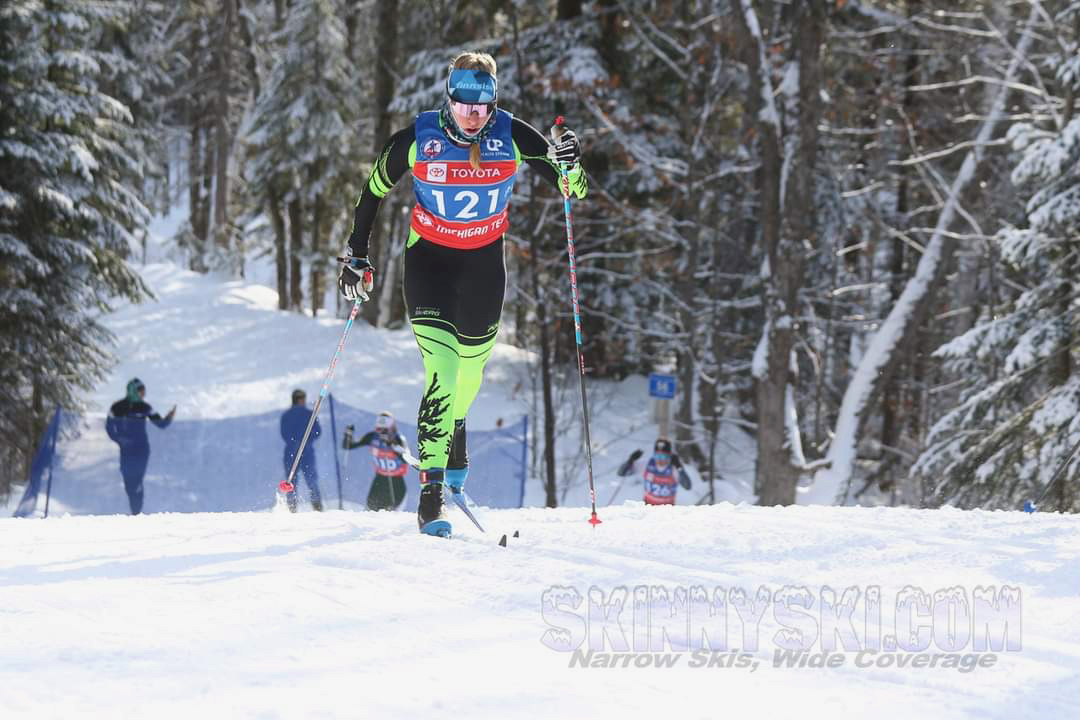 Moving up in the classic 20km race at Nationals. Credit: Skinnyski.com/Bruce Adelsman.
Capping off the week was a skate sprint. Tired by this point in the week, I did my best to go all in one last time. Qualifying for the heats in the 23rd position, I moved through to the quarterfinals. My quarterfinal heat was hard but, as always in a sprint, over quickly. I ended the day in 22nd following the heats. While I didn't have any phenomenal results at Nationals, I was grateful that I was able to put forward four strong efforts, despite a little sickness leading into the week. I also enjoyed seeing the tangible progress from where I was just four years ago; at US Nationals in 2019, I had never qualified for Senior sprint heats (or even Junior heats) and now I can consistently make it through to the quarterfinals.
In reflecting with other athletes after the week was done, we all agreed that this was one of the strongest and deepest fields of US women that we've seen. The future does indeed look bright for US women's skiing. Although not everyone came away with the results they wanted, I'd be hard-pressed to find a harder working group.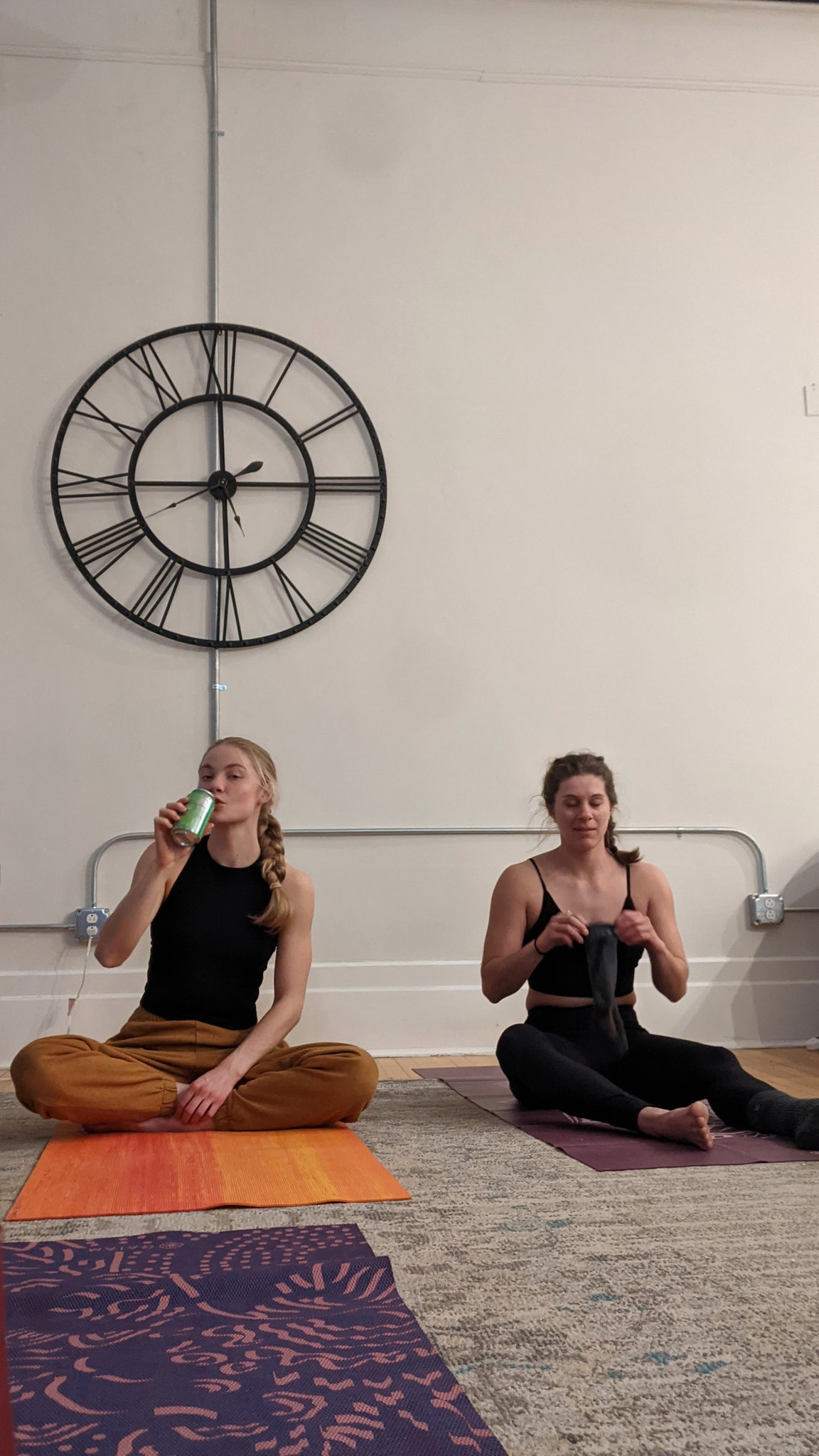 Getting into Youtube yoga classes for recovery in between the races.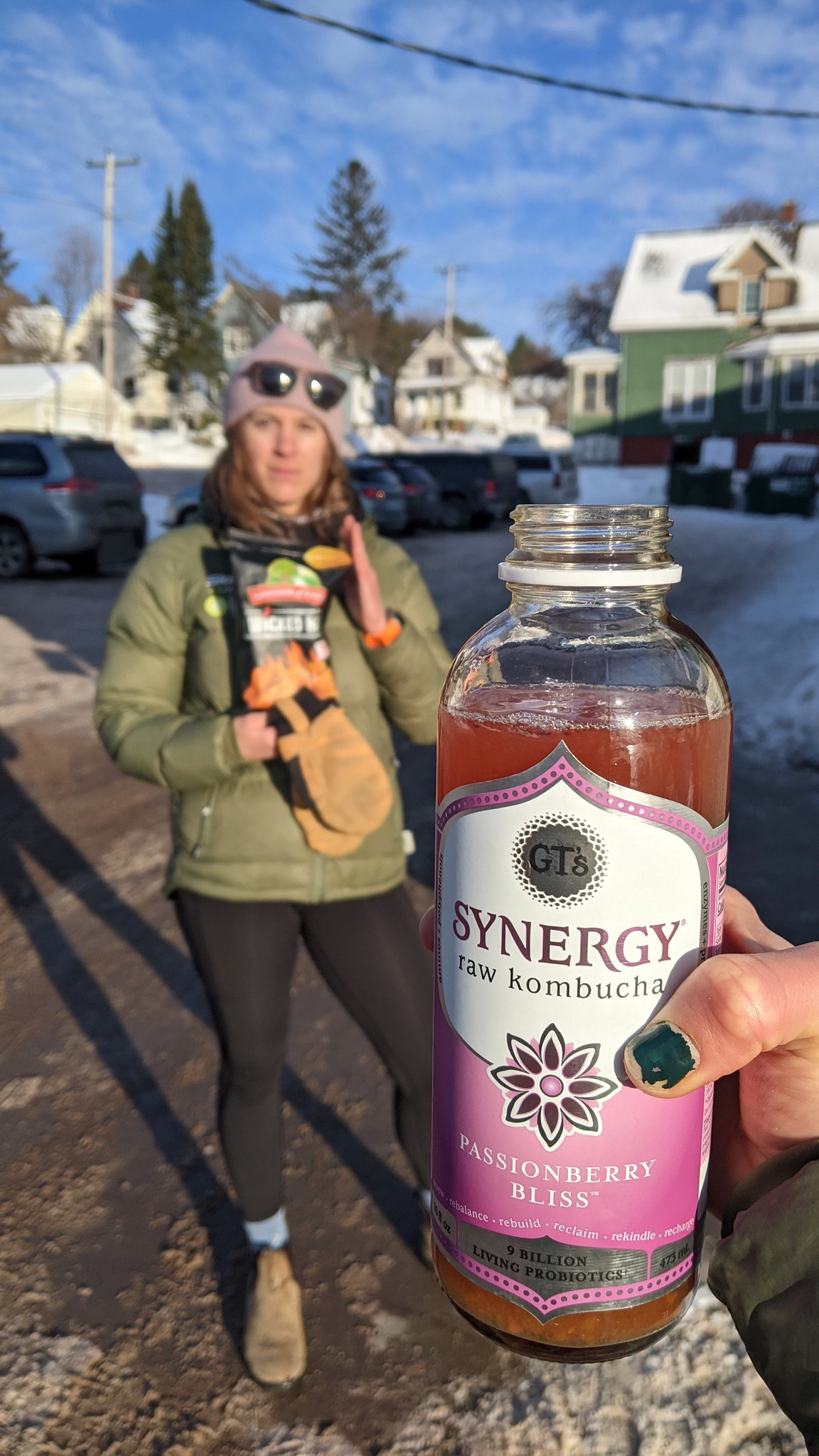 Chips, chocolate, and testing out a new kombucha flavor after the races.
From Houghton, the SuperTour moved to Cable, Wisconsin for the 32-kilometer Seeley Hills classic race and a classic sprint. The fields for these races were significantly smaller than at US Nationals, which took some pressure off. Not wanting to make the same mistake twice, I made sure to get off the line more quickly in the 32-km classic than I did in the classic mass start at Nationals. The race started out at a relatively chill pace and began to break up at seven kilometers or so. I ended up sitting in fourth for most of the race, trying not to bleed time as I broke the wind through 20 kilometers of rolling terrain on the way back to the finish at OO, ultimately finishing fourth. My former college teammate and roommate at the University of Alaska Anchorage, Hannah Rudd, took her first SuperTour win, which was a long time coming and so well-deserved.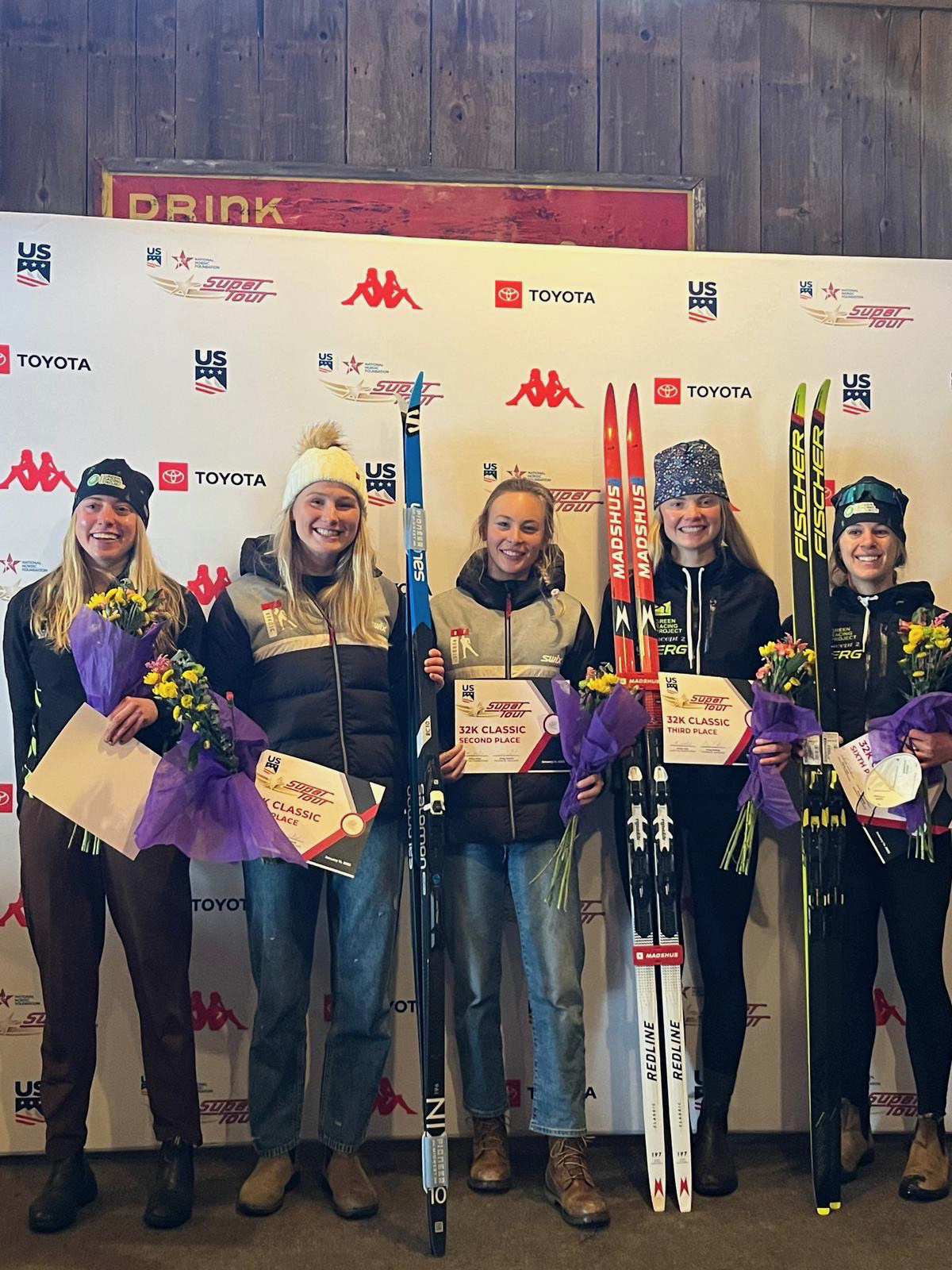 The podium for the 32-kilometer SuperTour race at Seeley Hills Classic.
With everyone feeling fatigued the following day, we finished off Period II of the SuperTour with a classic sprint on a hilly course at the Birkie start in Cable. The small field of racers posed an opportunity to practice moving through the heats. Comfortably moving on to the semifinals, I got to ski in a semifinal with my Green Racing Project teammate Margie Freed. Margie finished first in our semi, and I followed in second, allowing us both to qualify for the final heat. I had a lot of fun mixing it up in the final, working from behind and sitting in striking position before a couple of pileups altered the finish trajectory. Unluckily for me, I got caught in the second pileup as another skier fell into my track right before the turn into the finish. Not giving up, I waited until I could free myself from the tangle and fought hard to regain the fourth finishing position. Luck in a sprint race can be a gamble, so there's value to staying calm in the chaos.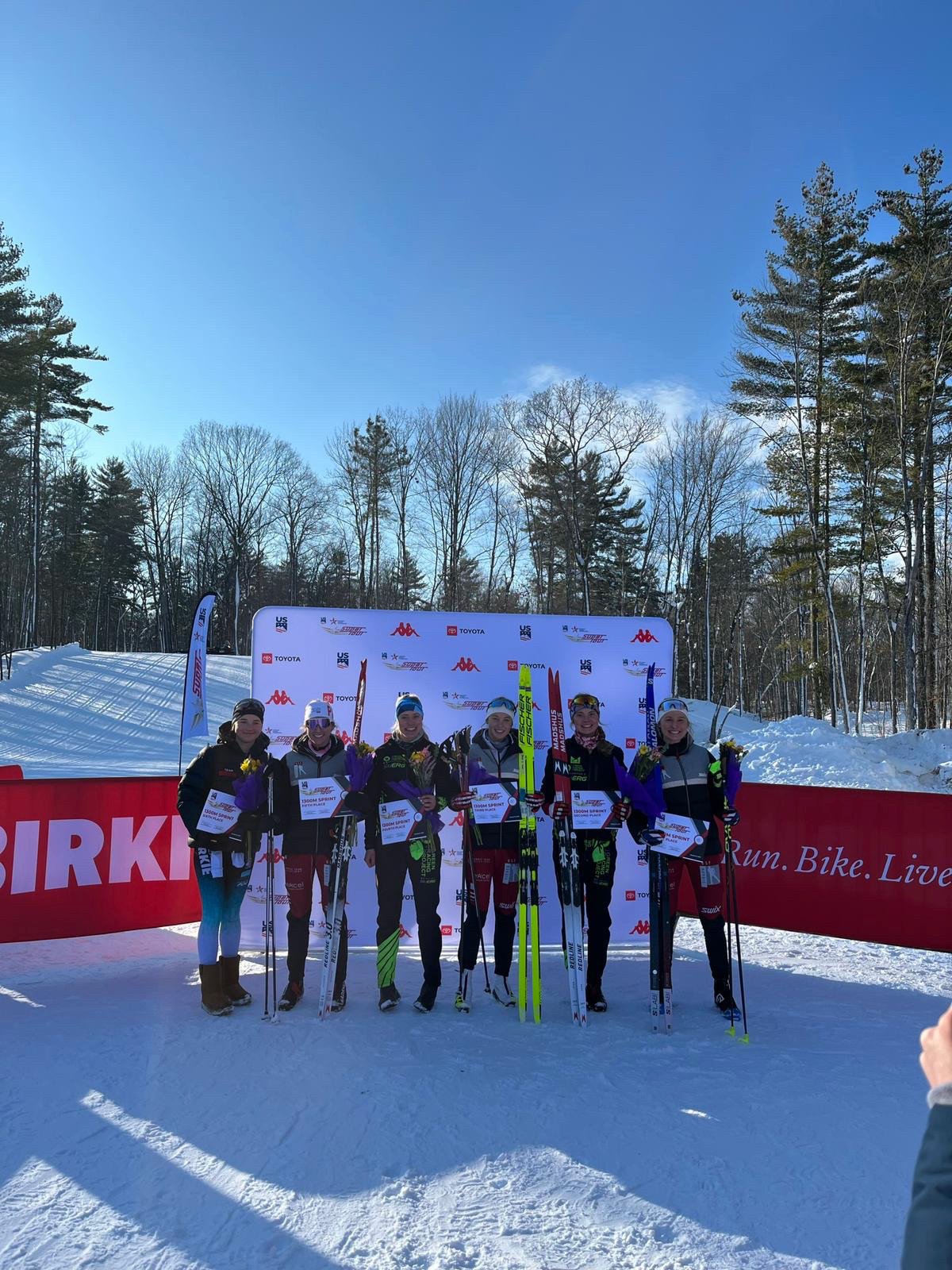 The podium at the Seeley Hills classic sprint.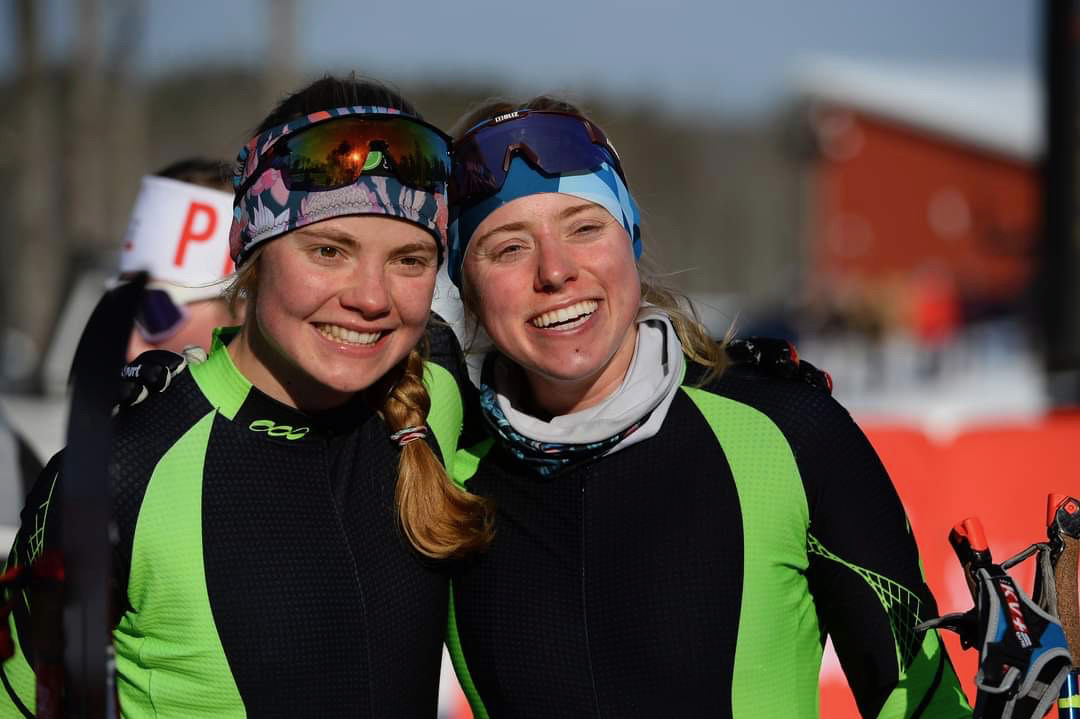 With my GRP teammate, Margie Freed, after the classic sprint final.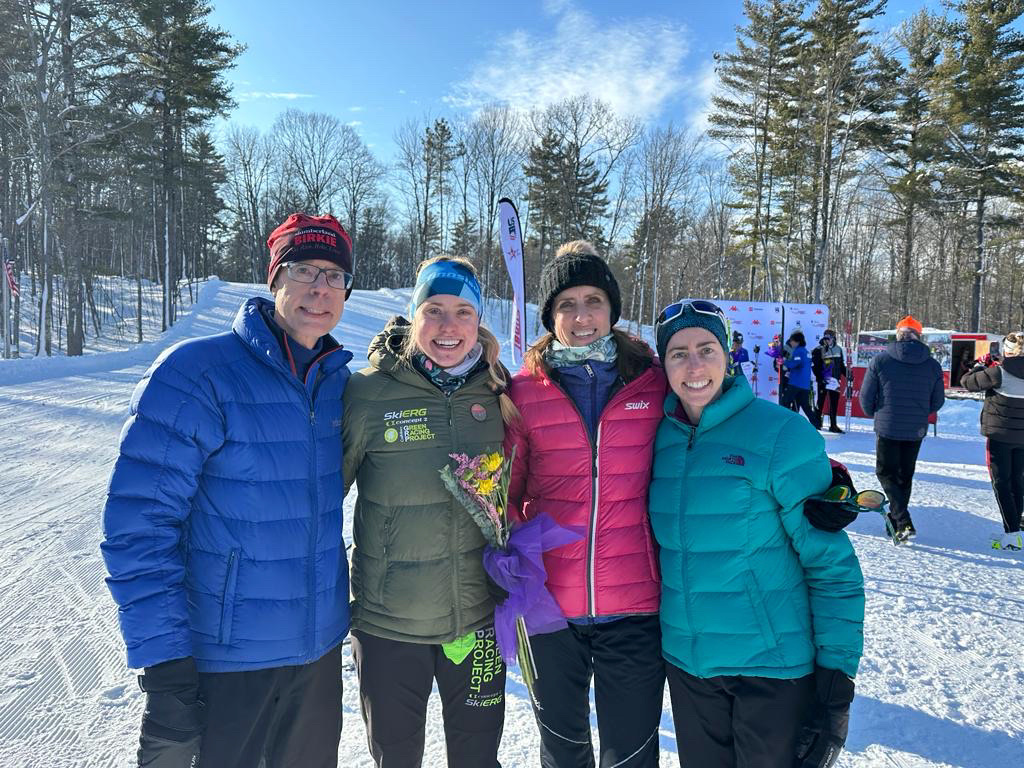 My parents and my sister Kathryn came out to cheer on sprint day!
Although I would have loved to qualify for an international race in January, I ended up back home in Craftsbury, Vermont to pack in more training. Our return to Craftsbury was perfectly timed to align with a series of snowstorms, making for some sweet skiing. This past weekend, I skied the 28-kilometer skate Craftsbury Marathon, which was a great way to enjoy all the new snow. I worked with my teammate, Annika Landis, trading leads and skiing wire to wire together. Annika edged me out by 0.3 seconds in the end for the win, surging up the finish hill that we'd covered so many times in past interval sessions.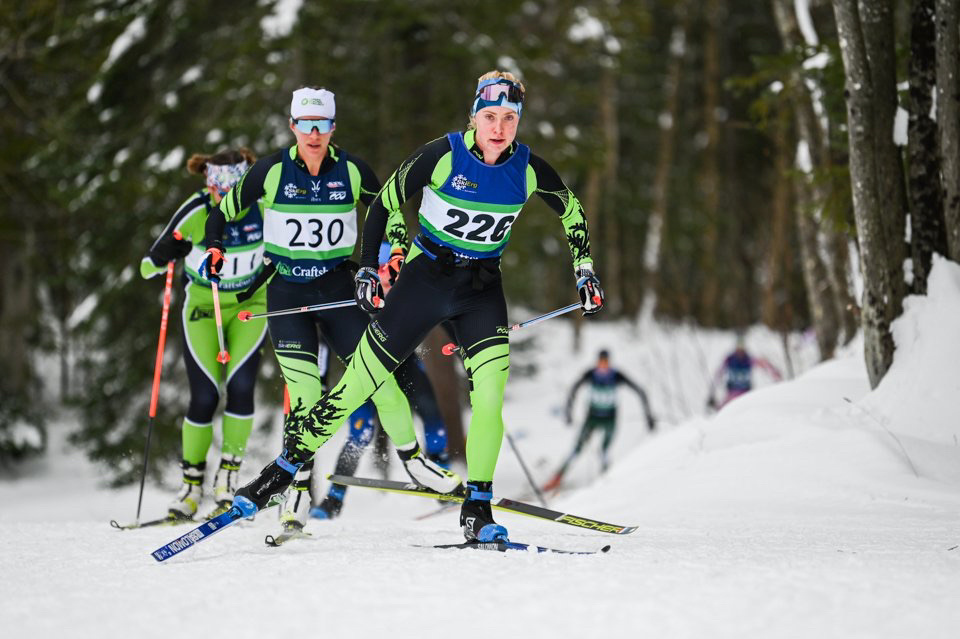 Working together with my teammate, Annika Landis, in the Craftsbury Marathon. Credit: John Lazenby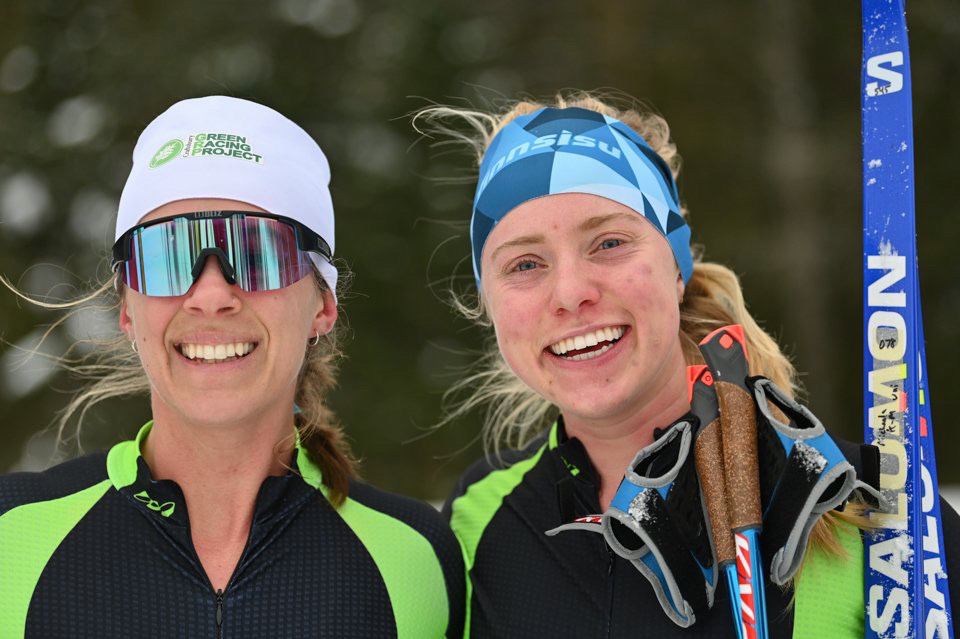 Annika and me after the Craftsbury Marathon. Credit: John Lazenby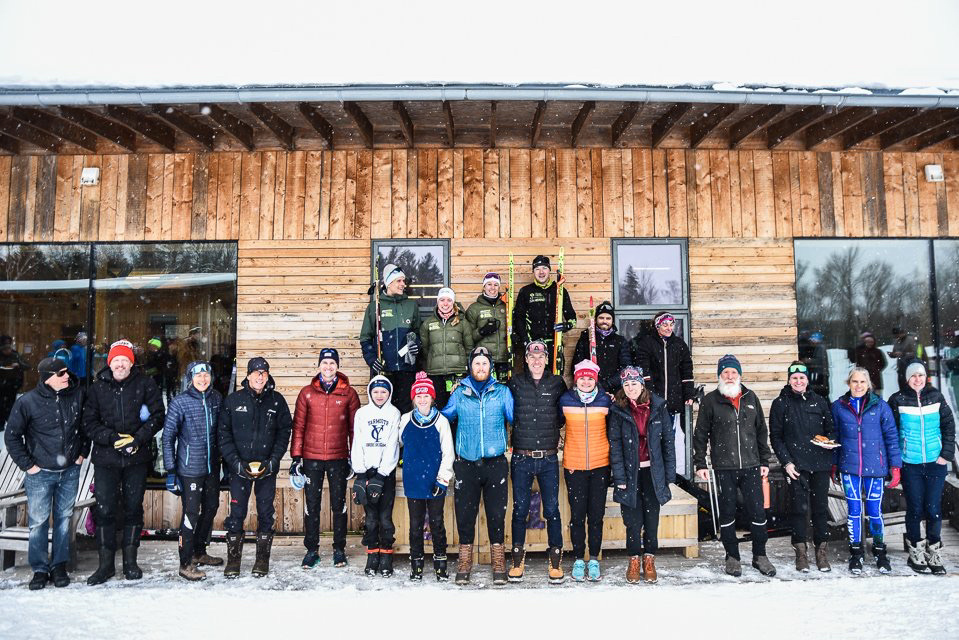 The podium and age group winners for Sunday's 28-kilometer skate race. Credit: John Lazenby
Looking forward, I'm planning on skiing two more Eastern Cups in Maine this weekend to prime the speed for the upcoming SuperTours at Theodore Wirth Park in Minneapolis and the Birkie. I'm super excited to race at Wirth, as it'll my first time racing there since competing for Wayzata back in high school in 2016. I'm also pumped to try my hand at the Birkie again; I'm certainly hoping I learned my lesson about adequately fueling to avoid another epic bonk. I'm not sure I've quite forgotten the feeling of dragging myself through the final 20 kilometers with no gas in the tank; nonetheless, I'm ready to try again. Until then, I'll be enjoying the winter wonderland at the Craftsbury Outdoor Center.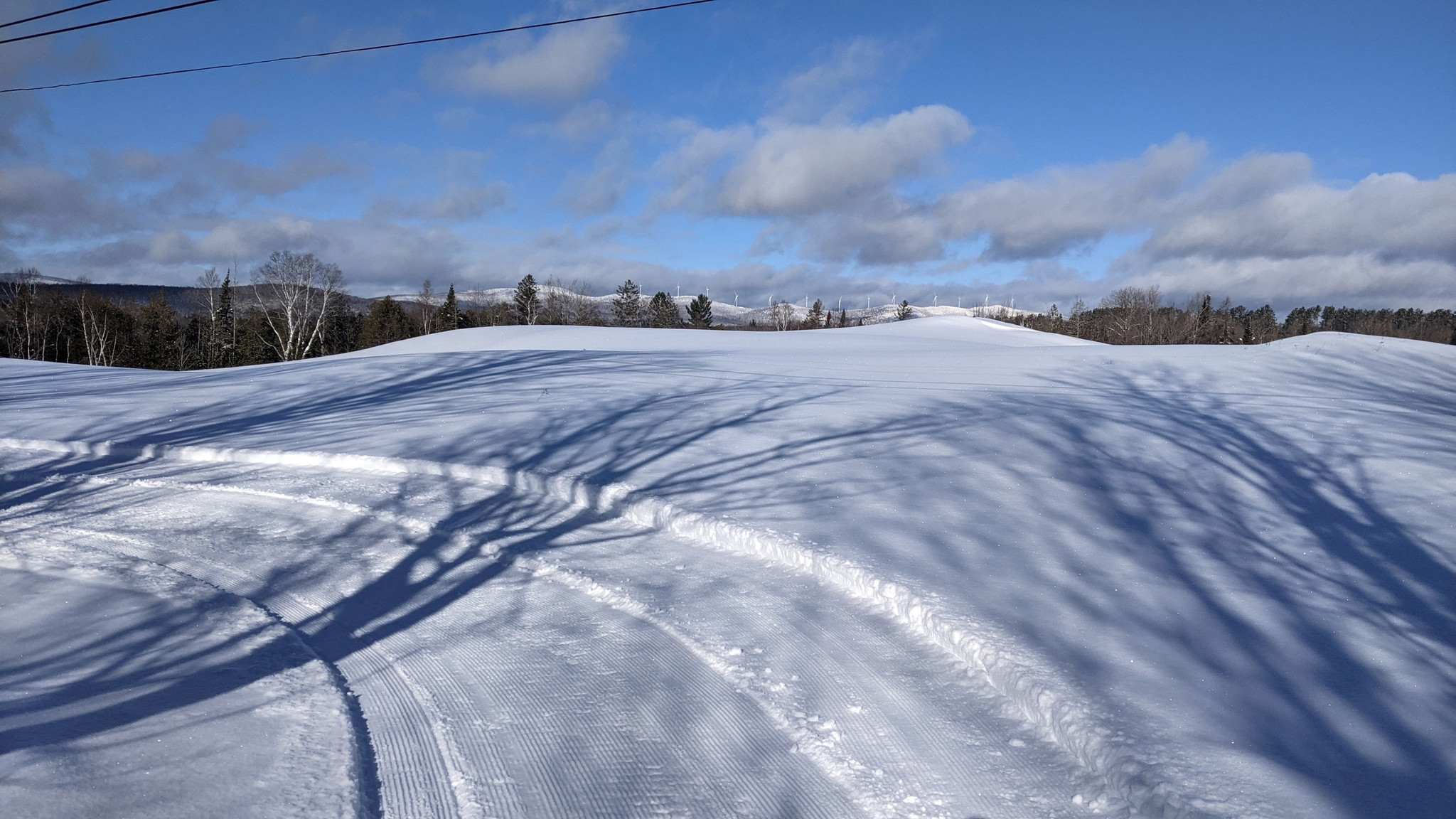 Taking advantage of the fresh snow in Craftsbury, Vermont.