Summer Training, plus On-Snow Skiing in Oberhof, Germany
As the summer heat melds into crisper days, the nearing ski season increasingly drifts to the forefront of many skiers' minds. Summer distance adventures and sweaty interval sessions lay the groundwork for fall training and the inevitably approaching snow. This summer my Craftsbury Green Racing Project teammates and I had our fair share of both, making use of the surrounding hilly terrain and the rollerski loop at the Craftsbury Outdoor Center. In early September, my team and I headed to Oberhof, Germany to reap the benefits of off-season snow skiing in an indoor ski tunnel. Both have been valuable preparations for this winter and a welcome contrast from my previous summer of exclusively stationary training.
To take full advantage of being able to rollerski this summer, I placed an early emphasis on refining my technique. While the training itself is undoubtedly important, improving fitness can only go so far without addressing technical inefficiencies. The cool, albeit frustrating, part about skiing is that there's always a way to become more efficient. I've been working a lot on finding ways to keep my momentum moving forward; specifically, I've been thinking about driving with my hips when the poles come up and keeping both my hips and shoulders high when the poles come down. This applies to many techniques, but I've found it to be especially helpful for skate V2 and classic double pole.
Video feedback, whether taken by a training partner or coach, is especially helpful when dialing in technique. My coach, Pepa, takes ample video most sessions so that we can review and compare amongst teammates to see what we're doing well and what could be tweaked. It's a lot easier to visualize the improvements I'm trying to make when I can see the difference between how I typically ski and how I want to ski. I've also found that being able to articulate what I'm working on makes it easier to translate these ideas into actual technique changes. Discussing technique with a friend and taking video of one another to review is a great first step toward improving ski efficiency.
Classic striding can be especially tricky to nail on rollerskis, as the ratchets make it easier to "cheat" good technique and shuffle easily up hills with the hips back. A good way to combat this is to practice no-pole striding on rollerskis. This means striding the flats, uphills, and even as much of the downhills as possible without poles. When no-pole striding, it's crucial to drive with the knee and to rotate the hip over the striding ski, fully balancing over the striding ski before initiating the kick and transferring back to the other ski. It's easy to stay stuck in the middle while striding; focusing on rotating fully over each ski does wonders for lengthening the stride and covering more ground with each stride.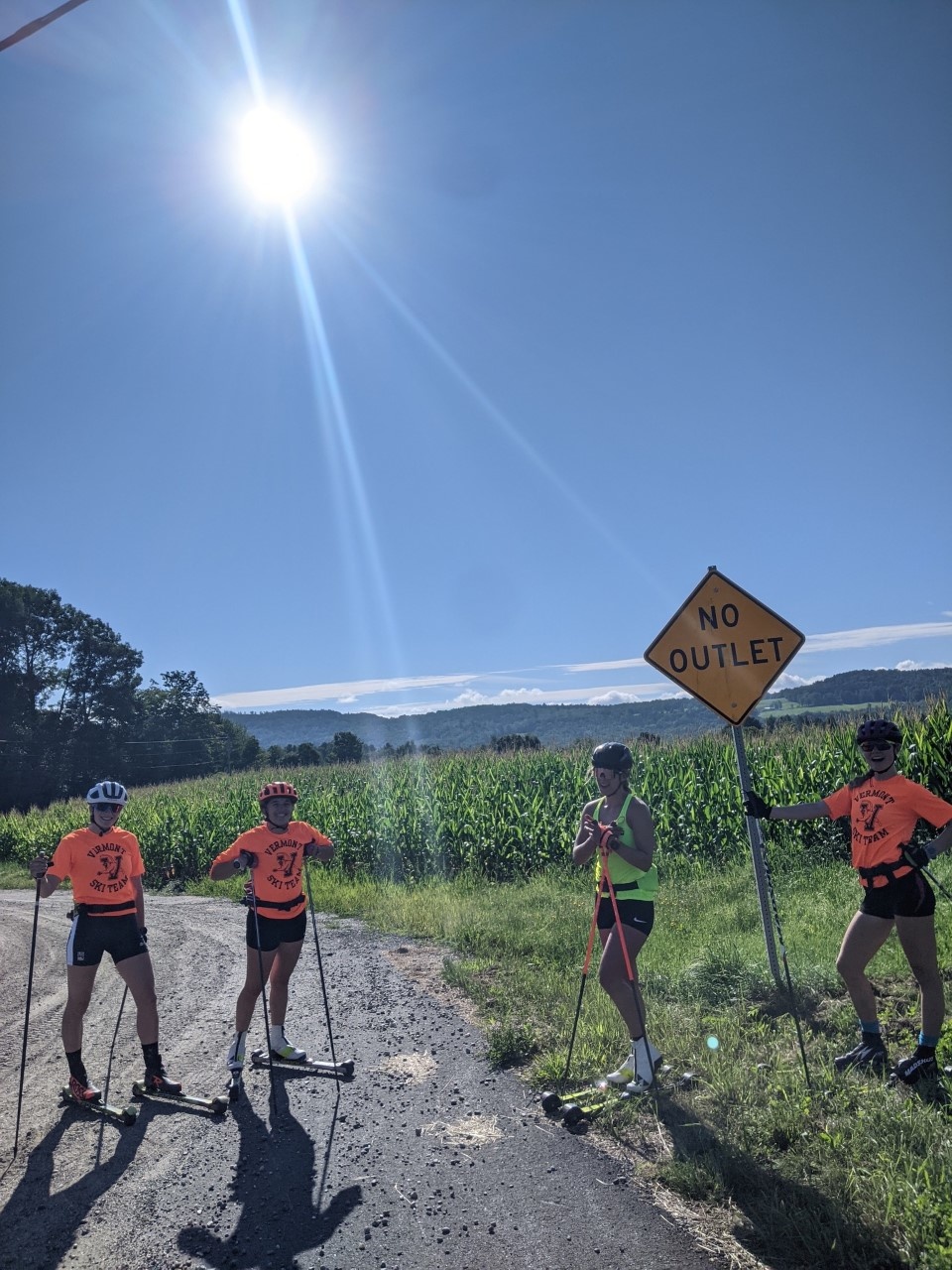 Some of the GRP women and our U23 summer training partners taking in the Vermont scenery.
In addition to focusing on technique this summer, I've been enjoying more "normal" modes of summer training. It's been refreshing to run more, both on the trails and for interval sessions. The GRP and I ran the Race to the Top of Vermont at the end of August, which is a 4.3-mile all-uphill race up Mount Mansfield in Stowe, Vermont. It was fun to be able to push a little harder at the end of a big training block and to get in a good workout at the same time.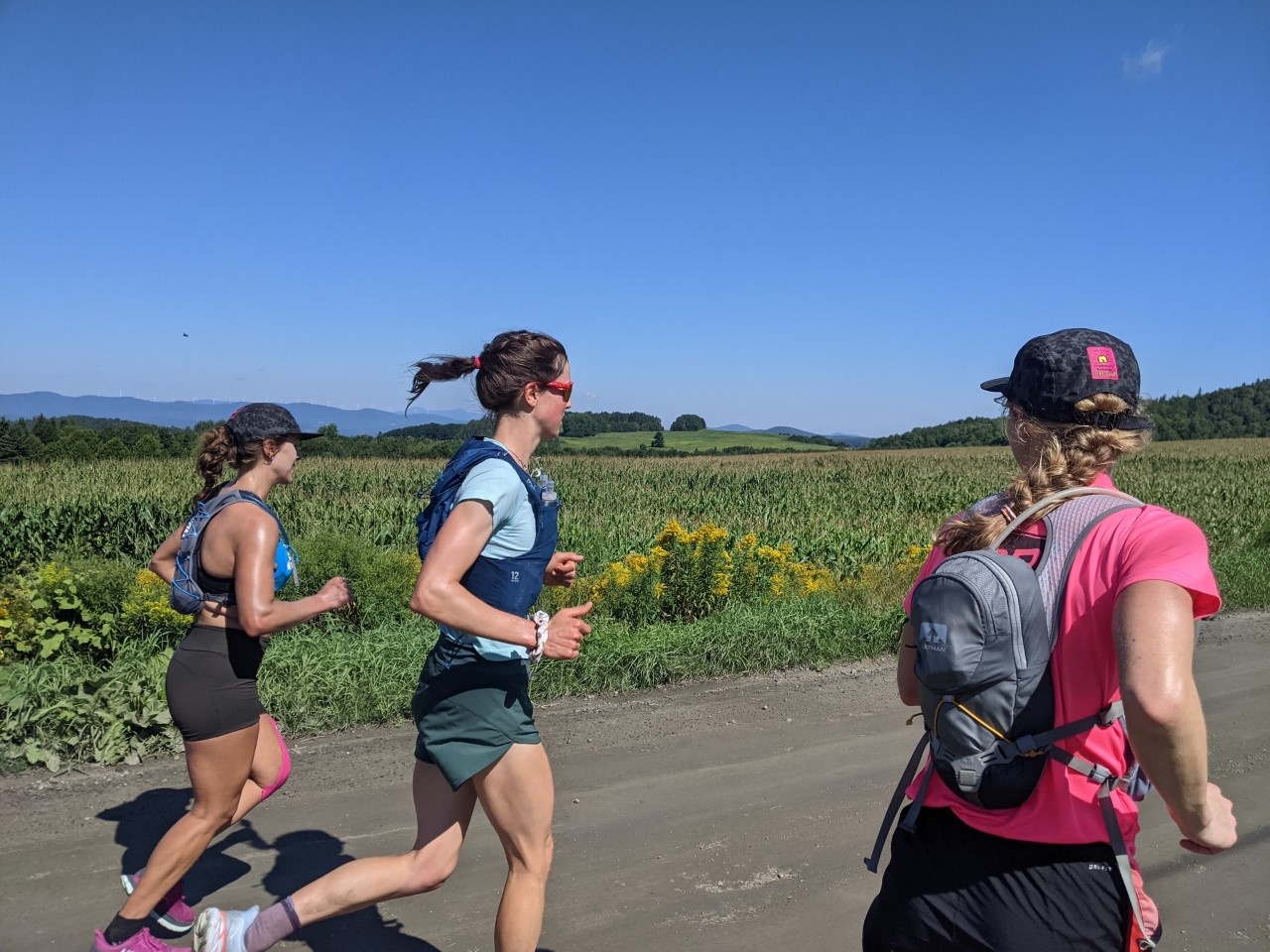 Enjoying the Craftsbury views midway through an 18.5-mile run.
I also made it home to Minnesota for a couple short trips in July and had the chance to hop into the Shoreline Sprints in Rice Lake, Wisconsin. Out There Nordic did an awesome job hosting the two-race series and it was sweet to see Finn Sisu there as well with matched Marwe rollerskis for the racers. The first event of the weekend was a 15-kilometer classic race on hilly terrain. The late-morning start on a sunny Wisconsin highway made for borderline sweltering conditions, so I knew I wanted to keep the pace as conservative as possible for much of the race. For most of the race I skied with two of my former Loppet Nordic Racing teammates, Ingrid and Amanda, before surging into the final climb. The effort was enough to come away with the win, which was a nice confidence boost midway through summer training.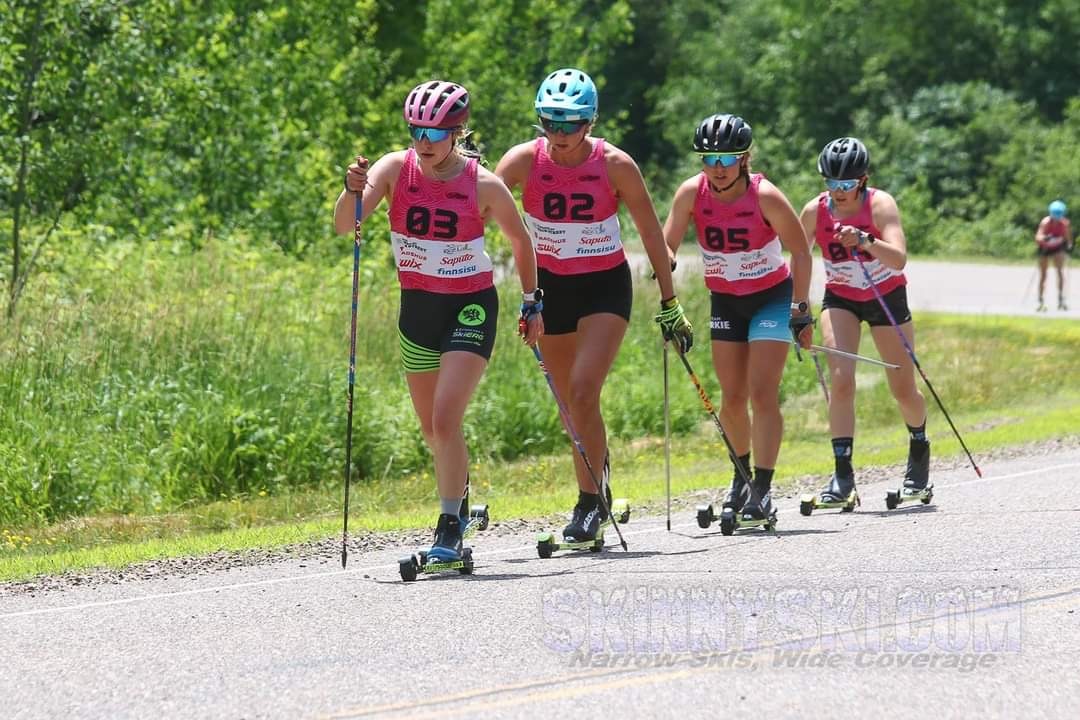 Working together at the beginning of the 15-kilometer classic race. Credit: Bruce Adelsman/Skinnyski.com
The following day consisted of a skate sprint, complete with a qualifier and heats, along the shore of Rice Lake. Since the course followed the lake, there was little to no elevation gain. Nonetheless, the qualifier was a good opportunity to push hard from the start and to work on flat, fast skiing. The qualifier went well, and I was happy to take the top spot. The heats were perfect for testing out different tactics, as this was something I knew I needed to practice after last ski season.
The quarterfinals and semifinals went smoothly, and I was able to try drafting for a bit before picking up the pace and skiing harder to the finish. In the final heat I opted to practice being patient by hanging back at the beginning to save energy. I ended up farther back in the draft line than I would've liked and ultimately waited too long to make a move. On the final turn I finally moved to the outside of the draft but didn't quite have enough speed to make up the ground. Ingrid, who was skiing strong all weekend, edged out a well-deserved victory that day. It was great to test out different strategies in a summer race when the stakes are lower. Seeing what worked well and gleaning ideas for what I could do better will be invaluable come winter.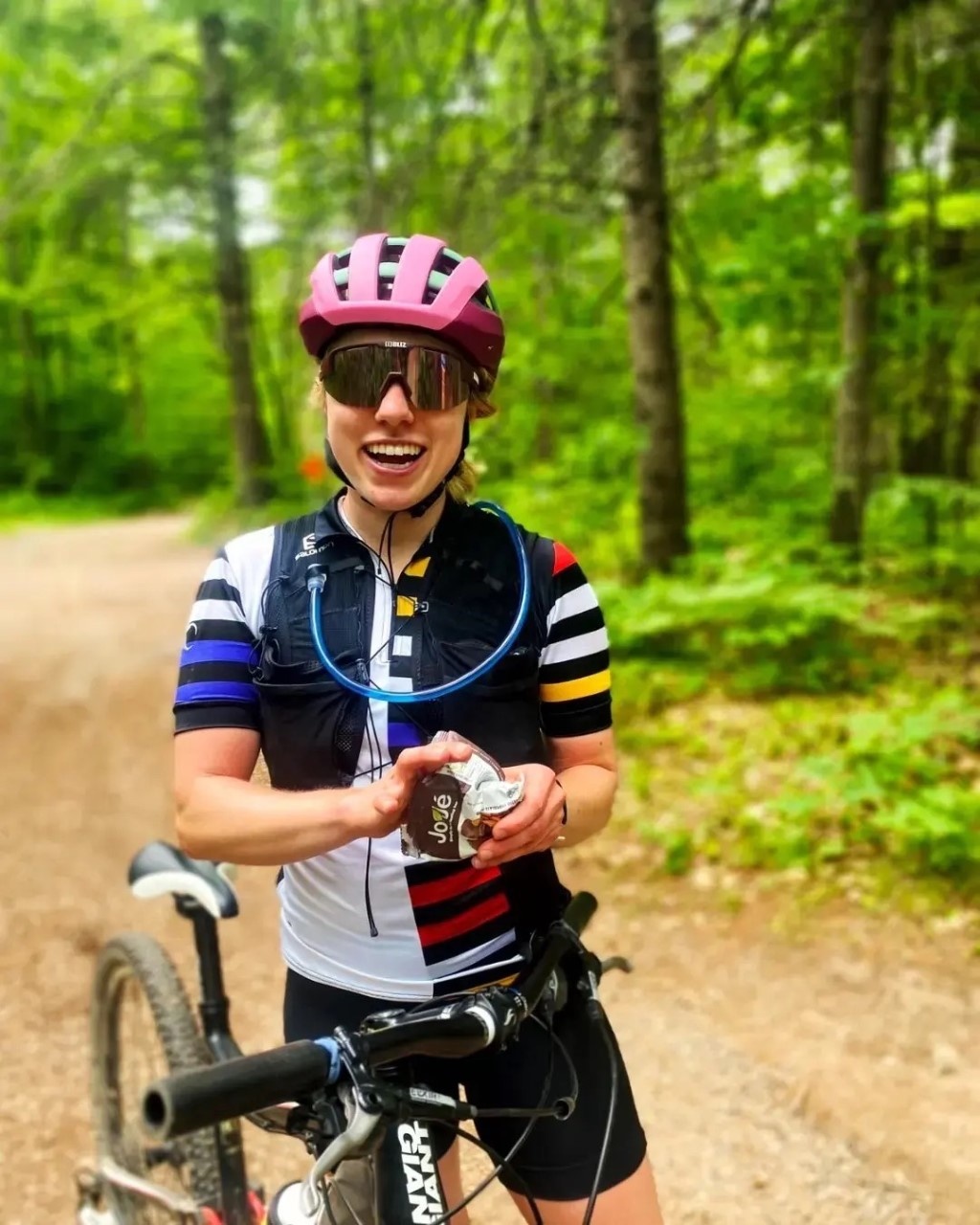 Enjoying the endless mountain biking in Hayward, Wisconsin.
Later in July, I again travelled back to Minnesota briefly and hosted a rollerski clinic with Finn Sisu. A fun opportunity to share what I've learned over my ski racing career, we worked on technique and agility and went on a short distance ski afterward. We're hoping to put on another clinic in the early winter, so stay tuned!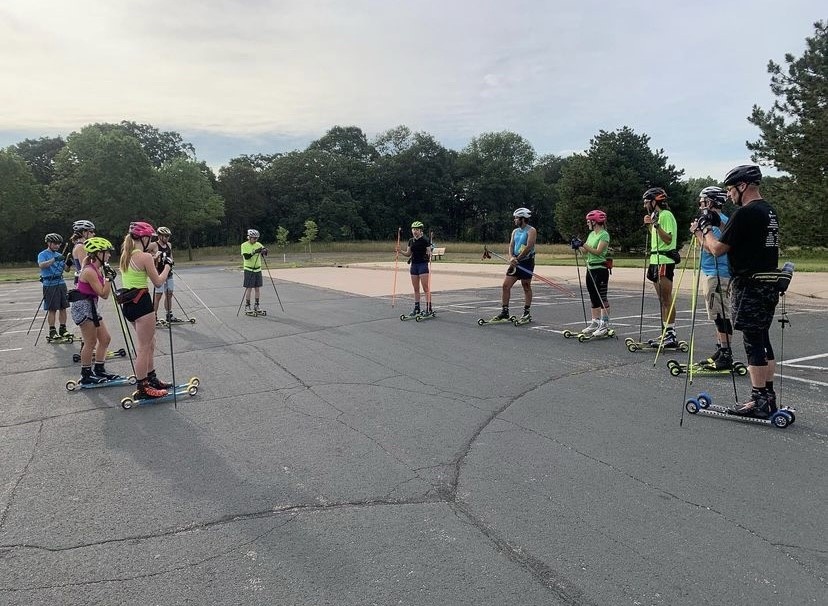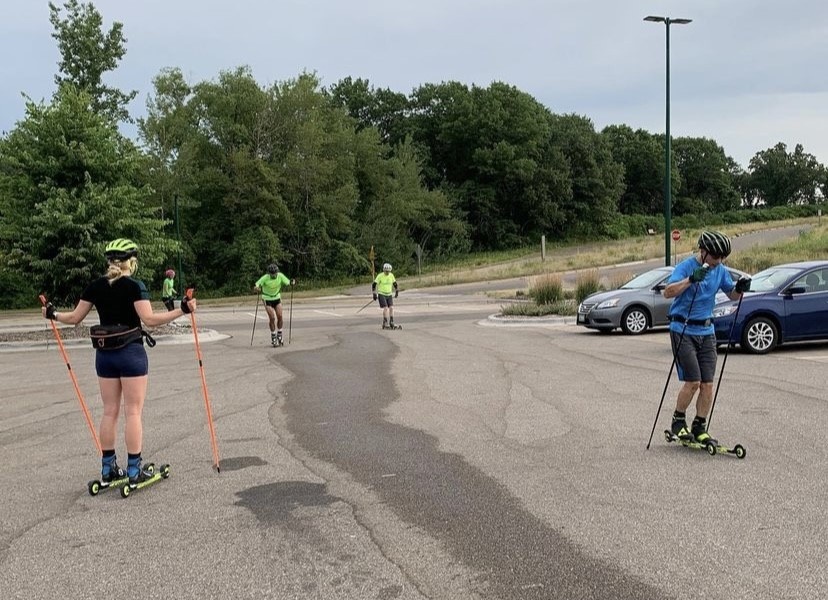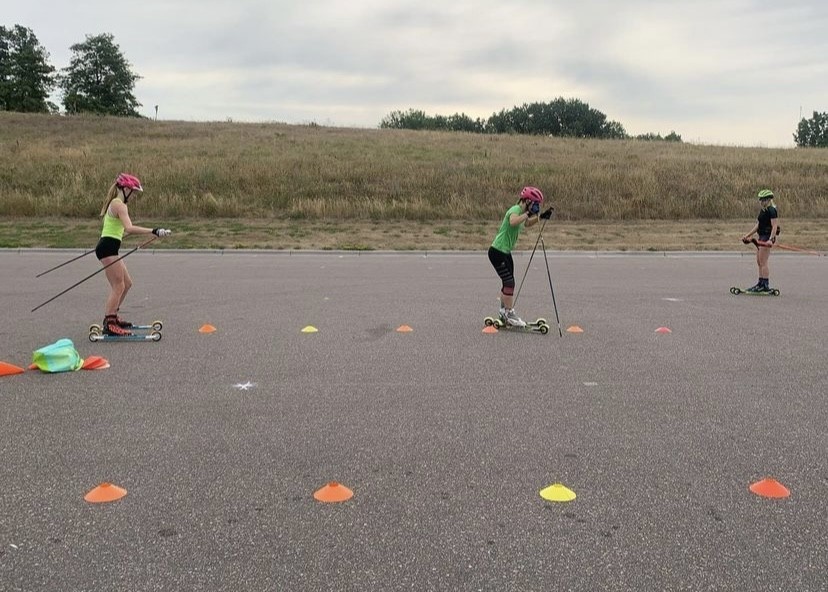 Highlights from the Finn Sisu clinic at Long Lake Regional Park in New Brighton, MN.
The summer training took a brief hiatus following my return to Craftsbury, as my pandemic-era Covid-free streak came to an end. There's never a great time to get sick, although this period ended up being the impetus I needed to finally take time to relax and recover after a busy July of travelling, training, and working. Once I was feeling better, I put in a big three-week volume block before heading to Oberhof, Germany for an on-snow camp in the ski tunnel.
This was the second consecutive year the GRP skiers and I made the trek to Oberhof to seek out on-snow training. This year, we were joined by our biathlon teammates for a week of the camp, which helped to pass the time on the just over 1-kilometer of tunnel trails. Our main goal for the snow camp was to dial in technique on snow and at speed. Contrary to what one may think, the skiing in the tunnel can be rather difficult, as there are hills, and the snow oftentimes becomes choppy. While not my favorite conditions to ski, learning to ski relaxed and how to float through mushy snow is vital, as I can't control when these conditions show up for a winter race. Much of what I mentioned working on earlier this summer came into play in the tunnel, as I continued focusing on keeping high hips and driving forward. I also focused on quieting the upper body by not letting the shoulders dip or rotate (while poling in skate techniques), which in turn forces the hips back and counteracts forward momentum.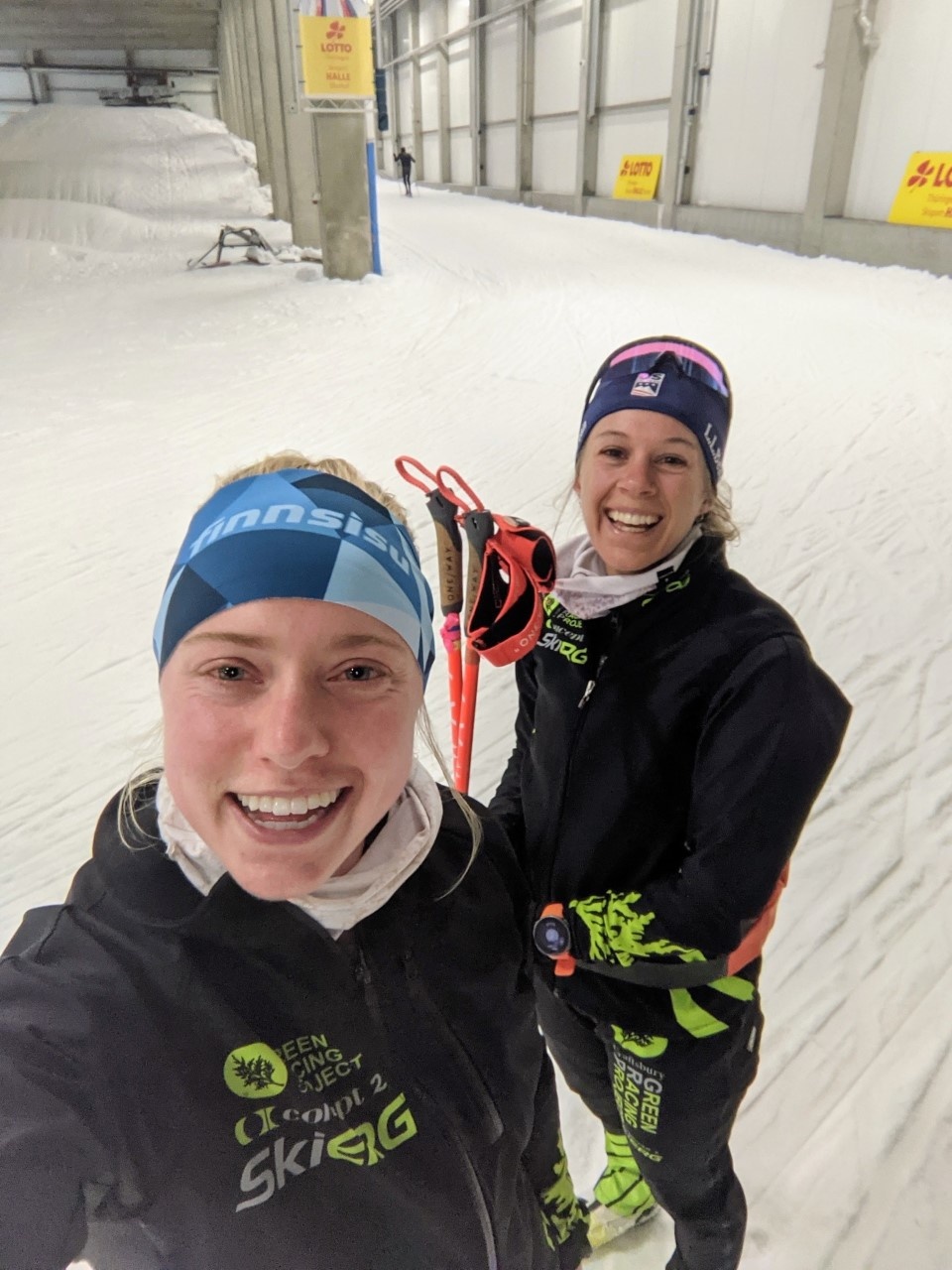 Back on snow with my GRP teammate Annika!
Aside from a heavy technique focus, we also added several intensity sessions and ended the camp with two time-trial efforts. Race-like efforts in the summer are a good way to see whether technique changes hold at speed. Ideally, any changes are dialed in enough to translate to faster speeds. However it's also important to note whether any bad habits return to the surface. If that's the case, it's essential to slow the skiing back down until these changes become second nature.
Dialing in skate technique during intensity.
As we had no gym access during camp, we got creative with outdoor strength exercises. We almost always pair morning intervals with afternoon strength. This included plyometric and isometric exercises, often in conjunction. One example is a one-minute squat hold (mimicking a downhill tuck with the weight forward on the toes), directly followed by a fifty-meter sprint. This was paired with an isometric band hold, where the athlete pulls a band from behind them and holds it steady with the body and both arms positioned forward (as they would be in a double pole position immediately prior to the downward poling motion). We typically complete four sets of each exercise. Another good plyometric exercise for outdoor strength is simply forward (two-legged) broad jumps at an incline. Four sets of 10 jumps is a good baseline to start from. Additional exercises we included were single leg piston squats, pullups, bench dips, and general core exercises. These are all great ways to continue building strength without an indoor gym.
One of my favorite parts of the Oberhof camp was exploring the surrounding trail system. Last year, I was unable to run much, as I was still struggling with ankle pain and the recovery from the related surgery. So, it was a welcome treat to be able to check out more of the impressive network of gravel and singletrack trails. The famous Rennsteig hiking trail cuts right through town, and this is only a snippet of the interlacing trails that run from town to town.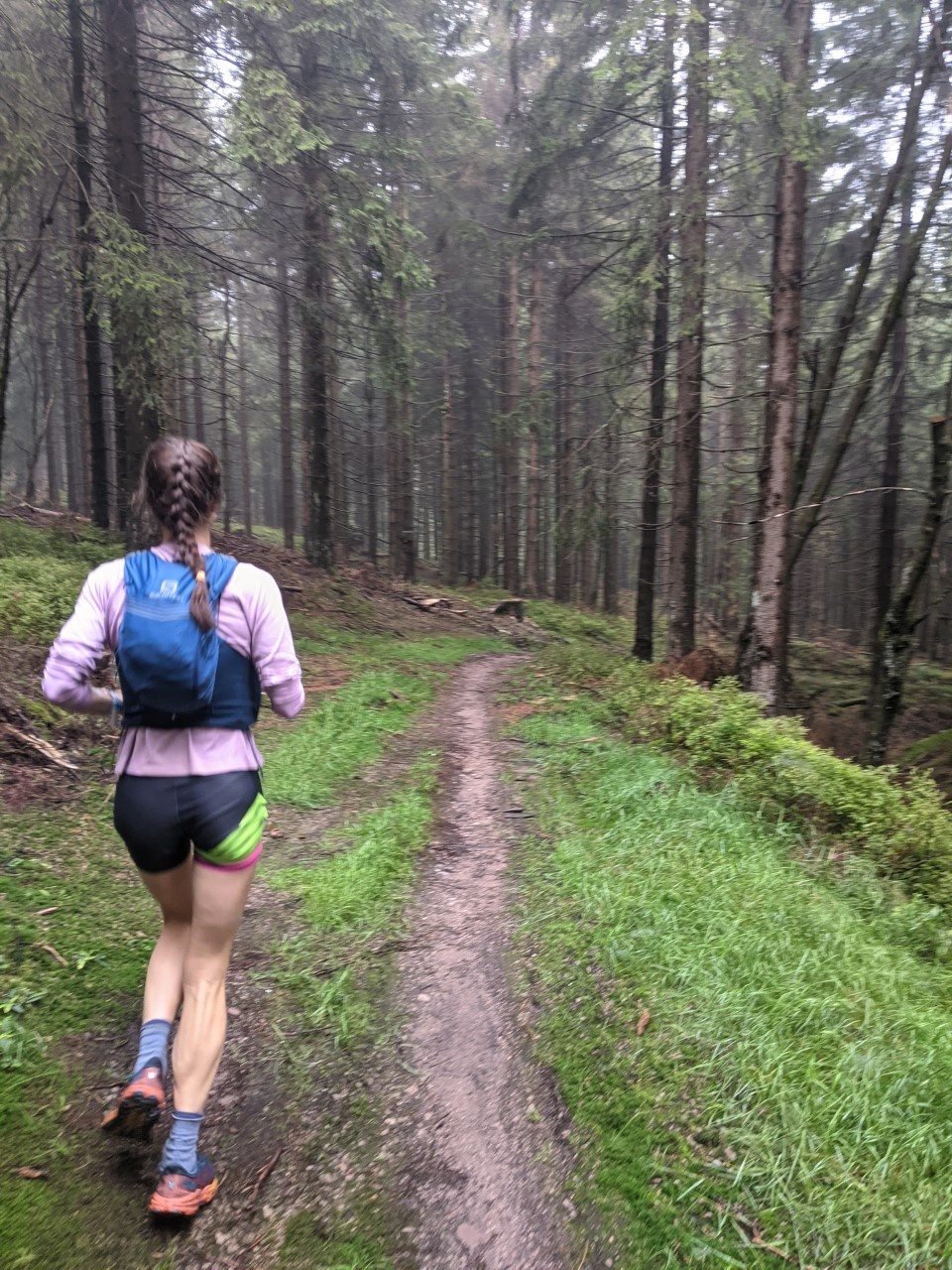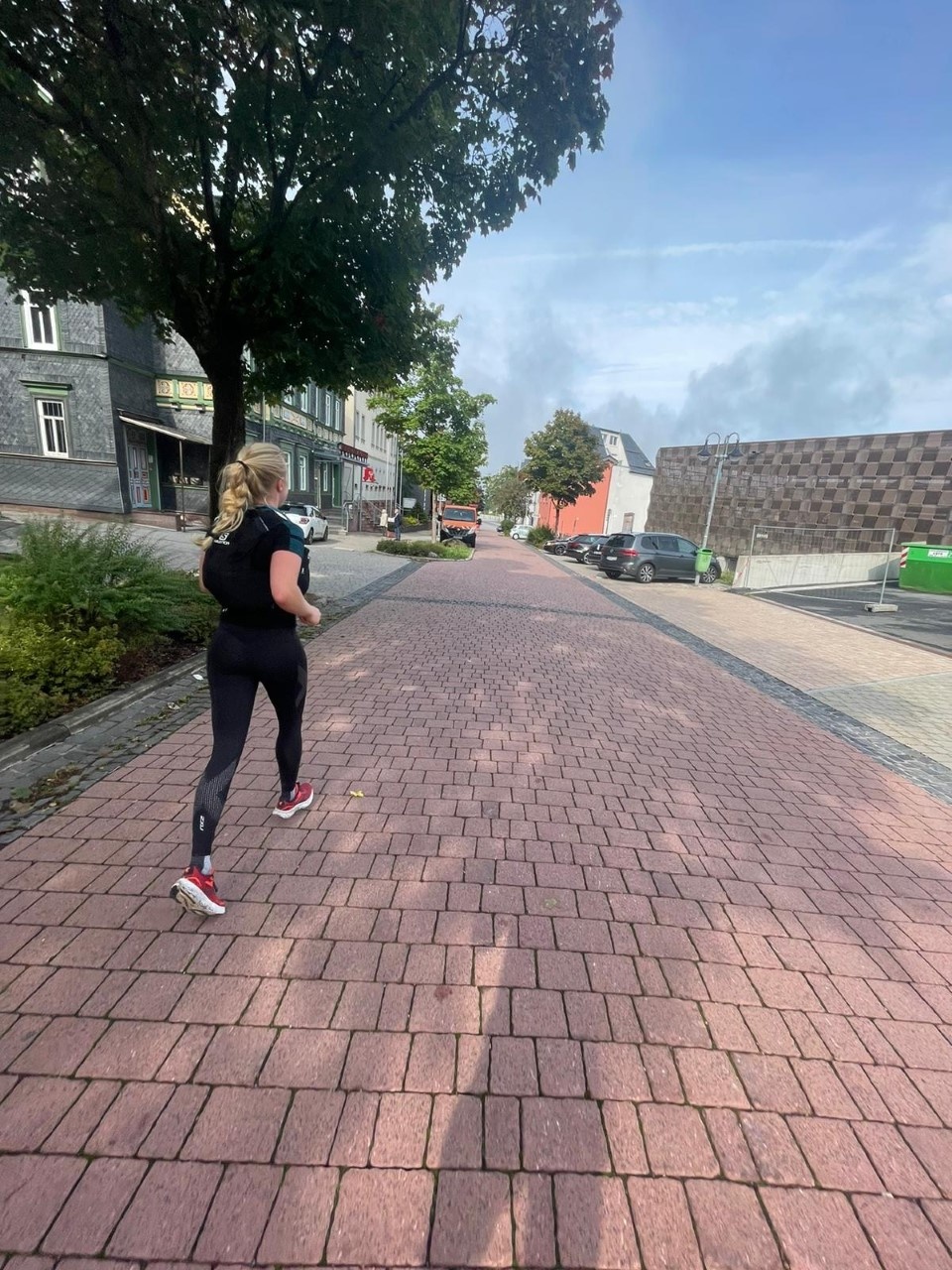 Exploring the Oberhof running.
Following a productive snow camp in Germany, I'm back East taking a chill recovery week. I'm looking forward to final fall tune-ups before the season starts. While summer is the time for building a strong base, the fall continues to be an opportunity to find speed and improve technique.
Catch you when the snow flies,
Michaela Keller-Miller