Posted on
By Michaela Keller-Miller
The last few weeks have brought some much-needed Midwest time with SuperTour racing at Theodore Wirth and in Hayward for the Birkie. Following the Birkie, I headed north across the Canadian border to Thunder Bay for the Sleeping Giant marathon and Canadian Nationals.
To begin Period 3 of the US SuperTour, the Loppet Foundation hosted a weekend of phenomenal racing at Wirth. After skiing many Section championships and Junior National qualifiers there in high school, Wirth will always be a special place for me to race. I was especially pumped to have a SuperTour there, as my family, friends, and so many others that I grew up with in the ski community were there cheering.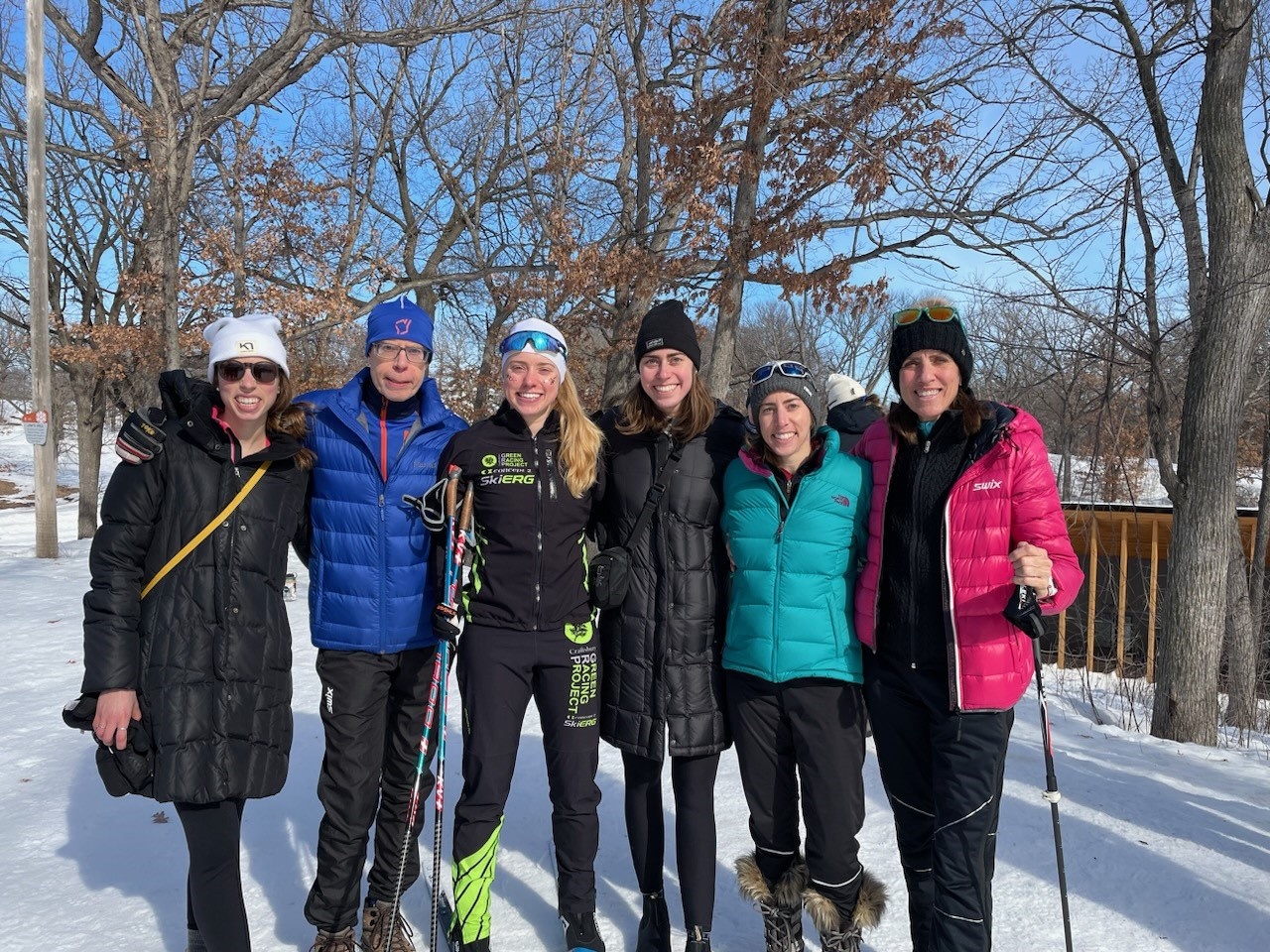 So fun having my whole family to cheer at Wirth!
The first event was a skate sprint. I was generally happy with how the day went, as I pushed the qualifier well and stayed relaxed in the quarterfinals to move through to the semifinals. I made some tactical mistakes in the semifinal while jockeying for a position and by not skiing the finish downhill as confidently as I could have. Nonetheless, I ended the day in 10th energized by the hometown cheering crew.
Sprinting in the quarterfinal and semifinal heats.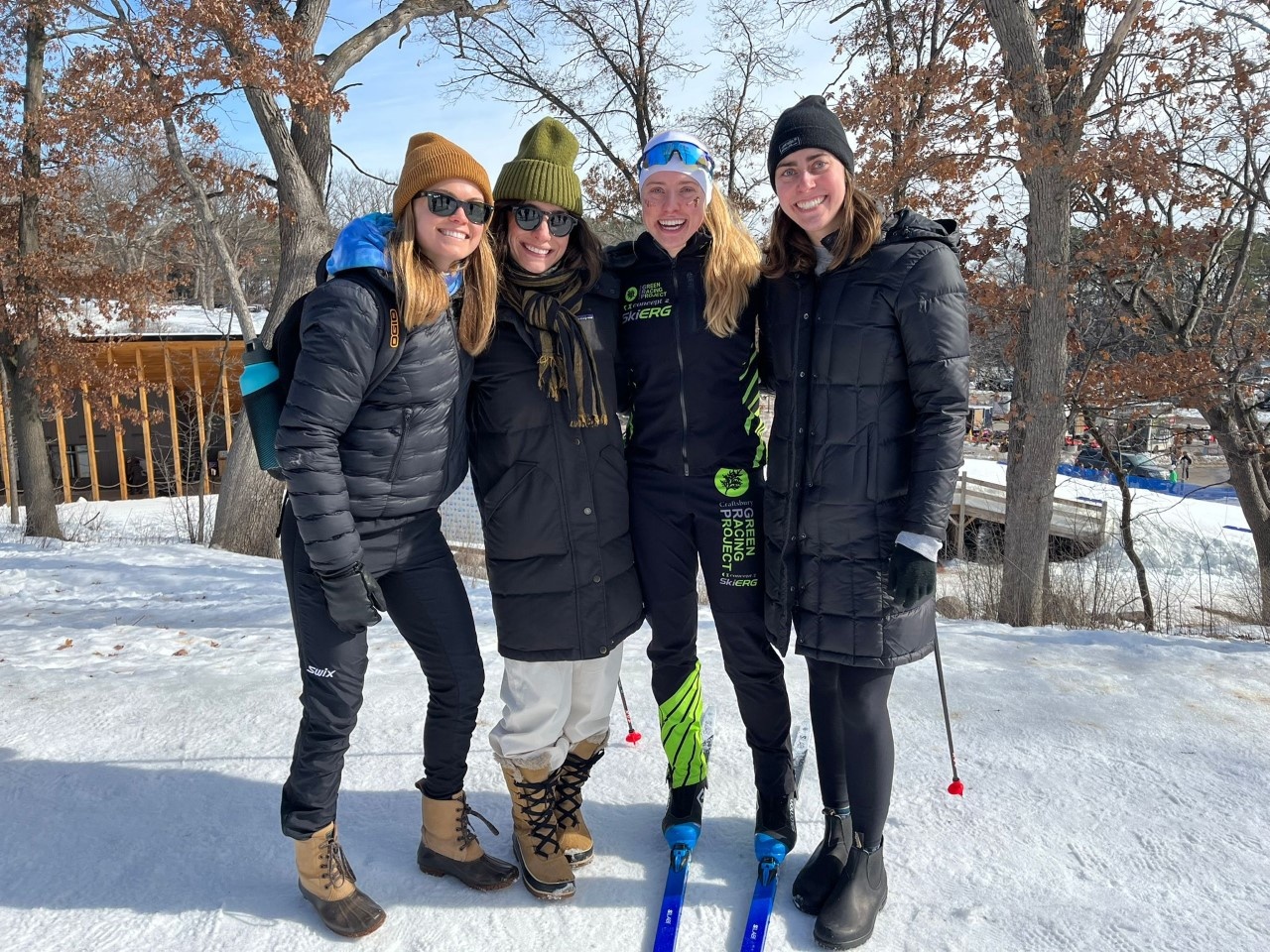 Back with the Wayzata crew!
Following the sprint was a 20-kilometer classic mass start at Wirth. The classic race used most of the manmade loops at Wirth, and we skied seven laps of the course. After a couple laps, I found myself a bit gapped from the lead pack and spent the remainder of the race working my way up. Fueled by my family's cheers, I picked off a few places and finished in 12th place. Having the opportunity to race at Wirth again was amazing, especially after skiing countless laps of the manmade loop in high school and during winter break in college. The weekend was also a taste of what's to come next winter, as the first World Cup to be held on US soil in two decades will be at Wirth in 2024. It's a big goal of mine to qualify for these World Cups next year and this year's Wirth SuperTours were a strong motivating push.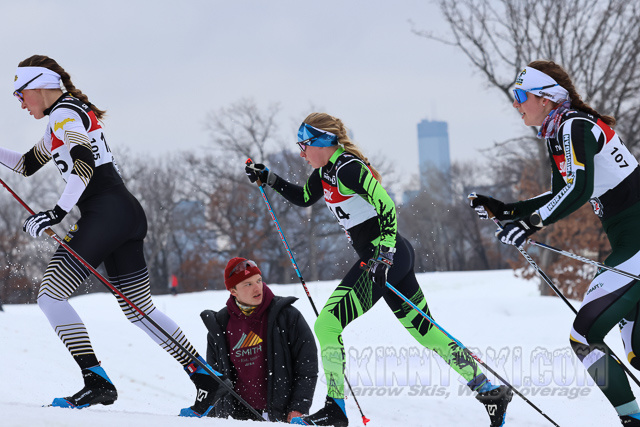 City racing in the 20-kilometer classic. Credit: Skinnyski.com/Bruce Adelsman
Another notable reflection from the Wirth races was testing out different KV+ pole heights from Finn Sisu. I had spares cut down to slightly taller heights than my race poles and found it interesting to play around with the power application possible with different pole lengths. While pole lengths should generally be within a few centimeter range depending on your height (and Finn Sisu can help you find the right size!), testing out different lengths can be helpful to see what works best with your technique. For instance, I've been working on keeping my shoulders from collapsing forward while skating and classicing. I thought that slightly taller poles allowed me to apply power more efficiently over my poles, which prevented my shoulders from hinging too far forward and kept my momentum moving forward. I'm talking about minute changes in pole height; regardless, it was cool to be able to find a way to aid my technique goals.
Enjoying a sunny day at Wirth.
After the Minneapolis races, my team and I drove to Hayward for the Birkie. I was nervous for this year's Birkie, as I made some fueling mistakes in my first Birkie in 2022 and bonked hard at 27 kilometers. The gist of it was that I didn't drink enough liquids and barely managed to eat half a gel. Determined not to make the same mistake twice, I planned to carry two bottles of high calorie carbohydrate drink mix. One bottle was to last until OO, where I could swap out for a second bottle from my coaches in case the first bottle froze or was empty. I also made sure to have enough solid food beforehand. I started with oatmeal when I woke up and ate a JoJé bar, as well as SaltStick electrolyte capsules, within the 90 minutes before the start.
With a fueling plan in place, I felt as ready as I'd ever be. This year's Birkie turned out to be a far better experience for me. My goals were to be intentional about fueling and to ski relaxed with the lead group as long as possible. With an inch of fresh snow overnight, the elite women's field broke in the course as we covered the 50-kilometer trek from Cable to Hayward.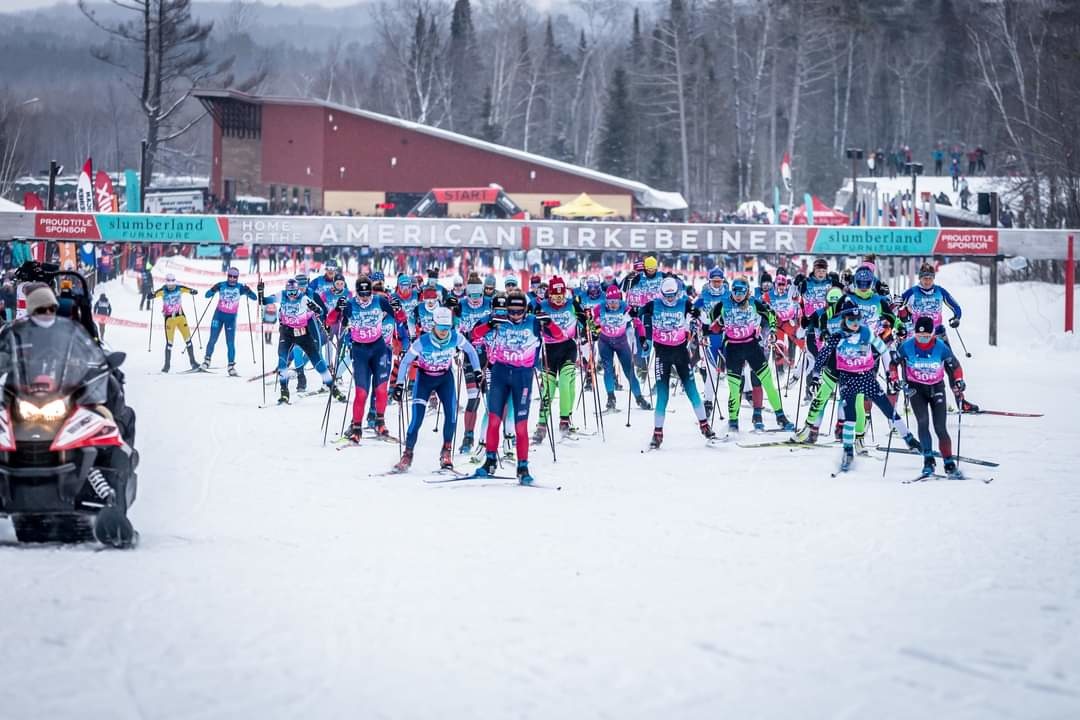 The start of the women's elite race at the Birkie. Credit: American Birkebeiner.
Successfully meeting my two goals for the day, I enjoyed pack skiing with the lead group and all my Green Racing Project teammates for the first 35 kilometers. I internally celebrated the little victories, like passing the 27-kilometer mark still feeling strong and in the lead pack. A bit past the 35-kilometer mark, I fell slightly off the pace with my current teammate Annika Landis and former teammate Hannah Rudd. Realizing the lead pack never pulled that far ahead, we worked hard to regain contact. Despite our best efforts, we never managed to close the gap. With my legs beginning to falter, I was very thankful for Hannah and Annika to pull me along. With five kilometers to go, I lost contact with them and did my best to keep moving steadily to the finish.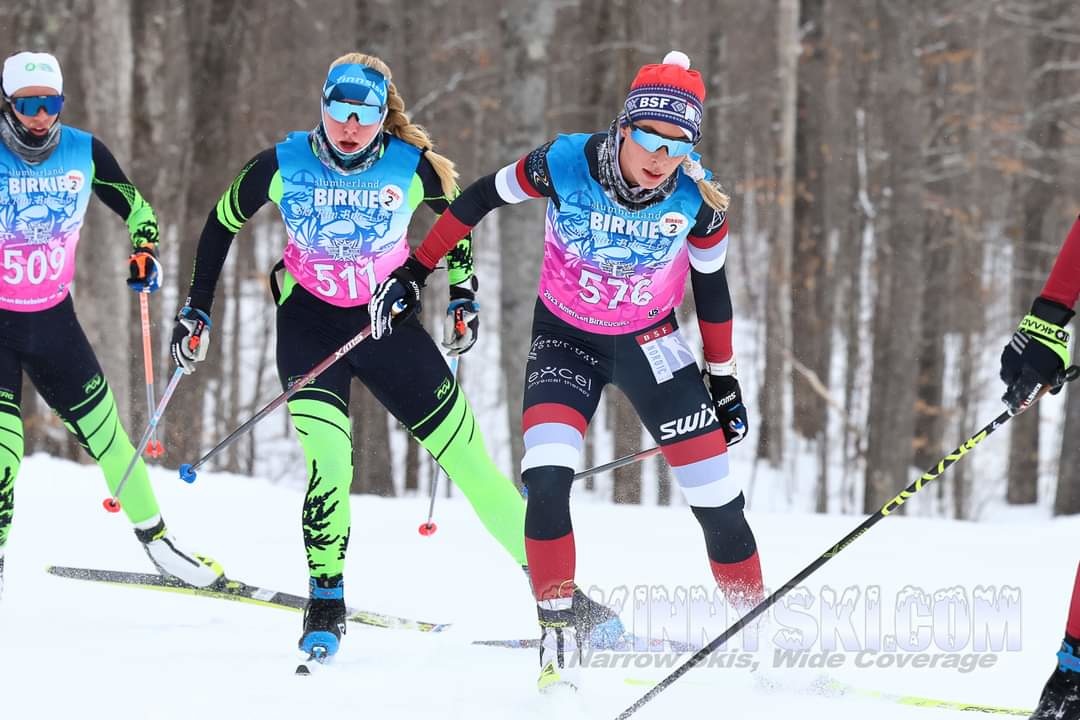 Skiing with the pack through OO. Credit: Skinnyski.com
Crossing the line in 11th, I felt satisfied, having had a drastically better time than the prior year and a far less severe bonk. While I realized afterward that both my bottles were over half full, I still felt I did a better job of fueling and skiing smart. I'm already looking forward to the next Birkie; it seems I learn a little more each time.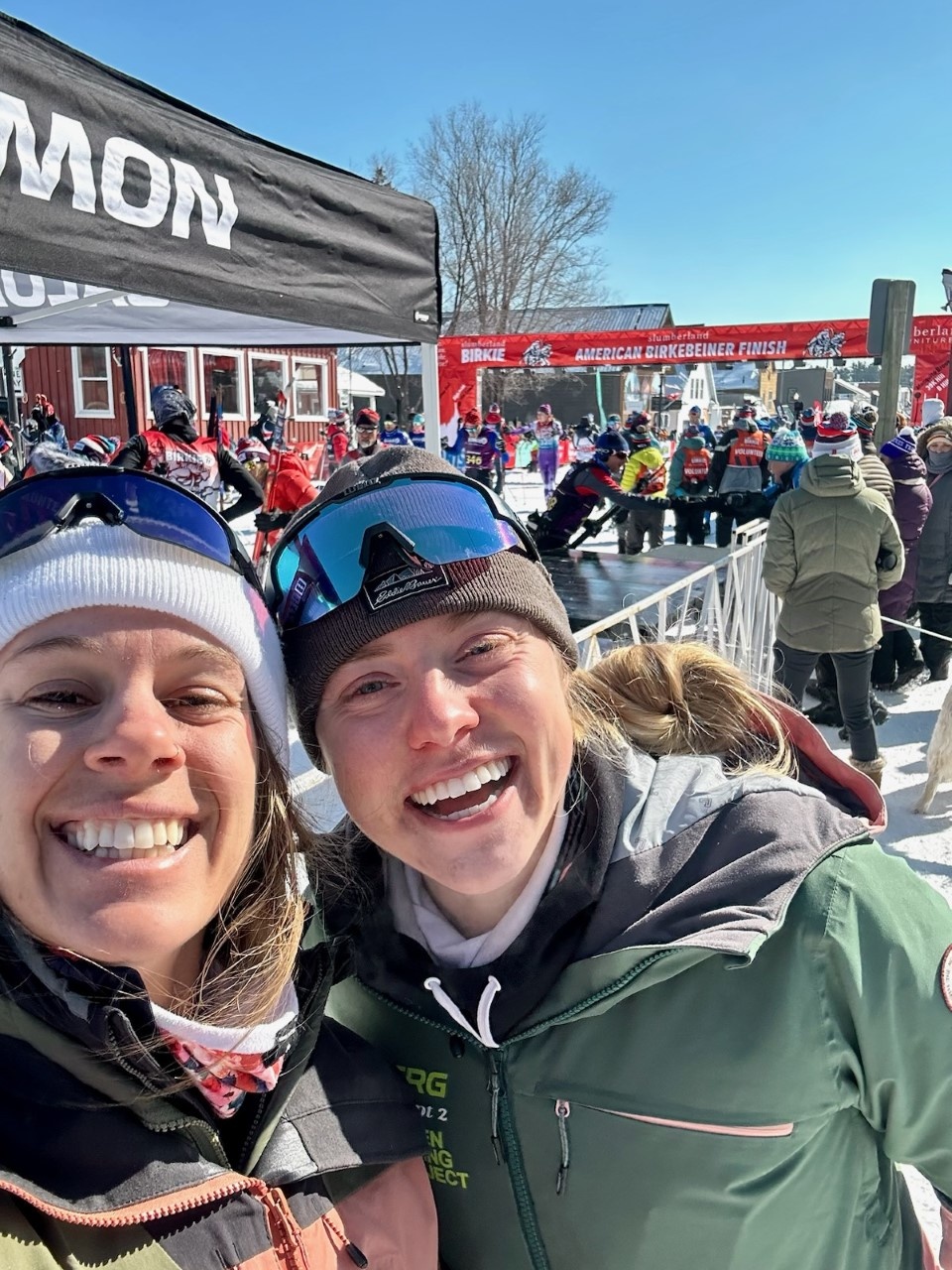 Soaking in the Birkie Main Street energy with my teammate Annika.
To fill the gap in racing between the Birkie and Spring Nationals/Super Tour Finals in Craftsbury at the end of March, I decided to head to Thunder Bay for the Sleeping Giant 50-kilometer skate race. The course is on rolling terrain in Sleeping Giant Provincial Park, flowing around lakes and through the woods on a beautiful Lake Superior peninsula. Out of desperation and poor planning the night before, I race waxed with a clothes iron, the only available option at the local ski area. While I seriously do not recommend this (the temperatures swings were incredibly unpredictable and I was terrified of burning my ski bases), it ended up doing the trick. Do yourself a favor and make sure you have an actual ski waxing iron on hand; it's way less stressful and your ski bases will thank you.
Doing my best to race wax with a clothes iron. Definitely don't try this at home…
A beautiful race morning drive to Sleeping Giant Park!
The race itself was a great time. I skied the first 25 kilometers with a pack before breaking away and skiing the final half solo. Pushing to ensure I had a comfortable gap, I was still able to enjoy the scenic trails at Sleeping Giant. While pack skiing is typically easier, it was nice to work on skiing hard alone. As seems to be inevitable in marathon races, my legs started losing control the final few kilometers and I went on autopilot trying to maintain the gap I'd worked hard to grow. This ended up being enough and I was happy to come away with the win. In true Canadian fashion, the food vendor even had poutine, which capped off a great day of skiing.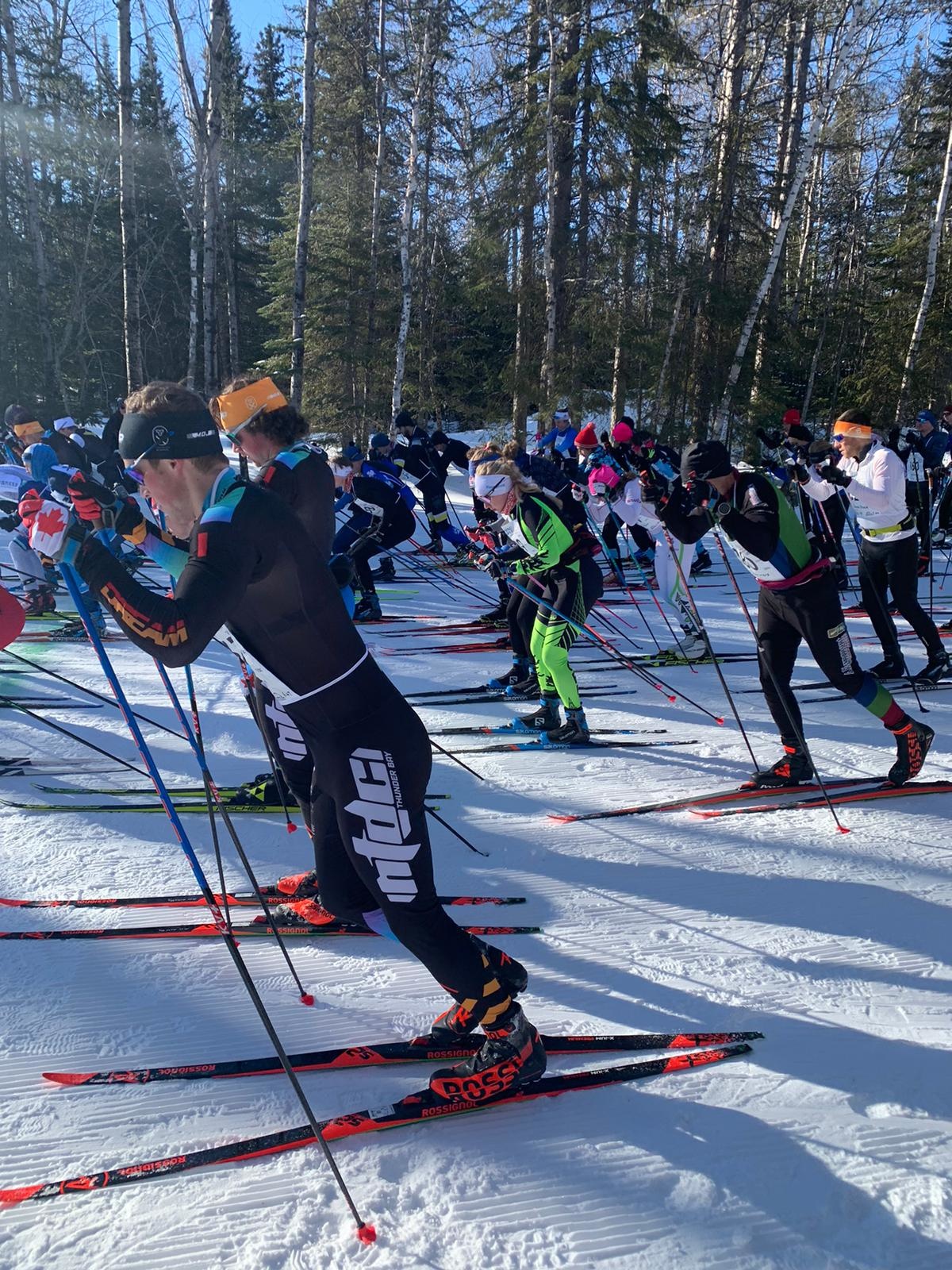 At the start of the Sleeping Giant Loppet 50km skate.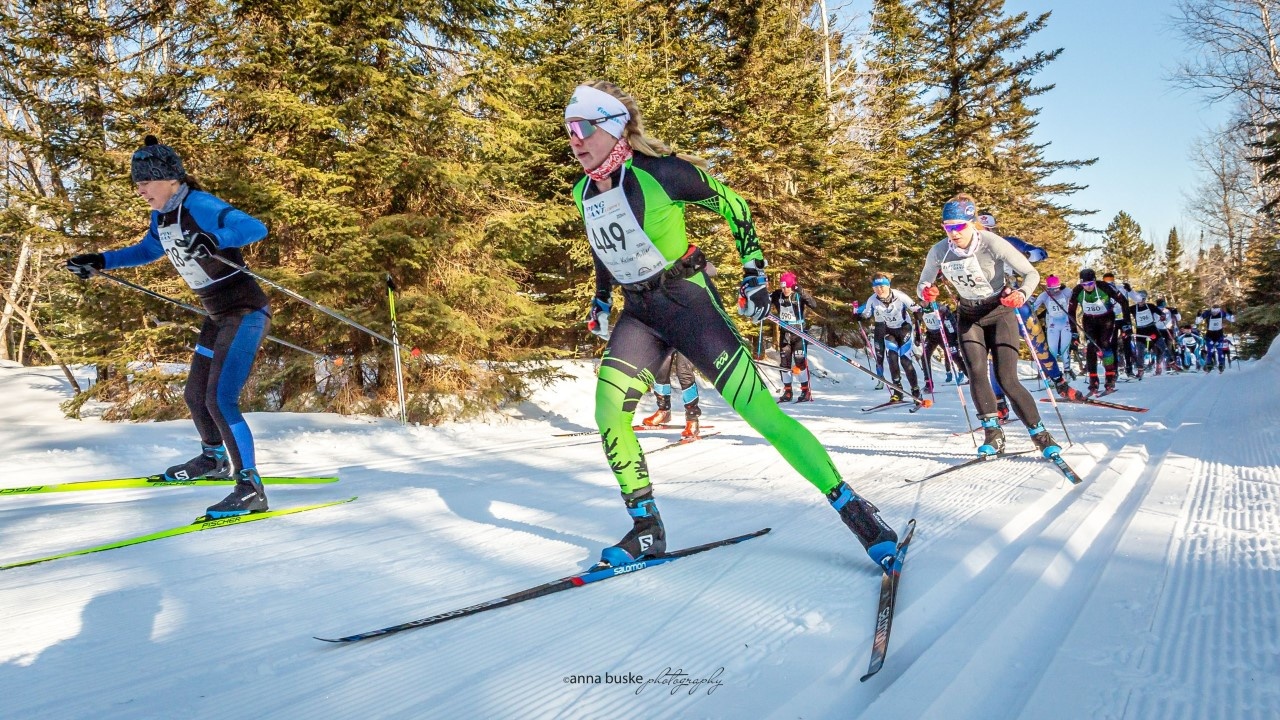 Settling into the pace at the beginning of the race. Credit: Anna Buske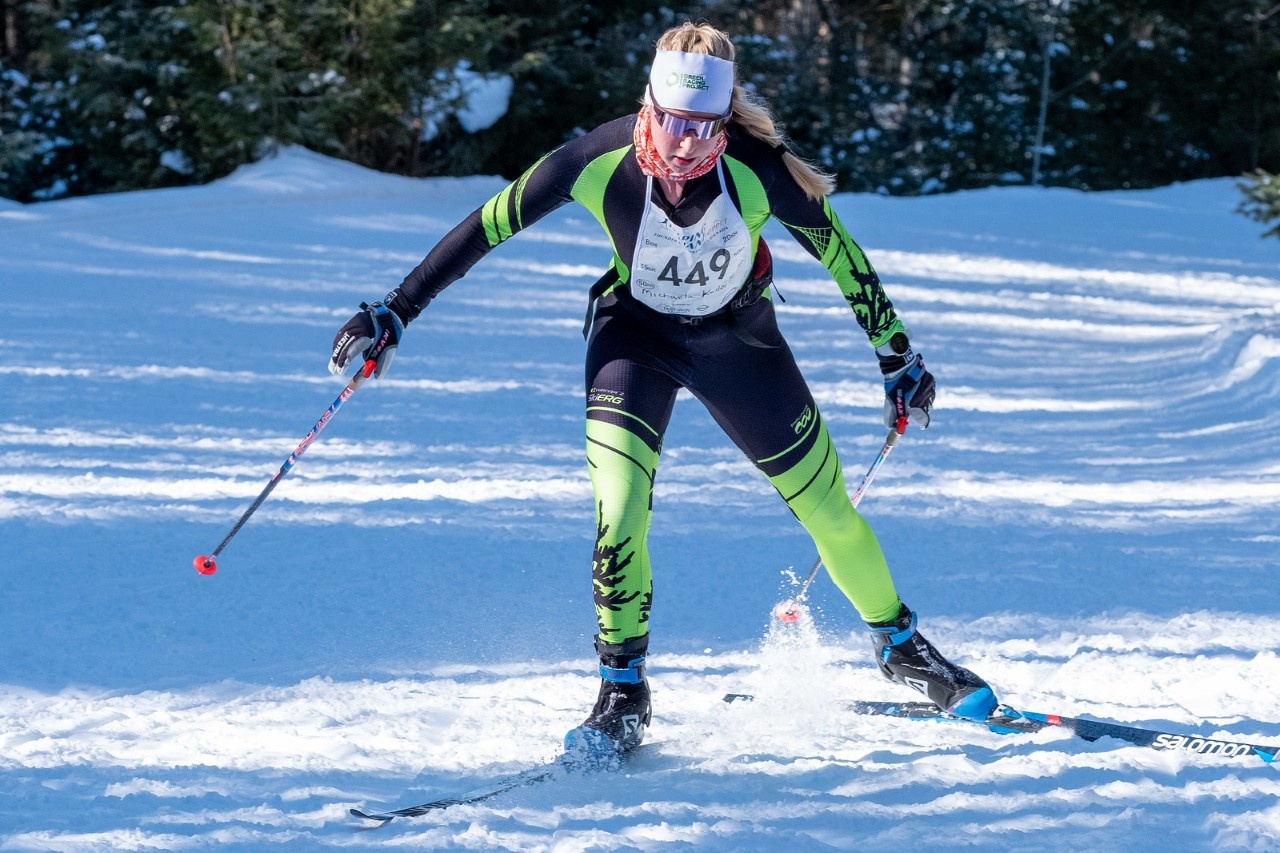 Solo skiing at the Sleeping Giant. Credit: Jim Restall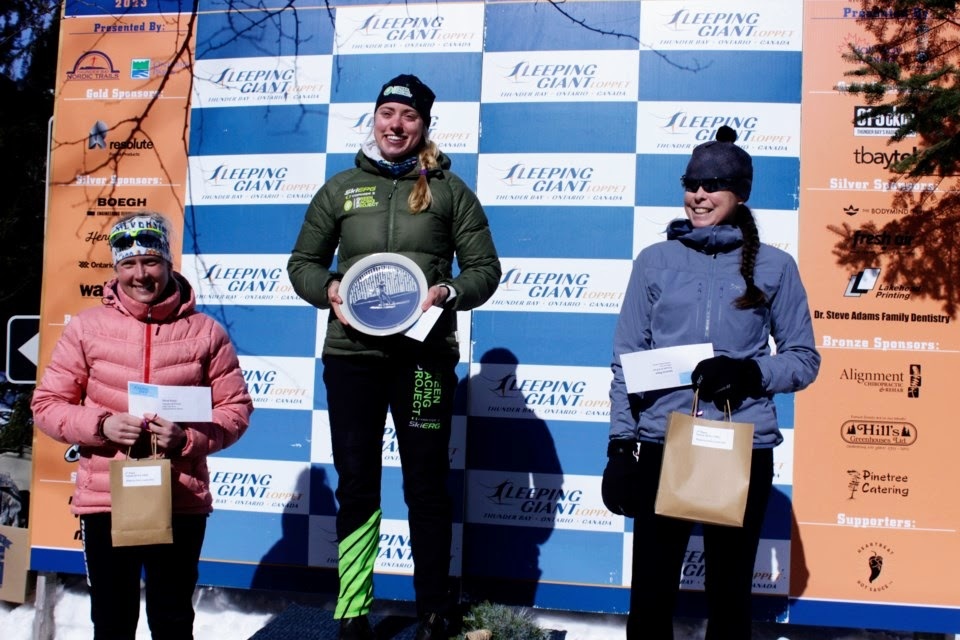 The Sleeping Giant skate 50km podium. Credit: Justin Hardy/TB News Watch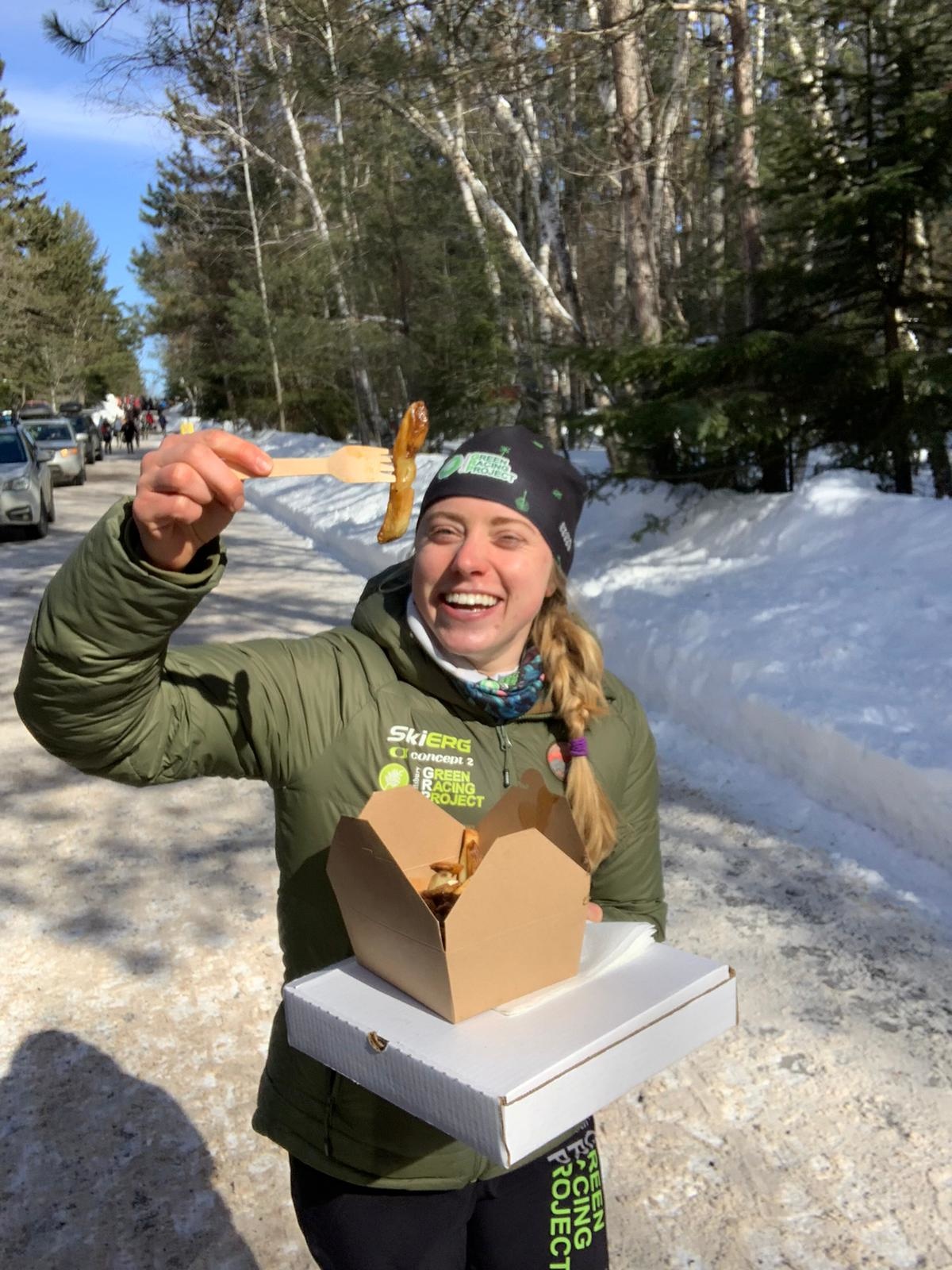 Obligatory post-race poutine.
After the Sleeping Giant marathon last weekend, I stayed in Thunder Bay for Canadian Nationals this upcoming weekend. Two of my former teammates from the University of Alaska Anchorage now live in Thunder Bay (one is in medical school and the other just earned their commercial pilot's license!), so it's been a lot of fun getting to hang out with them in between race weekends. I'm looking forward to popping in the first two races of Canadian Nationals, a skate 10km and a skate sprint, before heading home to Craftsbury, Vermont to finish the ski season at US Spring Nationals.
I hope everyone is enjoying the new snow and sunny spring skiing!
Michaela Keller-Miller