Posted on
By Michaela Keller-Miller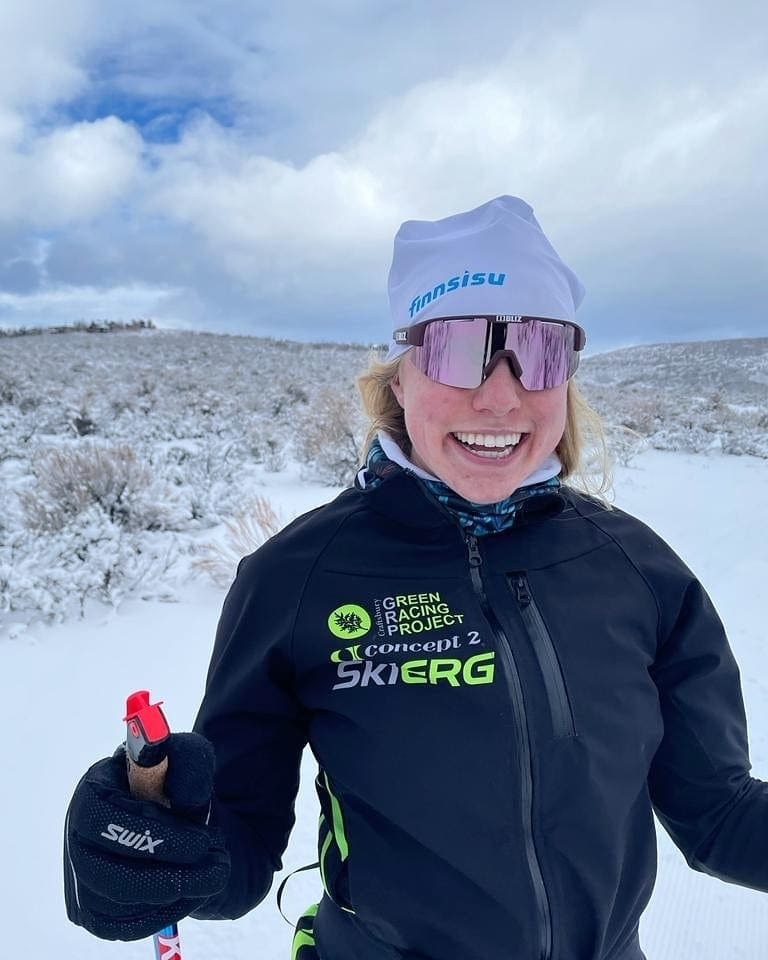 It goes without saying that cross country skiing is inherently challenging. From digging deep in hard workouts, to dialing in technique improvements and spending hours in inclement weather, no one would argue that skiing is for the faint of heart. However, oftentimes the toughest part about our sport is navigating the mental ups and downs that come with training and racing. Skiing can't feel good all the time and moving on from a bad race or a period of less-than-ideal training can be equally, if not more, difficult than a race itself.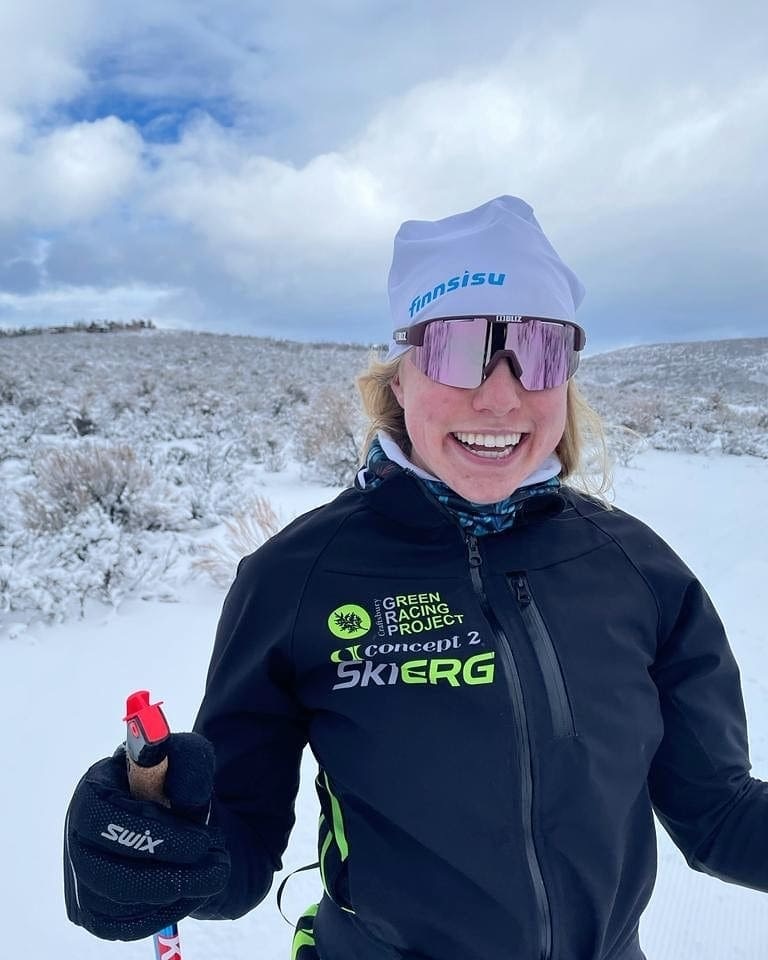 Checking out the trails by our house before US Nationals.
The first half of the ski season has come with its fair share of ups and downs for me. I went into the first SuperTour races of the season in December feeling a bit underprepared, as I was still dealing with significant pain and weakness from ankle surgery back in June. Nevertheless, I was cautiously optimistic to get the season underway and excited to be back in the Midwest for racing. My entire family was able to cheer me on in person, which was especially fun since I hadn't had the chance to race in Minnesota since high school. My main goal was to make it through both the Duluth and Cable races in one piece and to use the races to prepare for US Nationals in early January.
Since I was still working my way through the ankle recovery process, I tried my best to go into the races with no expectations and focus on being grateful to even be on the starting line. Of course, this is easier said than done as it's hard to not be disappointed when the results aren't quite there. After the first race weekend in Duluth, I was left wanting more, but was also pleasantly surprised that I could block out my ankle and just focus on racing once I was on course. No matter the result, racing was forward progress, as just one month earlier I wasn't sure I'd be able to race the Midwest SuperTours. Although a mentally challenging period, I found it important to celebrate my progress, no matter how small.
Following the Duluth races, my team and I drove to Cable, Wisconsin for the next round of racing. There was a pair of distance races in Cable, as well as a classic sprint. Even though my doctor said that my bone was fully healed and that I could push the limits without risking reinjury, I'd developed peroneal tendinitis. As the tendinitis was quite painful, I decided to forgo the classic sprint, especially since I wasn't yet confident in my stability and power with classic skis and boots.
At this point, I could ski, albeit with discomfort, but was mentally struggling with my ability to corner and take downhills at speed. By the morning of the classic distance race, I still hadn't taken the infamous Elevator Shaft drop off at full speed on classic skis and was quite frankly, a bit terrified. However, after going through my daily morning ritual of aggressively taping my ankle and popping my new race morning cocktail of Ibuprofen, I was ready to give it a go on the
warmup. With the Ibuprofen setting in, pain was taken out of the equation, and I could let my muscle memory kick in. Drawing on one of my favorite one-word mantras, commit, I pointed and shot my skis down the Elevator Shaft and was… completely fine. Sometimes the biggest hurdles are the ones in my head and once I confidently commit to getting over them, I realize the hurdles aren't so sketchy after all.
The Cable races weren't anything spectacular, but they were solid enough to give me confidence that I was where I needed to be for US Nationals. After going into the season with an unconventional summer of training, almost exclusively on the SkiErg and spin bike, I wasn't sure what to expect. Just making it through a classic race was enough reason to celebrate.
After a relaxing week back with my family in Minnesota and an early Christmas, my Green Racing Project teammates and I travelled to Park City, Utah to prepare for a week of racing at US Nationals. We decided to arrive about a week and a half before the first races to properly acclimate to the altitude and to dial in the courses. It's easy to overdo it when you first get to altitude, so we were careful to make sure we were resting enough between workouts.
Final preparations for the upcoming racing at Soldier Hollow Nordic Center in Midway, Utah.
Enjoying the sun and skiing during the holidays.
By the time the races finally rolled around, I was still questioning my readiness and didn't know what was reasonable to expect with where I was at. Nonetheless, racing is an opportunity to put forward your best possible effort irrespective of events prior to race morning. So, I did my best to focus on what I could control: technique, pacing, and having the confidence that anything could happen. The week kicked off with a skate sprint, which was a bit of a rough start for me. With still three races to go, I brushed myself off and looked forward to the 20 kilometer skate mass start and the 10 kilometer classic.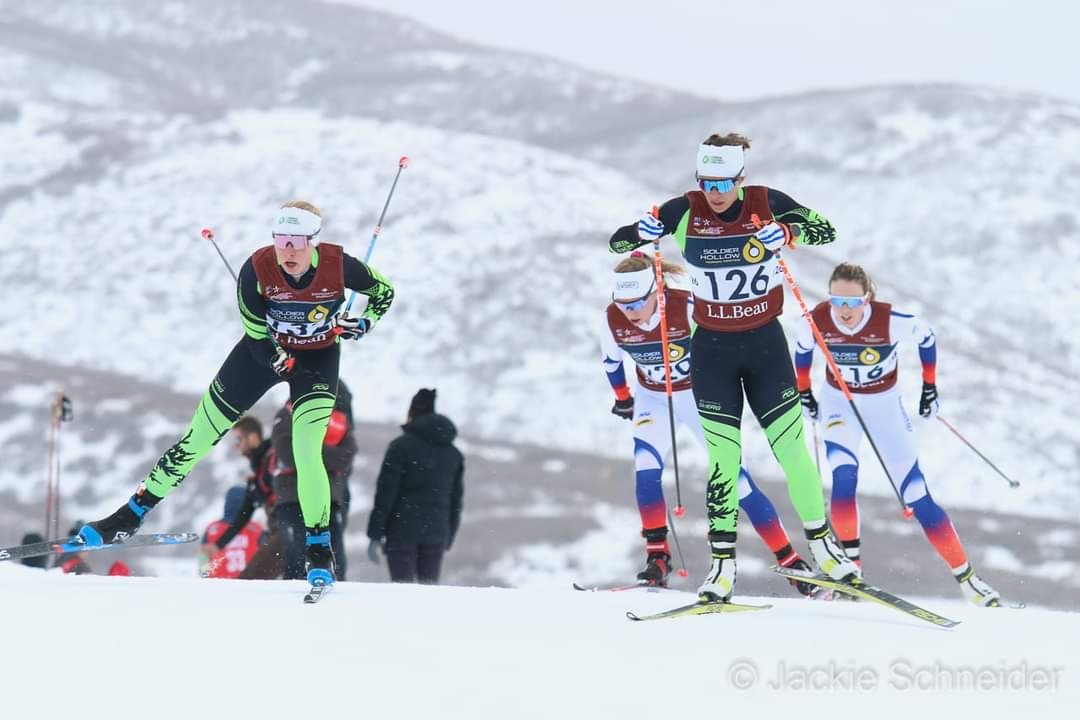 Racing the 10km skate at Nationals with GRP teammate Annika Landis. Credit: Jackie Schneider.
The distance races at Nationals went far better than the initial skate sprint. While I still didn't quite feel like I was in peak race shape, I found I could still push well and put up a strong fight. If nothing else, they felt like solid stepping stones for the rest of the season. The week was capped off with a classic sprint, in which everyone was already tired from a long week of racing. Although traditionally one of my weaker disciplines, I figured I had a shot of a strong day if I could work through the end-of-week fatigue and work each section of the sprint course. I was granted redemption for my skate sprint, qualifying for heats.
Having the chance to mix it up with some really impressive women in the heats was a lot of fun. As someone who didn't find themselves in many sprint heats growing up, I learned that my heat strategies could probably use some work. In the spirit of committing and going for it, I took
advantage of my fast skis (thanks to the incredible GRP coaches and wax crew!) and sling-shotted into the lead up the first big climb. Realizing that I was feeling pretty good, I continued this surge through the climbs and fought to hold the lead into the finish. While I was overtaken in both the quarterfinal and semifinal before the final turn, I was proud of myself for skiing gutsy and taking chances. I ended the classic sprint in 10th, my best finish of the week. It also made me realize the importance of going into races with a clean slate; past results aren't sure-fire indicators of what can happen in the future. Additionally, getting caught up in the disappointment of a poor skate sprint could have affected the rest of the week, but choosing to refocus my energy on what was ahead opened the door for better results.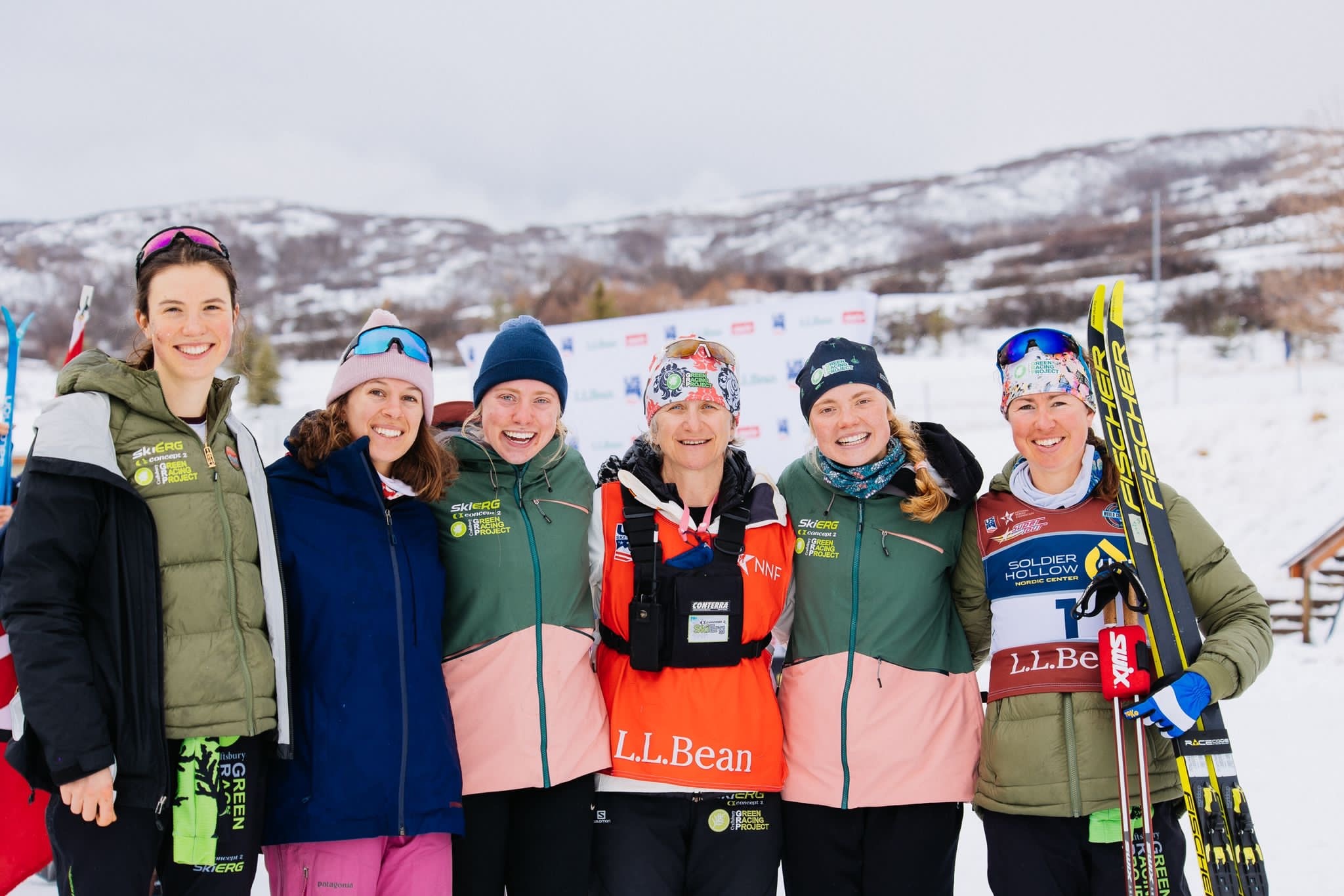 The GRP women, all finishing in the top 10 in the classic sprint, with our coach, Pepa Miloucheva. From L-R: Alex Lawson, Annika Landis, Michaela Keller-Miller, Pepa Miloucheva, Margie Freed, Caitlin Patterson.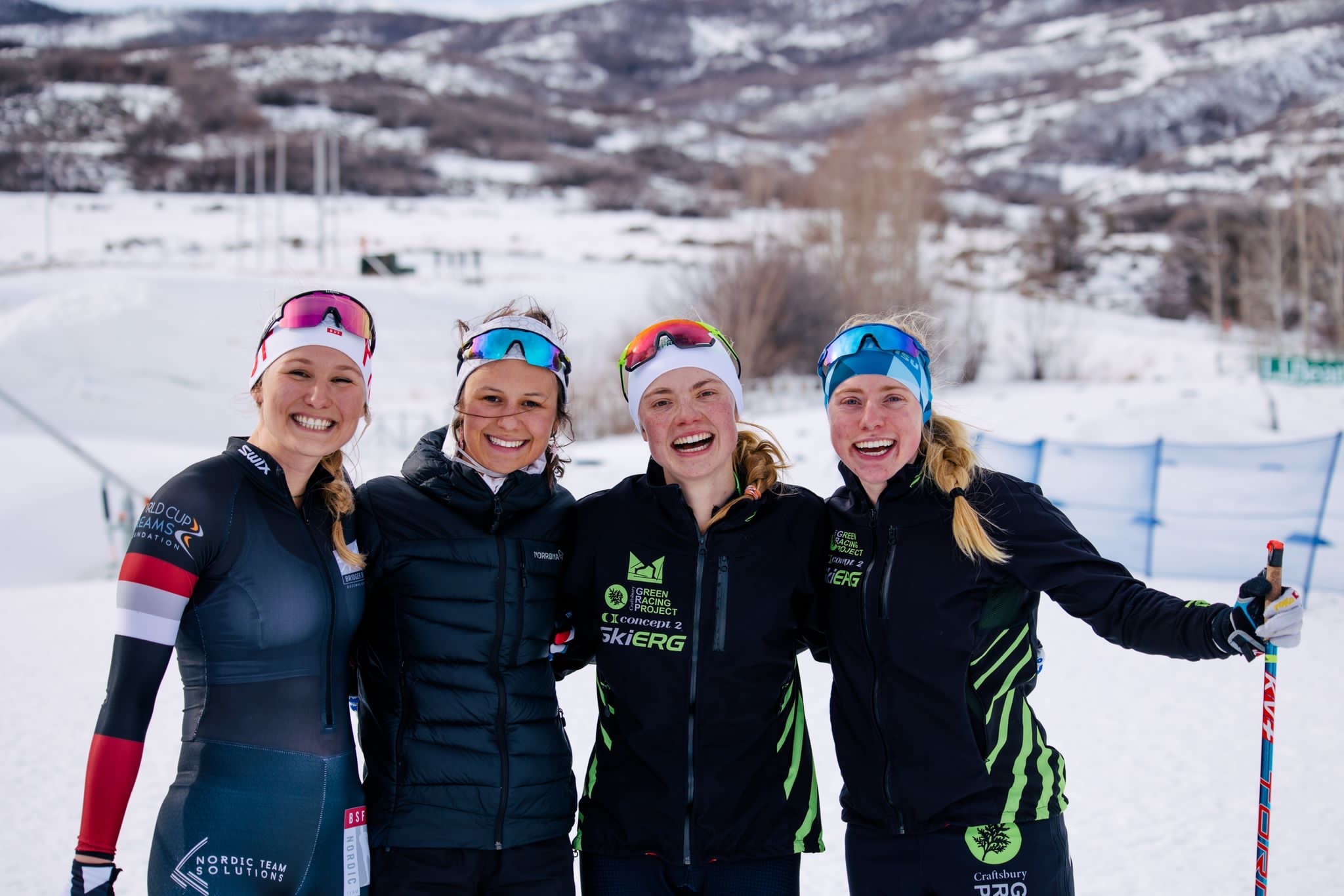 Celebrating at the end of US Nationals with former Loppet Nordic Racing teammates: Hannah Rudd, Renae Anderson, and Margie Freed.
Moving on from three weeks in Utah, we drove North to Sun Valley, Idaho for weekend SuperTour races. Although Sun Valley brought lots of sun (go figure) and beautiful skiing, the races themselves were tough. Day one was colder than I'd anticipated, leaving me vastly underdressed and struggling to finish by the end. The second race was also difficult, and one of those days where crossing the finish line is an achievement in itself. As I'd thought I was trending upward after US Nationals, it was hard to come to terms with less-than-ideal races. I had to remind myself that ups and downs are a part of skiing and a blip in forward momentum doesn't erase months of hard work and growth. While skiing is so often a test of patience, learning to reset and look forward to the next opportunity has been invaluable for both my mental sanity and likelihood that the next race will be a good one.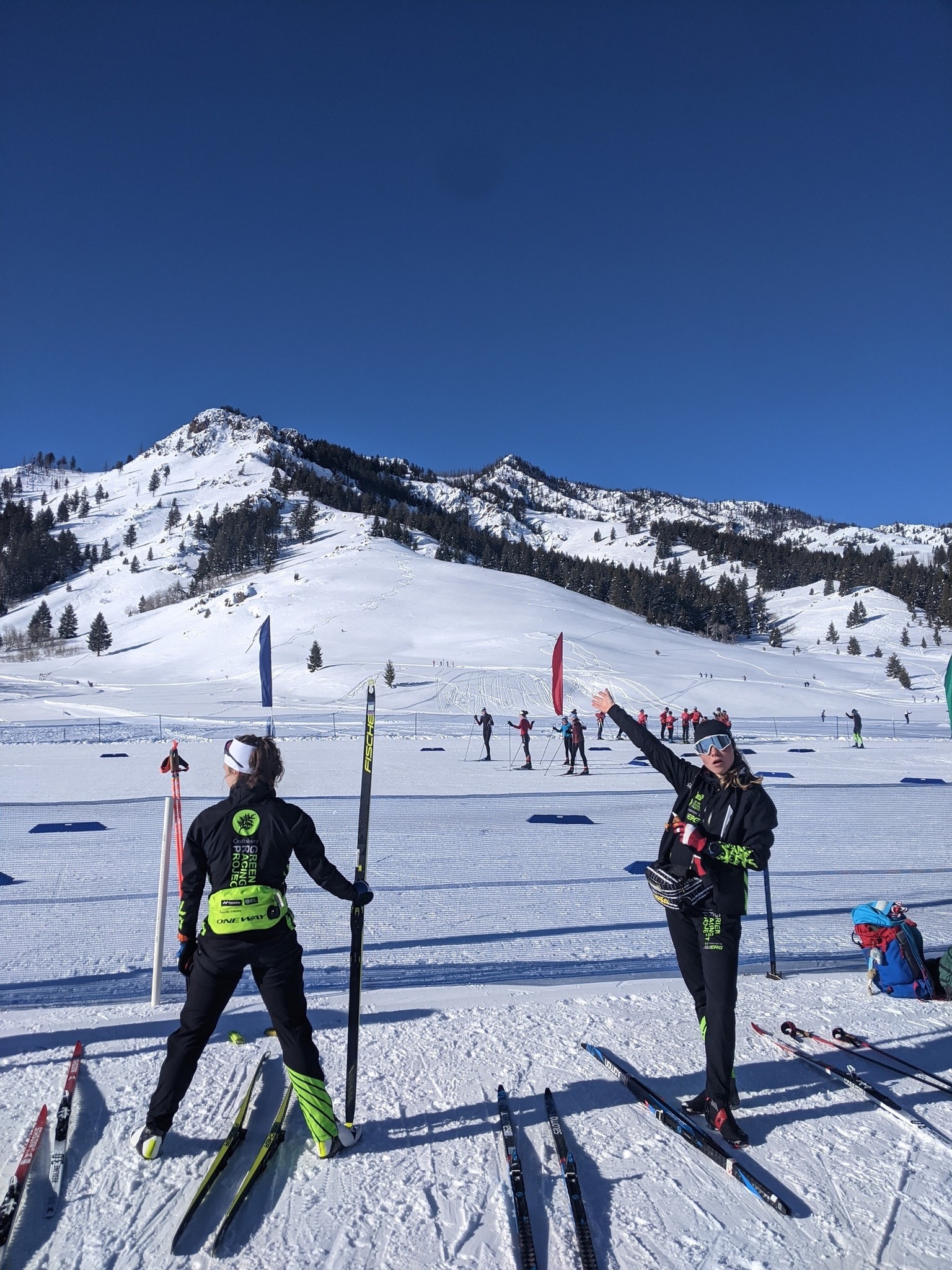 GRP teammates Annika Landis and Margie Freed soaking up the sun in Sun Valley the day before the races began.
I'm back in Vermont now, resting up and prepping for the next competitions in Lake Placid, New York. I've come a long way since logging hours of sitting SkiErg this past summer and while the season has been a mixed bag thus far, I'm working on giving myself grace and remembering what it took to even make it to the starting line. Cross country skiing and working through setbacks are difficult, so shouldn't the process be reward enough? Validating results are just a cherry on top.