With winter finally seeming to be over across the US and spring escapades wrapping up, I've taken a moment to reflect on the end of the ski season and a fulfilling week of coaching north of the Arctic circle. Following back-to-back weekends of skate 50-kilometer races in late February and early March, I competed at Canadian Nationals in Thunder Bay, Ontario and then capped off the season with US Spring Nationals at my team's home venue in Craftsbury, Vermont. From there, I flew to Alaska for a week of coaching with Skiku in Shungnak, Alaska.
After racing the Sleeping Giant 50km in Thunder Bay, I stayed for the first two races of Canadian Nationals. As I spent my winter on the US SuperTour circuit, I was looking forward to racing against new competition and checking out a new venue. The races were at Lappe Nordic Center, which is known for its challenging courses with more than enough climbing to go around. The first race was a 10-kilometer interval start skate race. Despite feeling lingering muscle fatigue from the marathons, my goal was to ski efficiently, push hard from the start, and try to hold on to a hot pace. While the fatigue undoubtedly presented itself and I couldn't push quite as hard as I would've liked, I put forward my best effort for that day and was happy to finish fifth.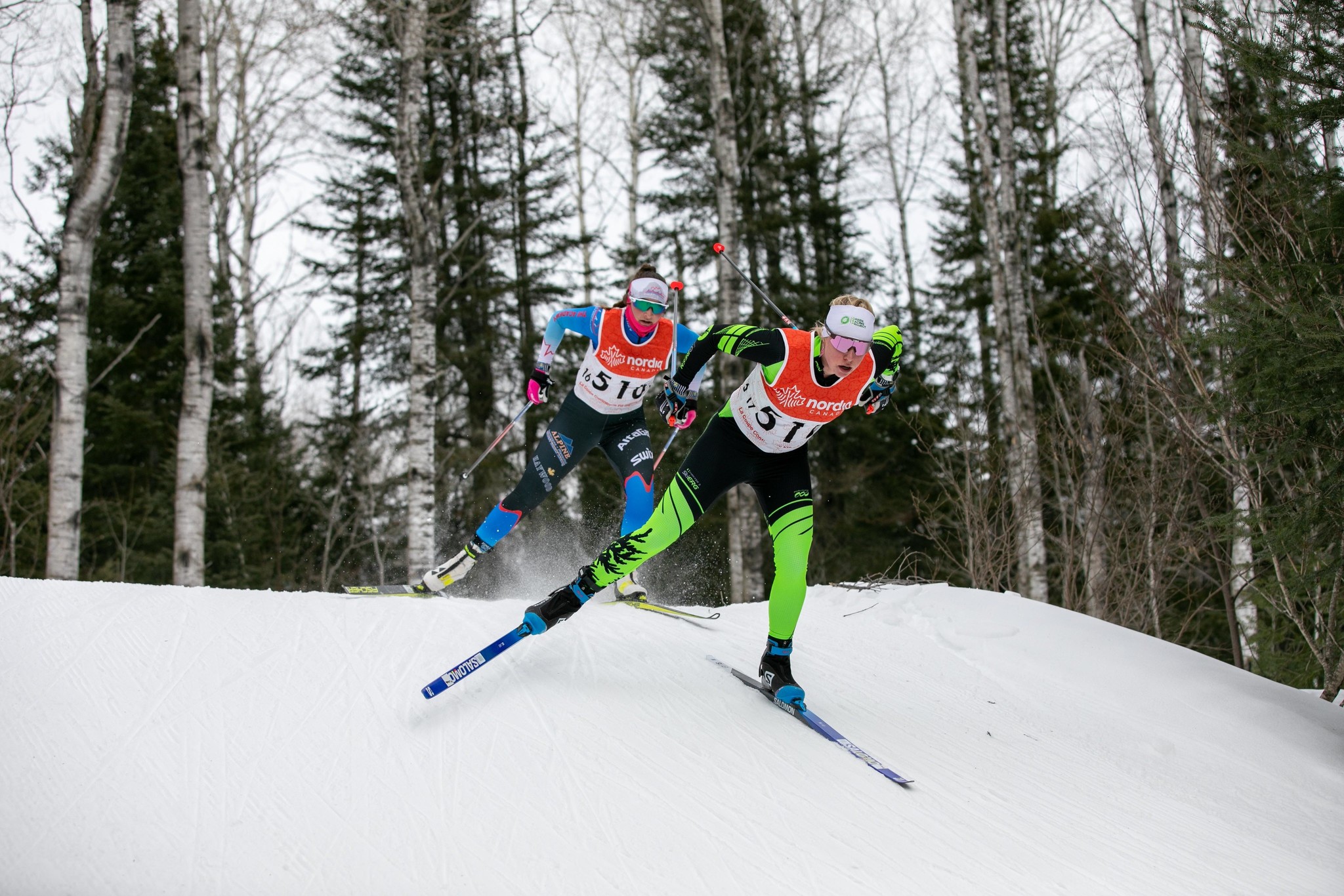 Going for it in the 10km skate at Canadian Nats. Credit: One Skate Photos.
The following day was a skate sprint; the course started on rolling terrain, dropping to the low point before climbing up a long, steep hill and finally flattening out into the finish. The downhill portion in the first half of the course made for interesting tactics, as no one wanted to lead this section and forgo the draft. Additionally, leading over the top of the big climb wasn't necessarily a surefire way of winning the heat, as there was a slight draft to be had on the small downhill dip back into the stadium. Working my way through the heats, I tried different strategies depending on how the heat was playing out.
In the quarter, I sat back around the second or third position down the hill and then hung on up the hill to coast into the finish in second. The semifinal pace started strong off the line, but significantly let up down the hill, as no one was willing to take the lead. I knew I could get burned if I sat and waited in the semi, since if our heat time was slow our heat wouldn't be awarded any of the two lucky loser positions for the final. Not wanting to risk this, I took the lead and pushed down the hill. There ended up being a tangle-up and crash behind me, and I was lucky to be in the clear. I hammered up the hill, hoping to hang on to the lead. Losing some steam in the homestretch, I dropped to second, just barely clinching a position in the final heat. The final differed from the other two heats, as it started hot off the line and didn't let up. I did my best to hang on, but never managed to be in the mix for the podium. I ultimately finished sixth. It's not every day that I get to ski through to the final, so I was content to continue gaining valuable heat experience.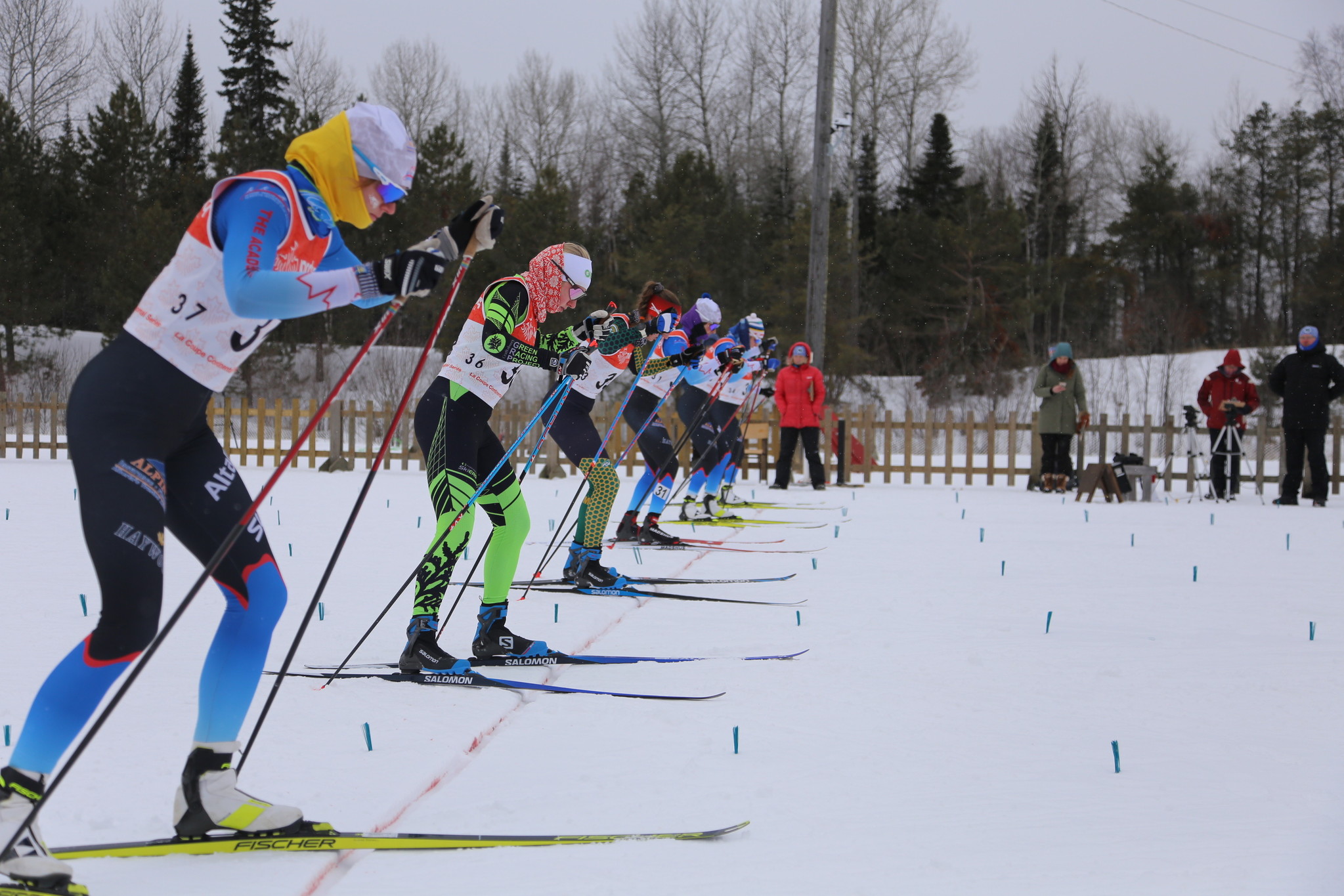 The final heat in the skate sprint at Canadian Nats. Credit: Lakehead Superior Nordic Association.
I returned home to Craftsbury, Vermont after Canadian Nationals, excited for one final week of racing at US Spring Nationals at the Craftsbury Outdoor Center. My team, the Green Racing Project, is based out of the Craftsbury Outdoor Center, so we were especially looking forward to racing on trails that we're very familiar with, having done countless interval sessions on the race loops. The weather was warming quickly, but a huge snowstorm the week before and the tireless work of the Craftsbury maintenance team made for impressively good spring conditions. The schedule was unrelenting, with four races in five days.
The week kicked off with a 10-kilometer interval start classic race. By the end of the season, nearly everyone is feeling tired and a little rundown, which is important to keep in mind, as those who race the best push these feelings aside and stay mentally tough. No exception to this rule, I was feeling mediocre, so I shifted my focus to staying engaged mentally, finishing the day in 13th.
The second race was a skate sprint. The qualifier started late in the afternoon to draw a bigger spectator crowd from Craftsbury and the surrounding communities. As temperatures had barely dipped below freezing the previous night, the conditions were deep slush, making the course tricky to navigate. These conditions make good technique imperative and reward those who can finesse power. Additionally, if you lose focus, it's easy to get bogged down in the deep snow and never physiologically max out by the end of the race. Reflecting on this race, I felt I could've done a better job of staying mentally engaged and pushing hard to the finish through the challenging slush. While I made a conscious effort to pick up the pace midway through the quarterfinal, something I didn't do in the qualifier, I didn't accelerate early enough. Mistakes are a part of racing and I've learned that it's challenging to be mentally "on" all the time. While disappointed to finish fourth in my quarterfinal and not move through to the semis, it's important to be honest with myself in realizing that I can't expect a stellar result without putting my best foot forward.
Resetting for the next race was important, as it was mixed team relay day! The race format was 4x 5-kilometers with two men and two women per team. Craftsbury put together three relay teams, pulling from our coaching staff to round out complete teams. My team was fellow GRP ski teammate Annika Landis, GRP biathlon teammate Luke Brown, and Craftsbury coach and race director Ollie Burress. Ollie had been on a self-proclaimed "peak or die" training program leading up to the race and the rest of us were as ready as we were ever going to be. The morning lent itself to fast trail conditions and we had a fun time fighting for team clout. My GRP relay finished in fourth place, and our first relay team was in the mix for first all the way to the finish, ending the day in third.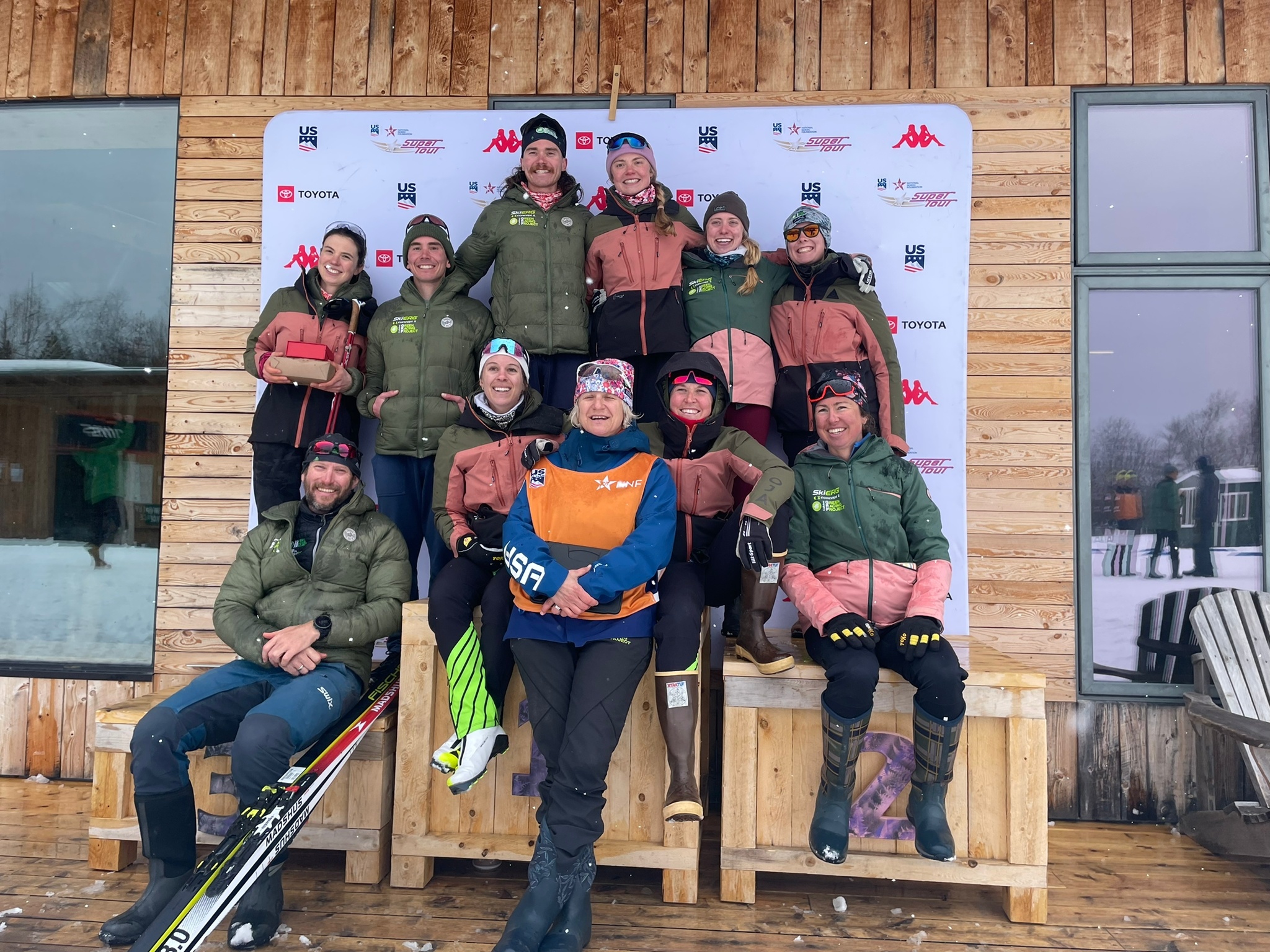 The GRP ski and biathlon team (mostly!) with our ski coach Pepa and wax magician/coach Nick.
The ultimate race of the season was a 44-kilometer classic race. We were fortunate to race on an 11-kilometer loop, as late-season racing oftentimes results in deteriorating conditions and small laps. The race itself wasn't terribly "fun," but there were bright spots like getting to ski with my biathlon teammate Kelsey for a large portion of the race. Another interesting note was getting to race on my zero skis for the first time. Zero skis require no kick wax and move into contention when it's actively precipitating and around 32 degrees Fahrenheit. The conditions were perfect for zeros and my Salomon zeros were running better than my klister skis. Crossing the finish line, I was happy to make it through 44 kilometers and for finishing another season strong.
Following the race season, I was looking forward to a week of ski coaching in rural Alaska with Skiku. My fellow coaches for the week were my University of Alaska Anchorage teammate and current BSF skier Hannah Rudd, my current GRP teammate Jake Brown, and BSF skier Reid Goble. Upon arrival in Shungnak, Alaska, a town of about 250 people, we were quickly catapulted back into winter, with morning temperatures between -20 and -30 degrees Fahrenheit. Despite the frigid temperatures, we were warmly welcomed into the community. We arrived just after the high schoolers from neighboring villages had returned home on snow machines (i.e. snow mobiles, snow-gos, ski-doos) from Prom weekend in Shungnak. As a welcome surprise, the school's principal, a former professional track athlete from Arkansas, introduced us to a small portion of Inupiaq culture by showing us how to properly skin a fox. Our technique could use some refining, but we got the job done. The school's motto is "It's a we," and we felt this continuously throughout the week as we shared meals and witnessed kids helping and encouraging one another on skis.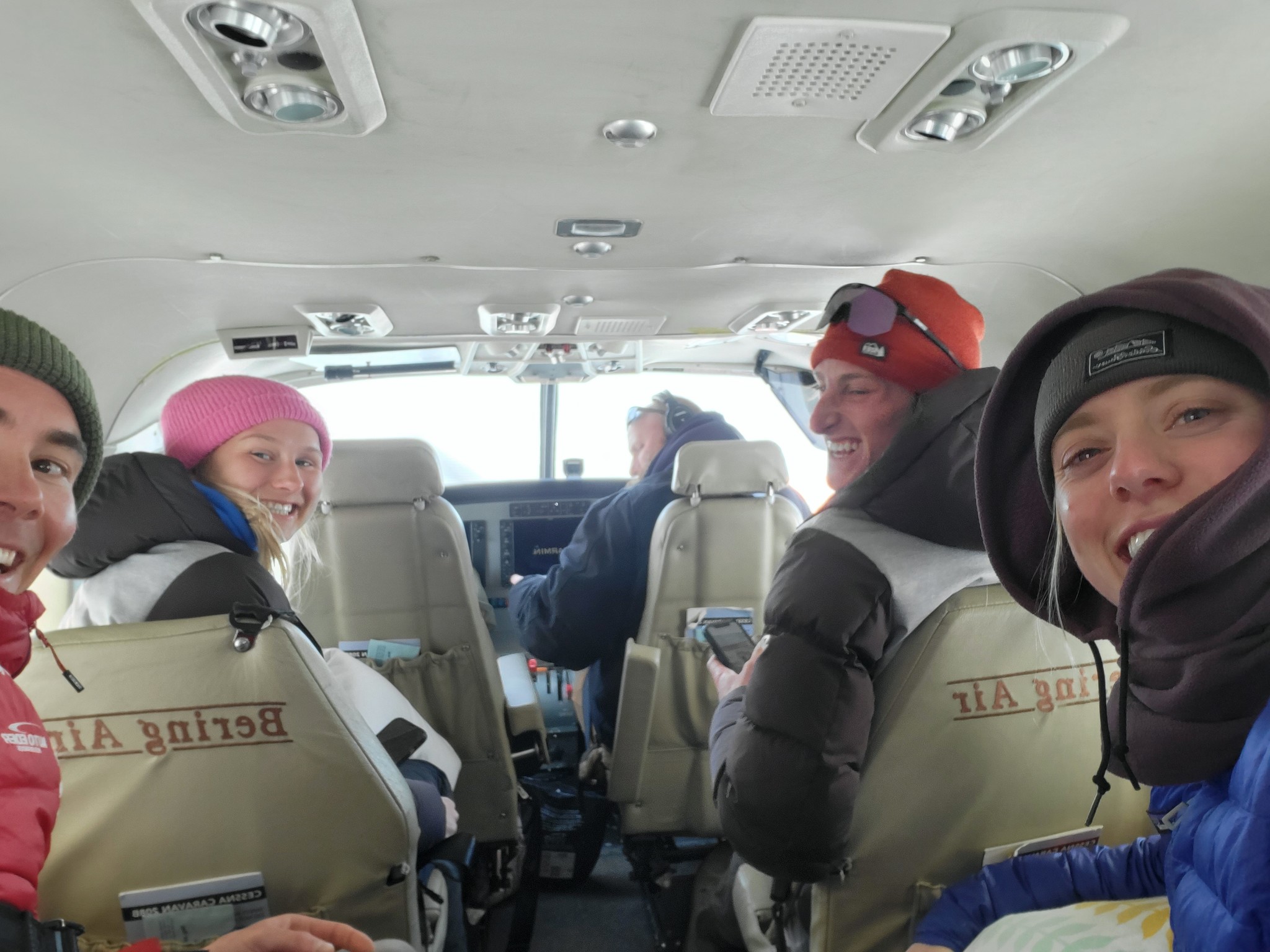 En route to Shungnak, AK with Hannah, Jake, and Reid.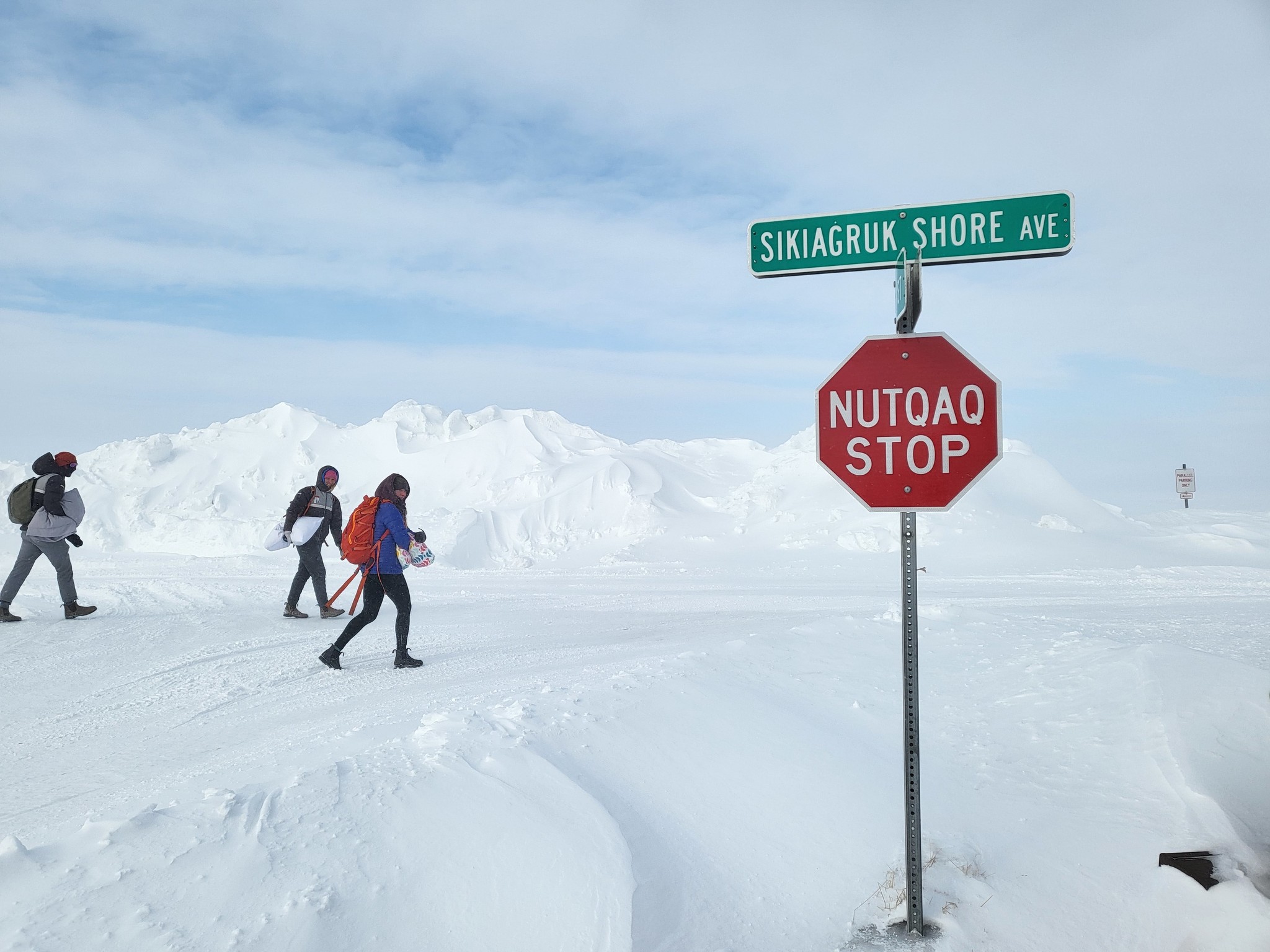 On a very chilly layover in Kotzebue. Exploring the town!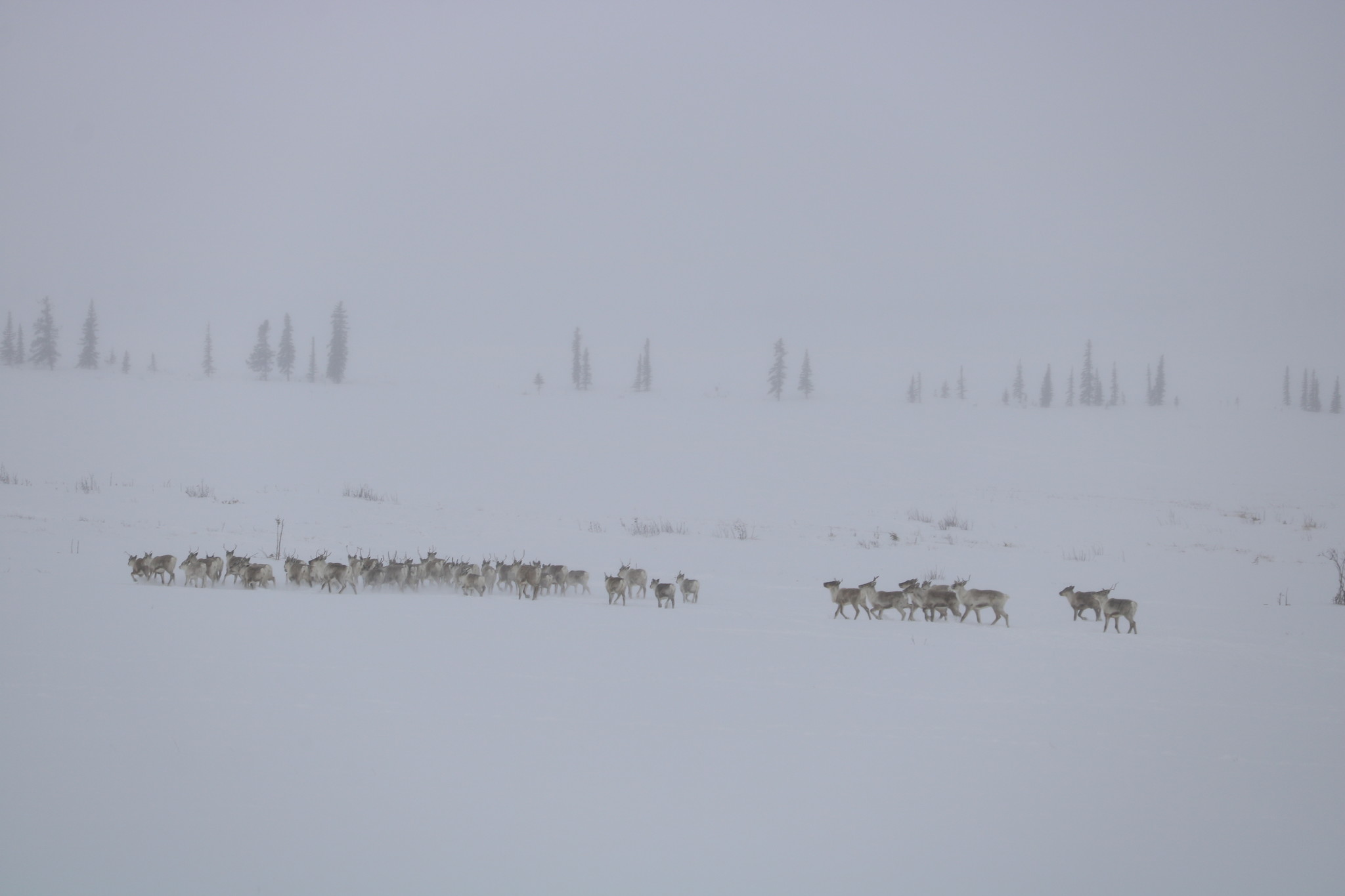 A caribou herd we saw when skiing around Shungnak upon our arrival.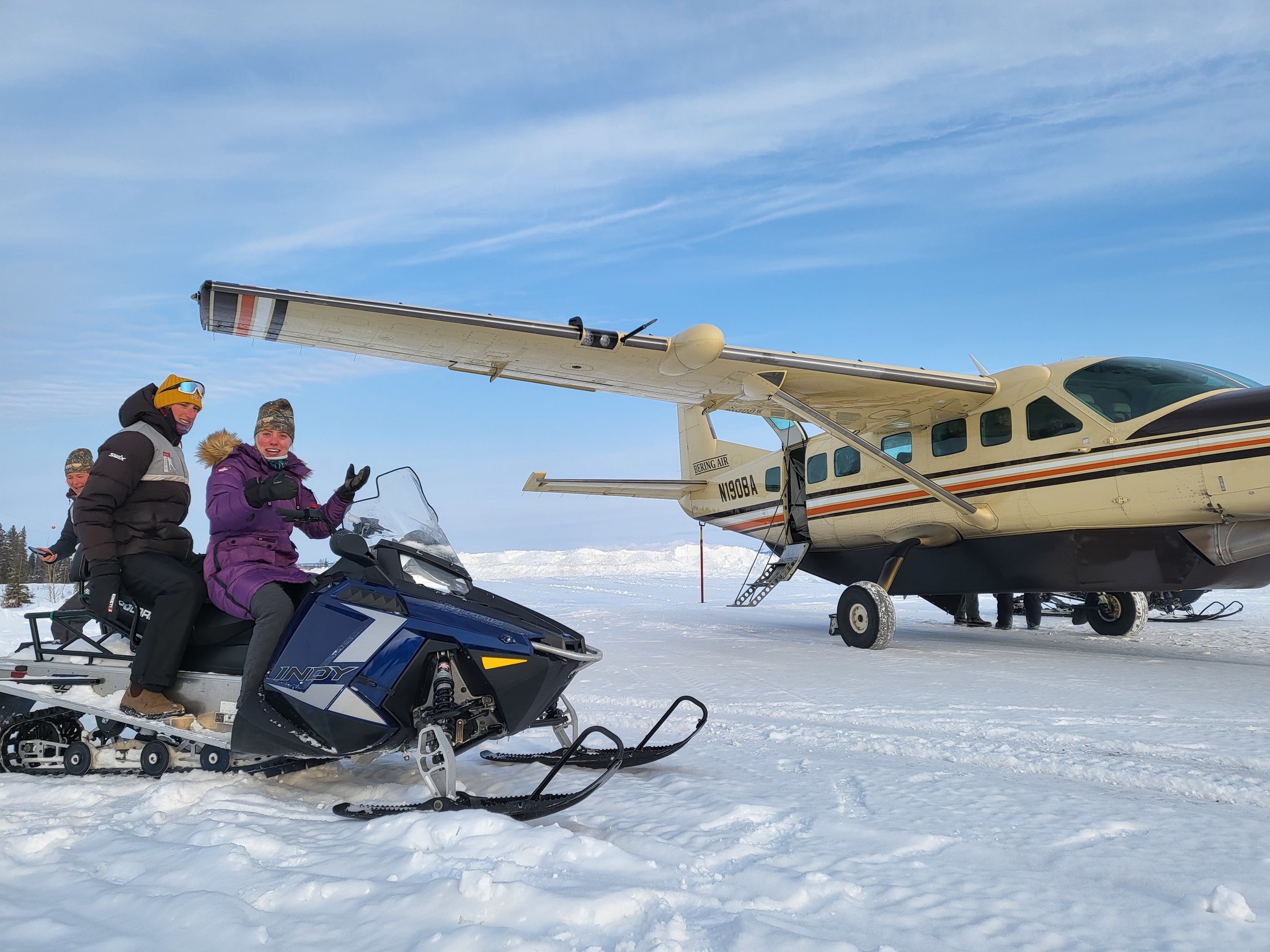 Driving the snow machine after picking up our ski bag from the airstrip.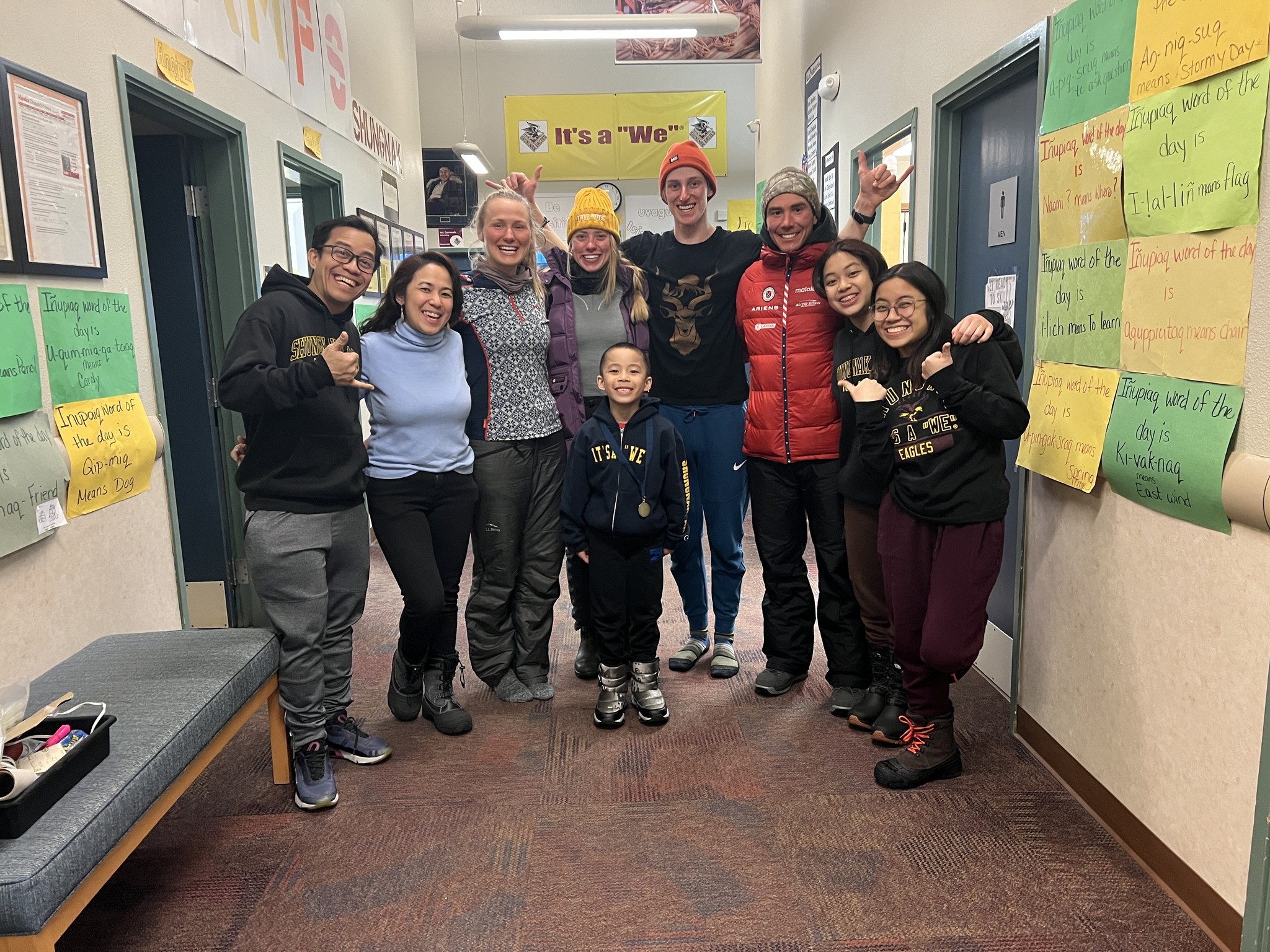 The Pre-K/Kindergarten teacher, Ms. Chy, and her family moved to Shungnak from the Philippines. We loved getting to know their family and being able to try the Filipino dishes that they so generously shared with us. The dad, RA, learned to ski this week and we think we've already convinced him to start training for the Birkie.
Hannah, Jake, Reid, and I were guest coaches for the week, taking each grade out for an hour-long session during the school day and leading an after-school session for all K-12 grades. The days started with brief Zumba and a school assembly, although not until we had sipped coffee from our "it's a we" mugs. From there, the skiing fun began, continuing until after-school skiing wrapped up in time for a late dinner. The goal of Skiku weeks is having fun on skis and learning to ski without much focus on the nitty gritty of technique. We enjoyed watching the kids improve throughout the week; many were just learning or re-learning to ski, so seeing skiers go from working on staying upright to conquering a downhill was awesome. We were also so impressed at the resilience and positive attitude from everyone. Even though the temperatures were below zero and the snow was beyond slow, they were psyched to be outside learning new skills.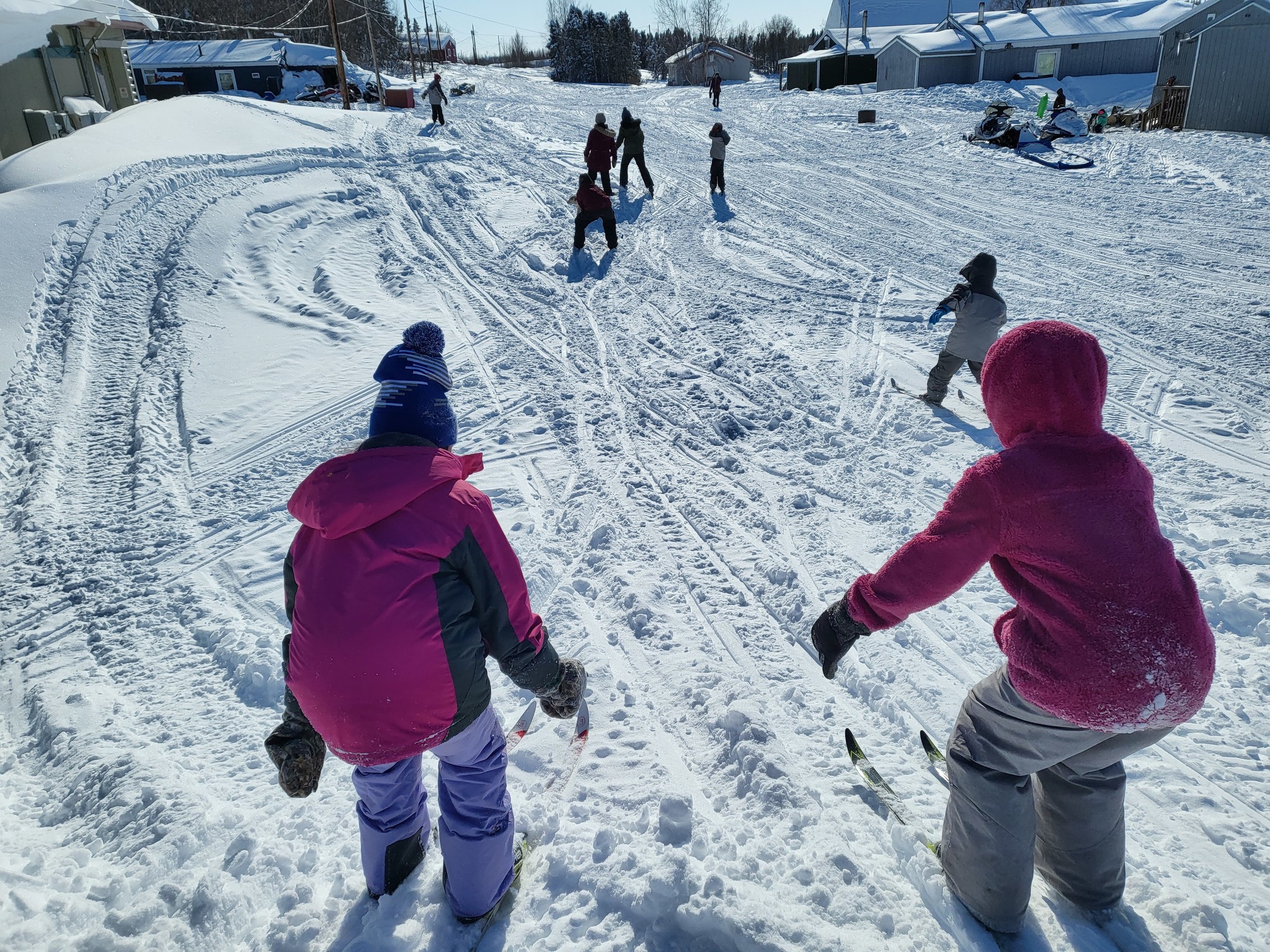 Mastering the downhills.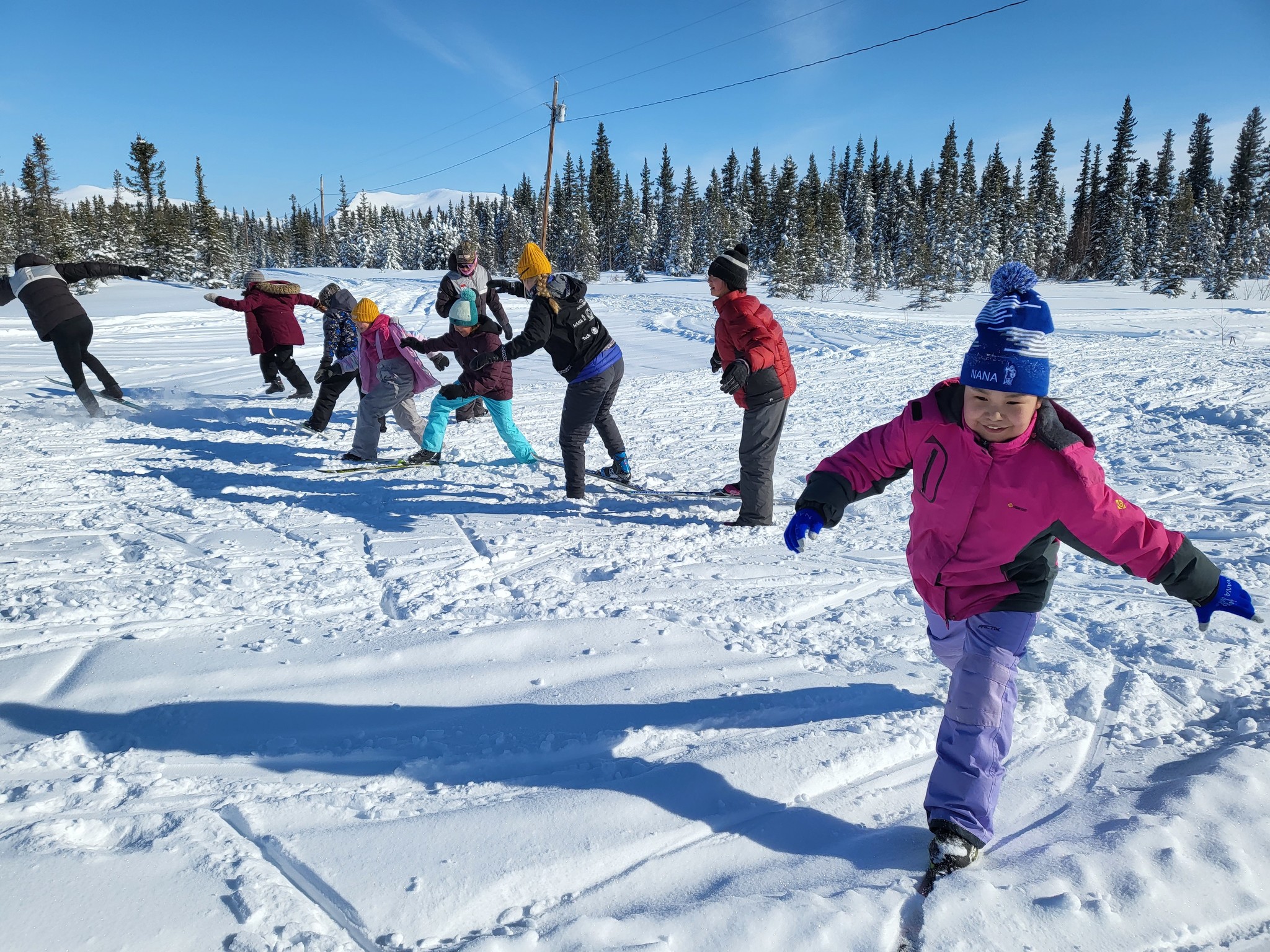 Playing a favorite game- Mr. Bear, what time is it?
From an after-school bonfire and smores ski to a school-wide race on the final day, we loved sharing in the joy of skiing. When we spend so many hours training and racing every year, it's easy to get caught up in results and forget that spending time on skis with friends should be fun. This week was a great reminder of that. On Friday, we were lucky to witness the Kobuk 440, an iconic sled dog race that runs through Northwest Alaska. A local Shungnak musher, Dempsey Woods, was racing and the whole town lined the main street (a health clinic, a general store, and family houses) to cheer on the mushers.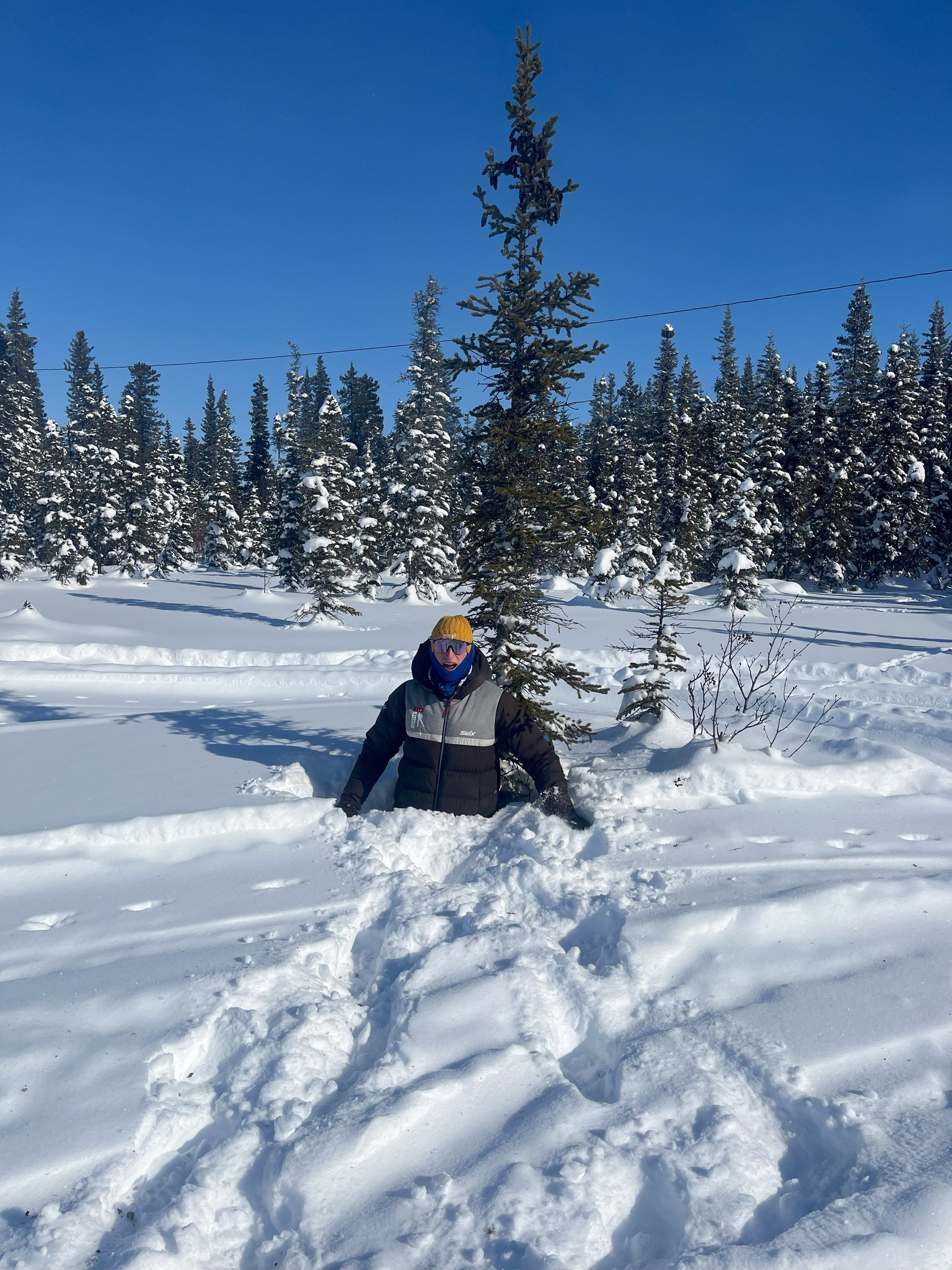 Still a ton of snow in April!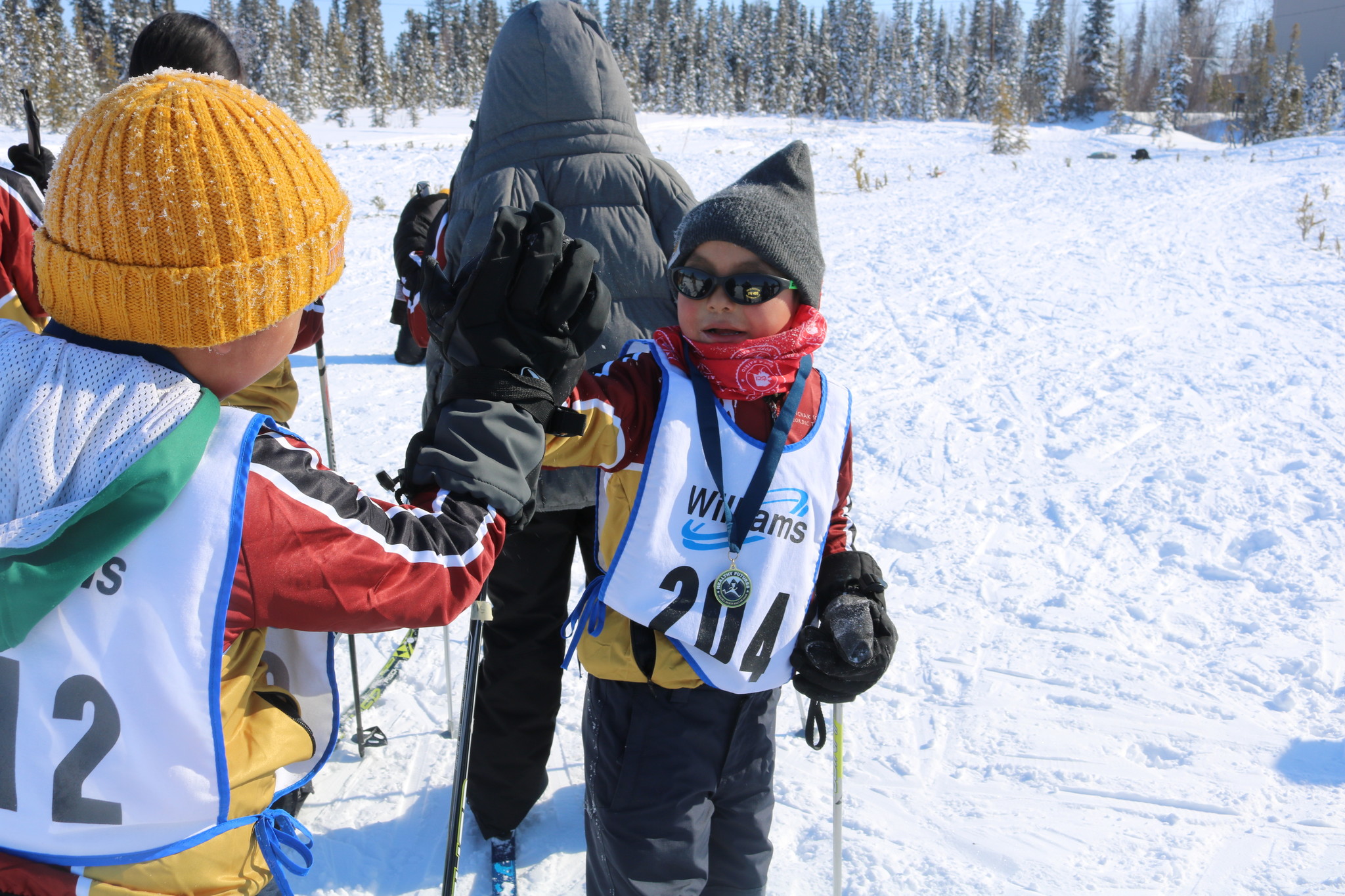 "It's a we," especially on race day.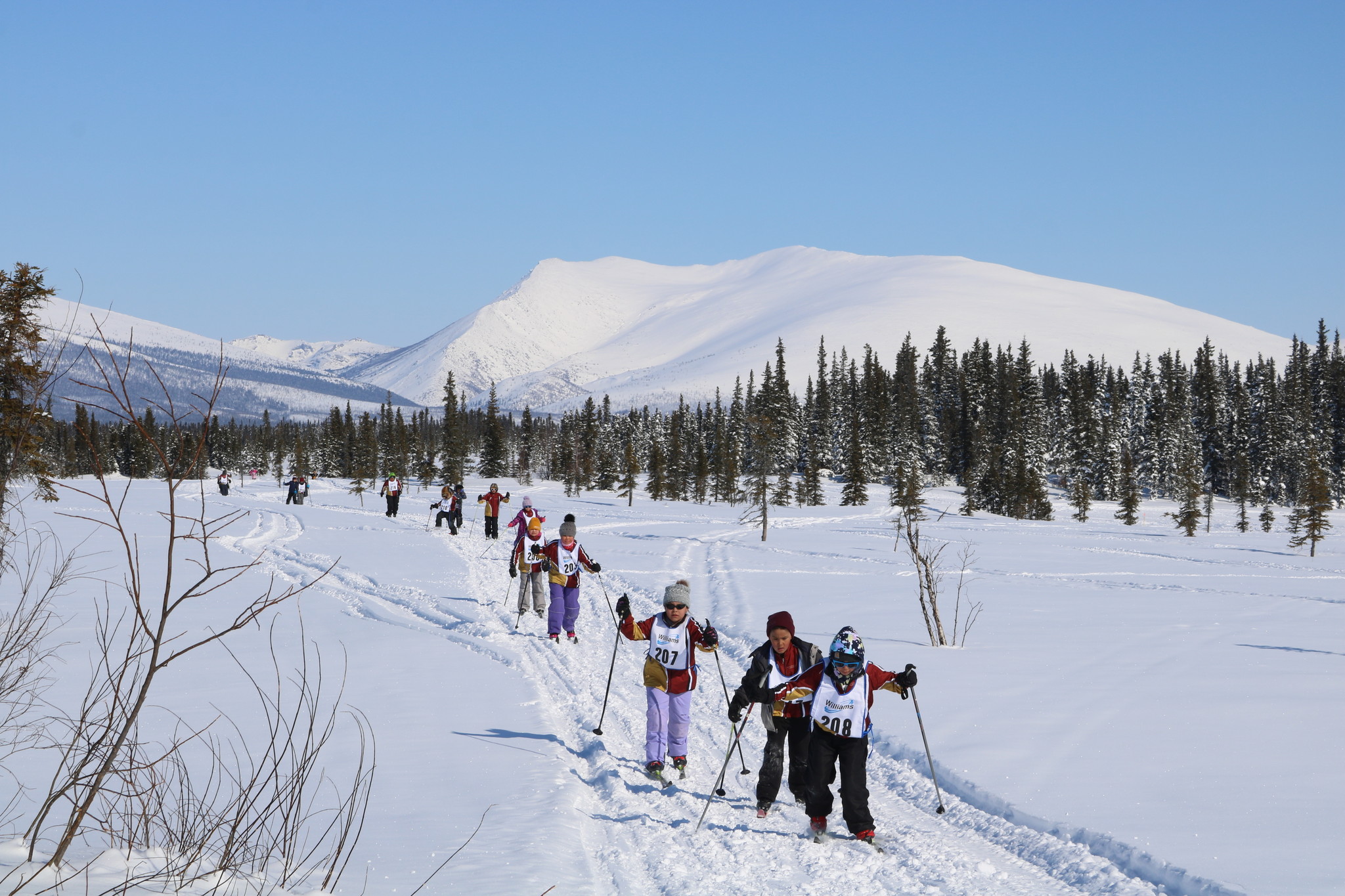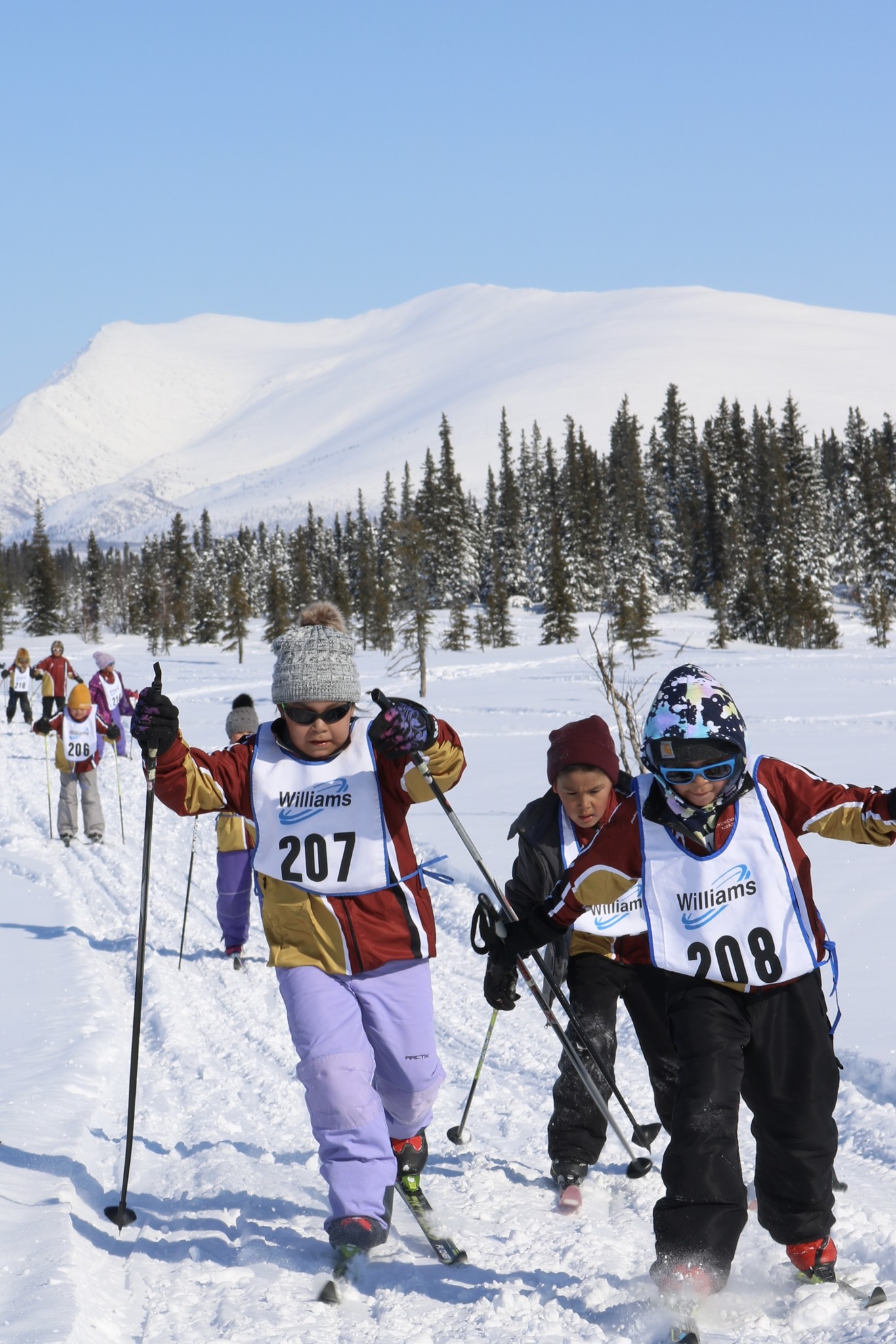 Full school race. Go Eagles!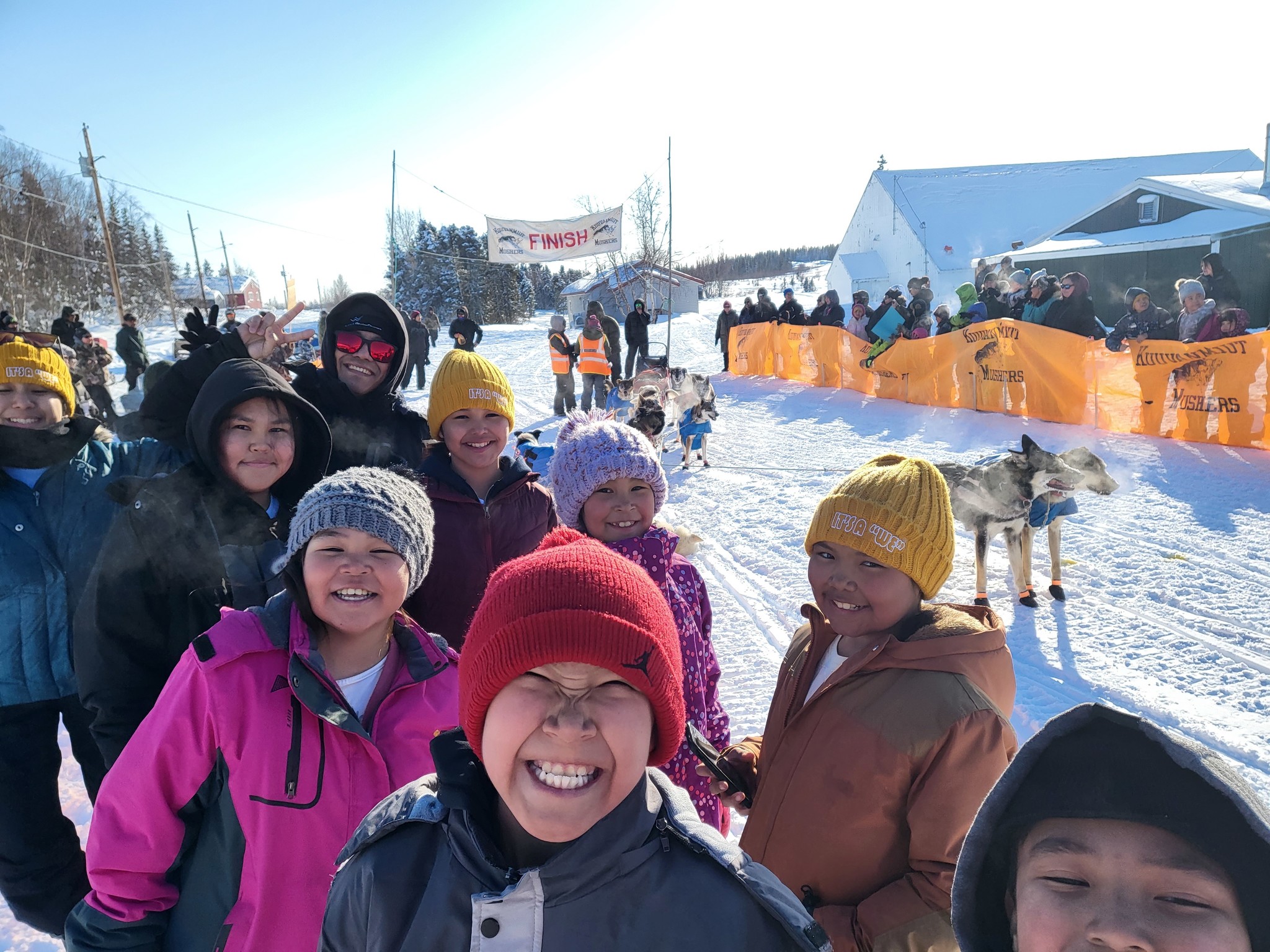 Cheering on the Kobuk 440 in town.
The following morning, school was out for the weekend, and we finally had the energy to go for a ski before our 8-seat plane came to pick us up from the airstrip. We followed the snow machine tracks that are essentially the "roads" from town to town and were also part of the Kobuk 440 route. After seeing no snow machines on the tracks all morning, we noticed a sled dog team catching us from behind. Cheering them on, we realized the musher was Dempsey, who shouted out, "looks like I'm not the only one having fun this morning!" Still well below zero degrees outside, we were warmed to see such a unique view of the race. On our way back we saw two more teams, finishing off a very rad ski after an enriching week of skiing with the school in Shungnak, Alaska.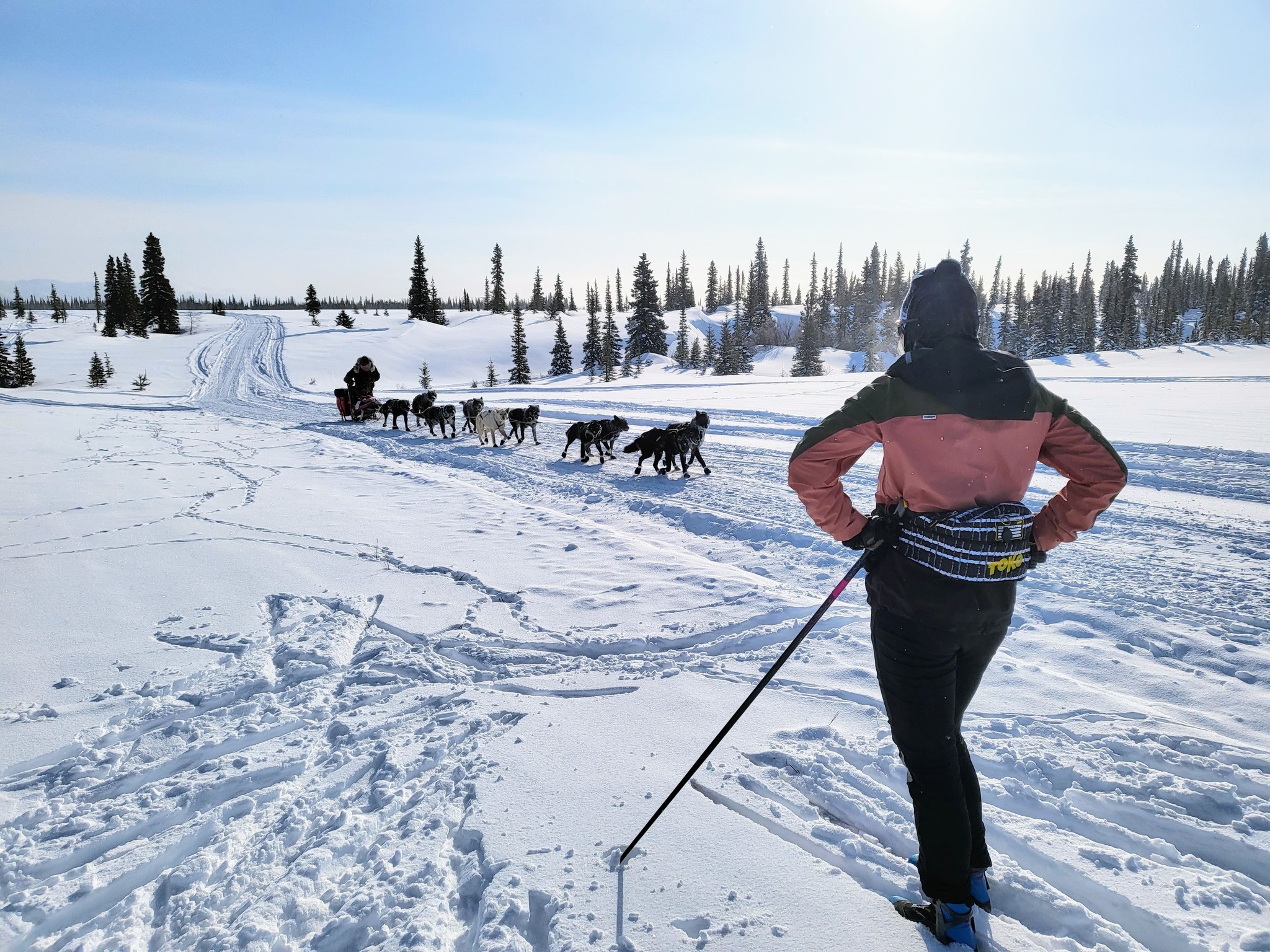 Cheering on hometown hero Dempsey Woods in the Kobuk 440.
I'm currently making my way back to Craftsbury, Vermont to kick off another summer of training and preparations for next winter. Though I still haven't managed to find true spring weather, I'm hopeful I'll find some soon in Vermont!
Until then, happy trails!
Michaela Keller-Miller