Posted on
By Michaela Keller-Miller
Summer (and Fall) of the Gym
Now that temperatures are finally starting to drop and fall colors are in full force here in Vermont, it seems as if ski season is finally on the horizon. Although I know many skiers are impatiently awaiting snow (or are already skiing out West and in Alaska!) I've personally been enjoying the chance to rediscover roller skiing and running after a summer of indoor training. My ankle surgery in June left me confined to the gym to maintain my ski fitness. Initially, all I could do was sit-SkiErg and core. To my relief, as recovery progressed, so did my stationary training options.
In September, my Craftsbury Green Racing Project (GRP) teammates and I were fortunate enough to travel to Germany for indoor skiing in the Oberhof ski tunnel (more on this shortly). Following our snow camp, we returned to dryland training in Craftsbury, where I've been steadily returning to "normal" ski training.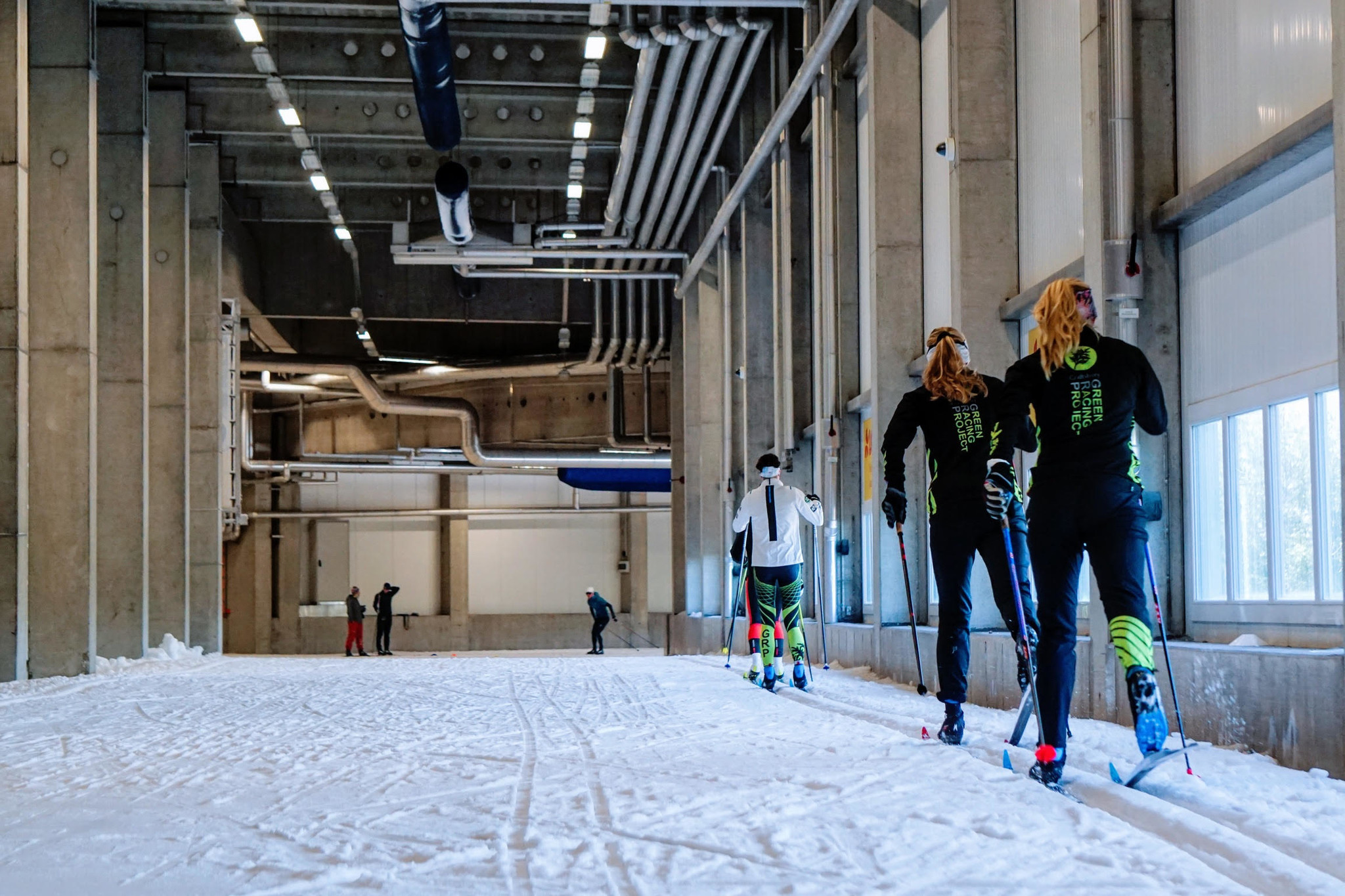 September skiing with GRP teammate Margie Freed
Since my last update in early July, I've spent nearly 100 hours on the SkiErg and countless more cross-training in various forms. While oftentimes mind-numbing and a bit lonely, stationary workouts proved surprisingly effective. Not only that, but with a bit of tunnel vision, the months I spent on crutches and in a boot went by relatively quickly. In the interest of staying engaged and focused, I tried to follow a typical training block schedule with at least two interval or speed sessions a week.
Initially, I'd shoot for morning distance sessions of at least two hours and try to tack on a short afternoon SkiErg session paired with core. With my legs out of commission and jelly for arms, thanks to the relentless SkiErging, strength sessions took a hiatus. As for the weekly intervals, I'd schedule in a Level 3 (L3) threshold workout and a Level 4 (L4) higher-intensity workout. A go-to L3 session was 3x15 minutes at a pace just below race pace, whereas an effective L4 session was 4x1 kilometer at race pace. The combination of an L3 and L4 session each week was essential to keeping training fresh and maintaining fitness.
One of many SkiErg interval sessions. These progressed from sitting, to one-leg, to standing as the summer went on.
One of the more difficult components of skiing to simulate on stationary machines are the pace changes that come with rolling terrain. As such, I found that a good way to break up the monotony of SkiErging is to throw in 10 speeds throughout a distance session. A challenging Level 3 workout that targets this conundrum is two sets of 25 minutes, where the first 40 seconds of each minute are at L3 and the final 20 seconds are at an easy distance pace. This workout starts out feeling almost too controlled but always becomes incredibly difficult by the end. 
Summer's end welcomed back biking and walking. Whereas spin biking was a refreshing mental (and physical) break, the transition to roller skis was a bit more challenging. Balance and stability were both something I took for granted until I tried to roller ski again in August; it turns out that sit SkiErging and crutching aren't the best preparations for roller skiing, even if I just double poled on flat ground. By this point, the clock was ticking until the GRP traveled to Oberhof, Germany to train in the snow tunnel. I'd only managed to accumulate five total hours of roller skiing prior to the trip, so I was debating whether my ankle was ready to exclusively ski on snow for two weeks straight. After careful deliberation, I threw caution to the wind and decided to join my team in the hopes that classic skiing on snow would put less stress on my tendons than roller skiing. 
The GRP's plan for Oberhof was to put in a solid speed block on snow while dialing in technique. As I was still in the early stages of regaining strength and balance, my goal was to ski as much as my ankle would allow and to continue working on double poling, as I hadn't yet attempted striding nor skate skiing. For those unfamiliar with a ski tunnel, think of it like an ice rink, but instead of a rectangular sheet of ice, picture a loop of groomed snow. Oberhof's tunnel had a small loop complete with hills and two short 'out and backs' jutting out from the loop. The whole tunnel takes under 10 minutes to ski easy. We skied our fair share of laps while we were there, but it was a definite upgrade from two months of stationary workouts. 
Dialing in the double poling in Germany
After I spent the first tunnel day only double poling and successfully exhausting my arms, I was wondering how I'd possibly survive two more weeks of double pole camp. However, the following day Coach Pepa klistered my skis and I gave striding a go. Although there was still some ankle irritation, I was pleasantly surprised at how normal striding on snow felt. With the addition of striding to my training arsenal for the week, I could turn my focus to more technique work.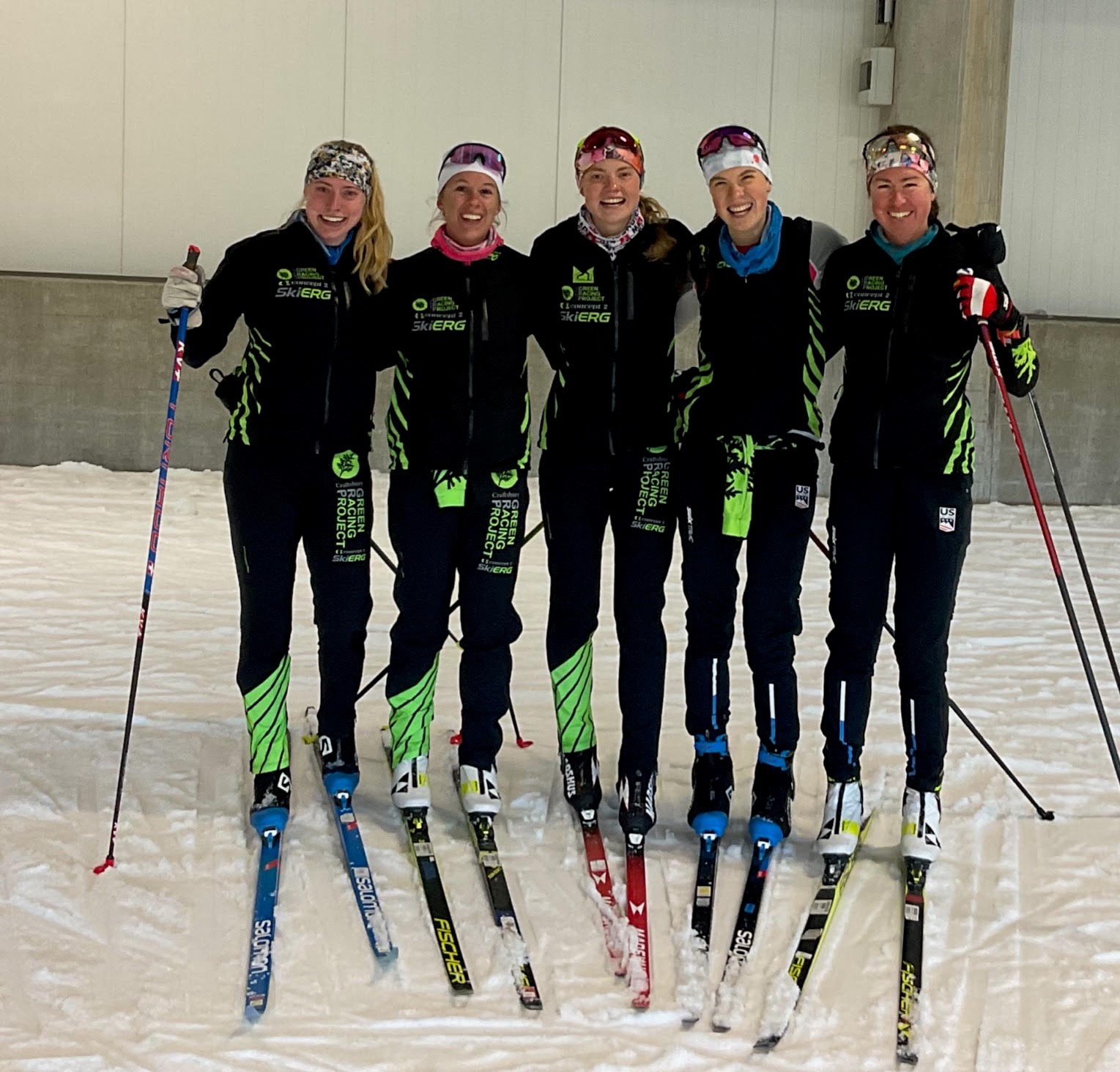 The GRP women in the Oberhof ski tunnel
By the end of camp, I was even able to try my hand at some L3 intervals. Other than tunnel training, we also did some outdoor strength and running. My runs were limited to short one- to two-mile morning or pre-strength jogs, which was enough to explore some of the endless trails right in town. One of the coolest parts about Oberhof were the trails that crisscrossed throughout the town and connected neighboring areas. To get a break from classic skiing, I rented a bike one day and set out on a loop that was almost exclusively double track. I found myself passing by several picturesque lakes, trekking up steep mossy pitches, and zooming down the famous Rennsteig bike route. Overall, the combination of the beautiful scenery, the opportunity to ski on snow in September, and my rapidly progressing ankle healing made for a successful overseas training block.
A scene from bike touring around Oberhof
Upon our return to Vermont, I was mostly back in the gym, as it turns out roller skiing was still a bit of a challenge. While I was steadily increasing my time on classic roller skis, albeit with some tendon inflammation, skate roller skiing proved to be more painful. Injury recovery tends to go in waves or as some would say, two steps forward and one step back. The backward steps are frustrating, but they're a part of the sport and I always try to do my best to take whatever is thrown my way. It was odd to be back on the SkiErg for intervals after taking a pause on gym time in Germany. Regardless, these intervals were a great boost to my training. Another bright spot was that I was starting to get outside more for half-hour runs and gravel bike rides. 
Fast forward to today in mid-October and training is starting to look more "normal," whatever that means. Just this week, I joined my team for an L4 uphill running with poles workout and hit 90 minutes for a skate roller ski. Both went well and reaffirmed that consistent cross-training done right can be surprisingly effective in not only sustaining, but in building fitness. Ultimately, I wouldn't choose to re-break my ankle, crank out sit SkiErg intervals, or complete a four-hour over-distance session in the gym. Nevertheless, I'm grateful for every hour of my unconventional summer training. These solo gym workouts allowed me to tap into a new level of strength and grit that are sure to give me a leg-up come race season.
Until next time,
Michaela Keller-Miller