Finn Sisu Blog Number 1 
Topic: S1.E1: Pilot (Adjusting to a new scene)  
Hello Finn Sisu blog readers! I'm a new name here, so allow me to introduce myself.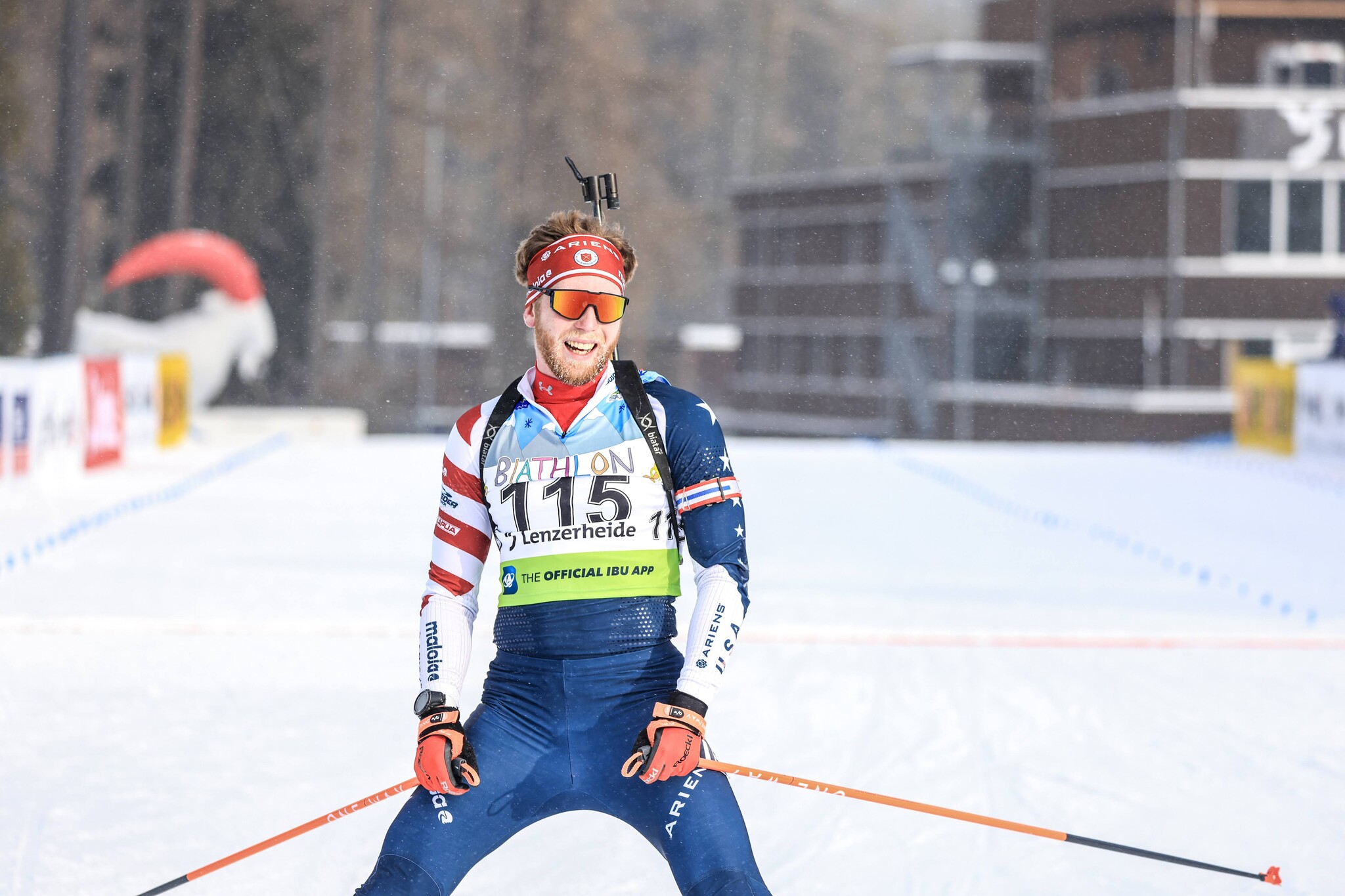 An exasperated finish in the Open European Championships Sprint (61st)
My name is Tim Cunningham, I'm a biathlete, and I race with the Craftsbury Green Racing Project.  
Like any good pilot episode, I want to give an overview of who I am, my traits as a professional athlete, my training environment over the years, and how my motivations have changed as a result. I'm your standard biathlete: I enjoy long skis on the groomers, warm cups of concentrated electrolytes (hot cider), and the smell of gun powder in the morning. I started skiing in high school, mostly because I was told I could ski and shoot guns, which still sounds like the coolest thing a person could do in the winter. No photos exist to show my disappointment when I was handed a paintball gun mid race later that season. I had to wait until college to begin "doing" biathlon, but that was no hindrance to my enthusiasm. I found a coach in Jericho, VT the summer before my first year of college and he set me up with a loaner rifle to use for the season. I did my first rollerski biathlon that August and was immediately hooked. It wasn't until December, when I raced my first true biathlon race, when I was diagnosed with terminal "biathlon fever." No cure has yet been found.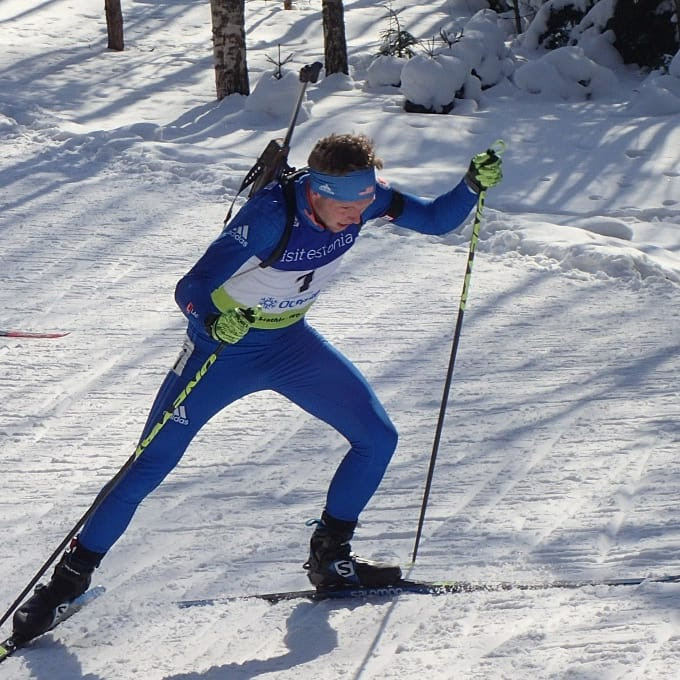 My first Biathlon Championship in Estonia. I was pretty nervous to draw bib one for this race.
In college I raced at Junior World Championships in Estonia and at NCAAs before graduating from St. Lawrence University in 2021, when I began my professional career as a biathlete. Since then, I've moved across the country twice, spending a year each in Truckee, CA, and Lake Placid, NY, before finally settling down in Craftsbury, VT. Recounting all my athletic history in these places would take more writing than anyone should be willing to read. Hardships and grand adventures make stories entertaining, but finding the right situation to make progress and mistakes, is what makes the present engaging and the future attainable. However, with finding the right situation comes being ready to accept the conditions thereof. How I learned the truth of that statement is the meat of today's story, and it begins with talking about recovery.  
The body absorbs training better when it's given appropriate time to recover. Recovery is a fine balance of several key elements: sleep, nutrition, time spent off the feet, and a low stress environment. It's the song and dance we all heard growing up in sport, and at the professional level, most of the progress isn't gleaned from increasing training load, but from optimizing these recovery variables. Here is where you should chuckle as you remind yourself "It's easier said than done," especially in the working world. The two years I spent between college and Craftsbury lacked several of the factors needed for recovery. Between working multiple part time jobs, living out of my car in California, and doing double sessions in the Adirondacks before my 1:00 to 9:30 PM retail work shift, my reality had been fitting training around my life. My goal wasn't "optimize recovery", it was "work to afford food and a bed so I can train as well as possible". This was not the life I imagined for myself, but the lesson was apparent; proper recovery is a privilege that needed to be earned.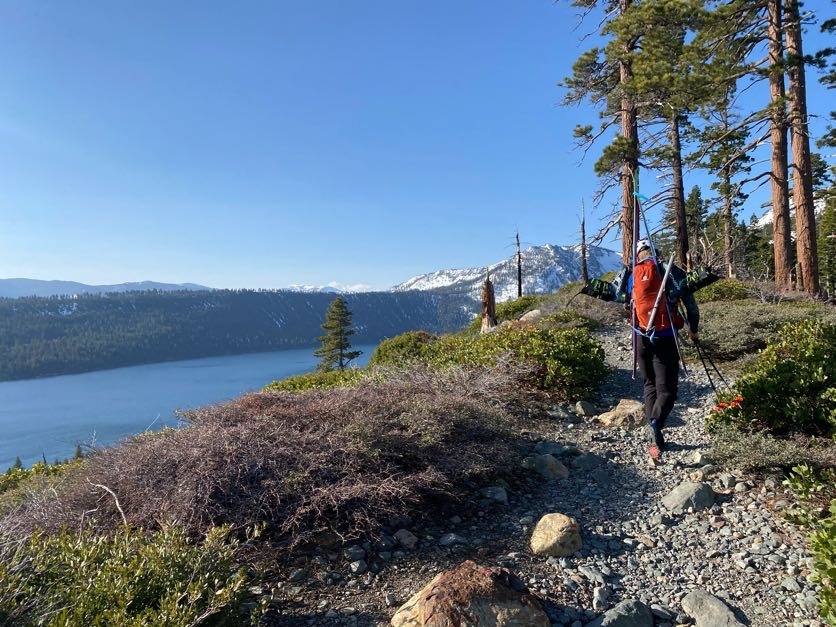 Enjoying spring training with a ski touring OD on Mt, Tallac in south Lake Tahoe.
Realizing this truth was both crushing and motivating. As an athlete I understand recovery is essential for performance; no amount of training stimulus will cause growth if our bodies don't have the time or energy to make the physiological changes demanded by the stimuli. In this regard, the weights of expectation, stress, and self-doubt deep into my psyche. I had competitors and close friends who could train unhindered without the stress of having "a real job". The progress made by any one of those friends was mind blowing to me. With so few international racing spots to qualify for, it felt impossible to expect the same growth to happen under my circumstances. Thoughts of quitting would visit me often as I searched through my life in the back of my car for the cleanest clothes to work out in. 
The part of me that isn't an athlete sees these "setbacks" differently. Every opportunity to quit was an equally strong opportunity to double down on my dreams. I believe that the biggest obstacles make the easiest targets to take down. If proper recovery is a privilege to be earned, then I would need to find a way to earn it. I became incredibly motivated by the thought of achieving despite my obstacles, and the way I chose to improve was to train my shooting skill and mental game. Shifting my motivations like this was freeing for me; I was constantly reminded that even though I couldn't train perfectly, I could still train as best as I could. No one would have held it against me to retire before achieving anything as a professional, but one of my core values in life is being able to learn from any situation as much as possible. Facing doubt head on allowed me to learn a thing or two about perseverance and faith in the process.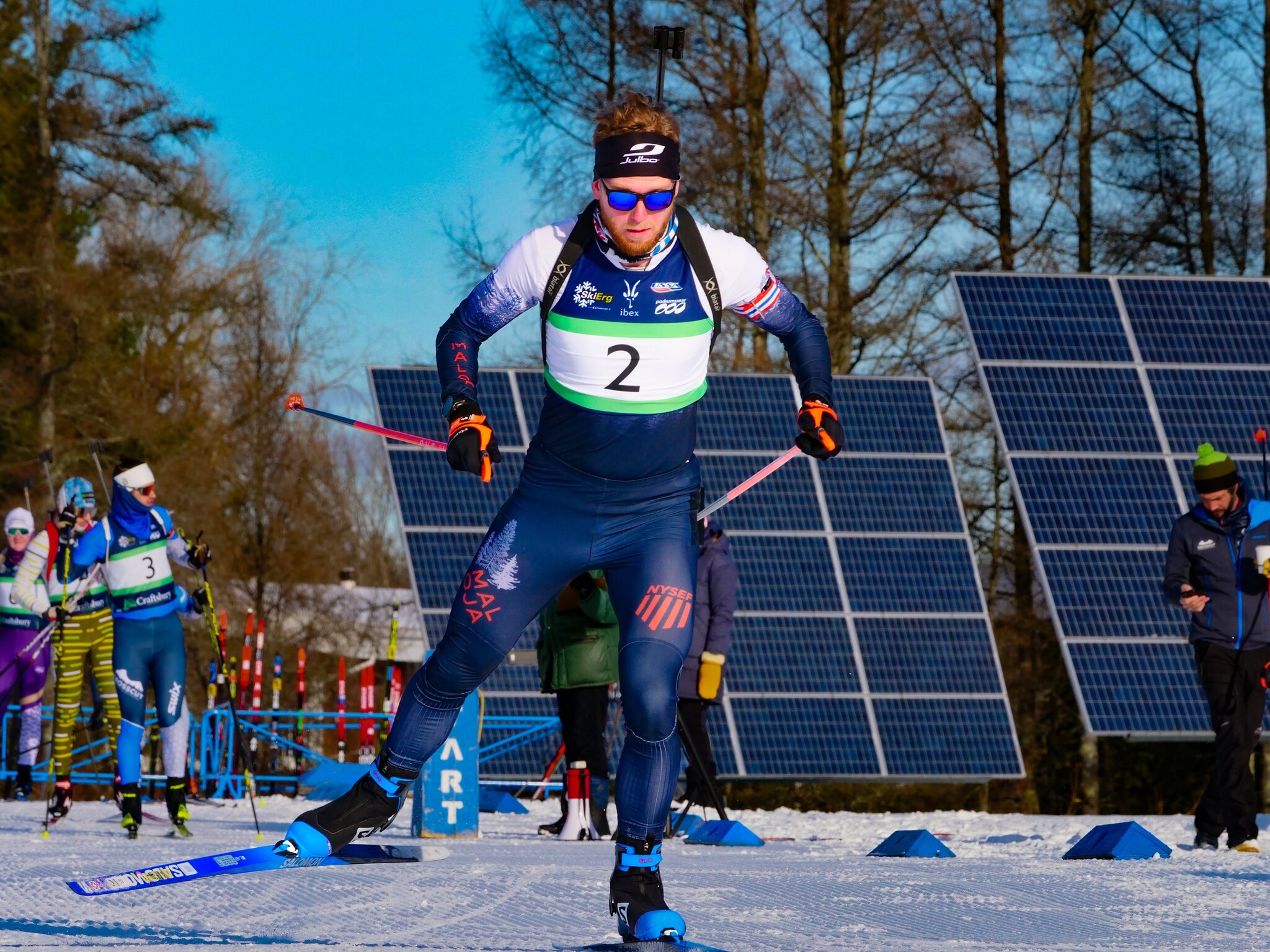 Day one of the 2022 IBU December trials in Craftsbury. Locked in, ready to go.
It took a year, and moving back across the country, but it paid off in time. Representing the USA at the IBU Cup this past winter was, in every cliché way, a dream come true. Driving through Europe, making new friends, and racing in postcard locations must be one of the best ways to celebrate hard work as a competitive skier. The friends I made, and ultimately my results abroad, are what helped me join the Craftsbury Green Racing Project this year. I quit my job, packed my bags, and moved for the third time in as many years. I'd finally made it over the hump! I have unlimited access to coaching staff, teammates, and recovery opportunities; I'm housed, fed, and supported in more ways than I knew I could be.  
While being a member of the GRP is a career boost I'm grateful I've earned, it is far from the last big jump I need to make to chase down the best. It seems like every week I make ground somewhere and at the same time discover a new barrier in my process. I'm finding ideas and mindsets that were beneficial in prior years are now holding me back, and certainly these traits aren't always so productive but for now it's a part of my journey. Being able to make the changes needed to compete at the top is a skill I'm getting to develop here with the GRP, and I'm stoked to get to share what I learn with you.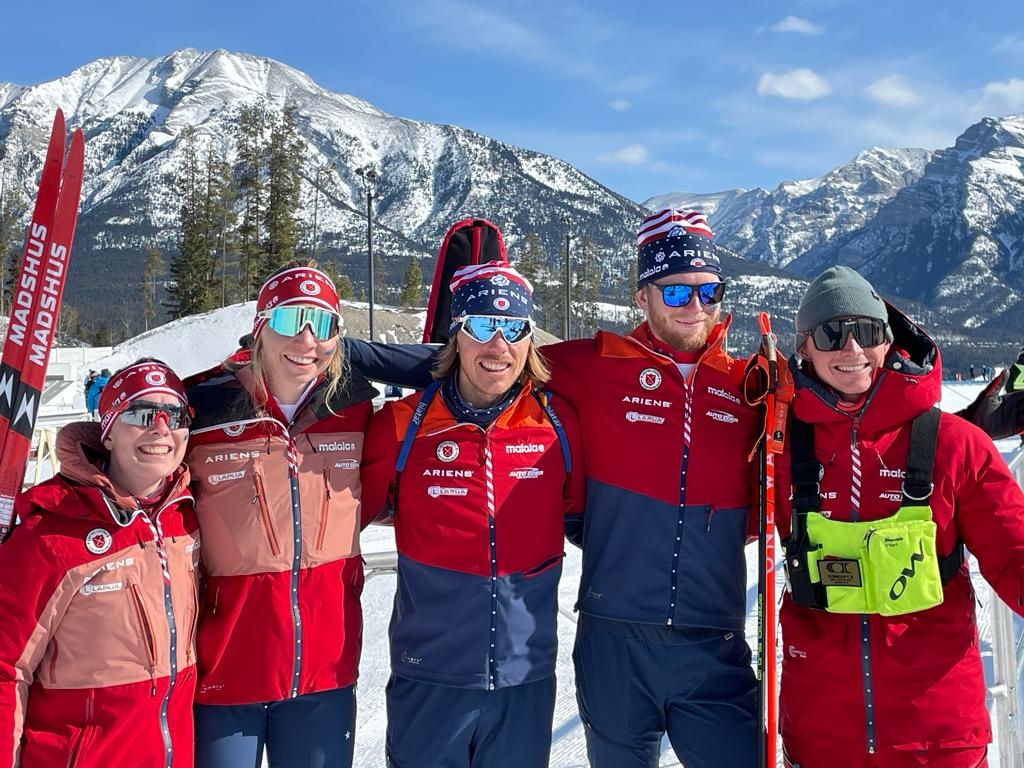 Celebrating our first relay top ten finish of the IBU Cup season. 
Next month I'm racing with my teammates in Soldier Hollow, Utah for a chance to represent the USA in the first period of the IBU/World Cup season. We will finish up those races with a trip to Finland to get time on snow just before the racing happens, so stay tuned because episode two will be action packed! 
Written and Directed by Tim Cunningham