Posted on
By Michaela Keller-Miller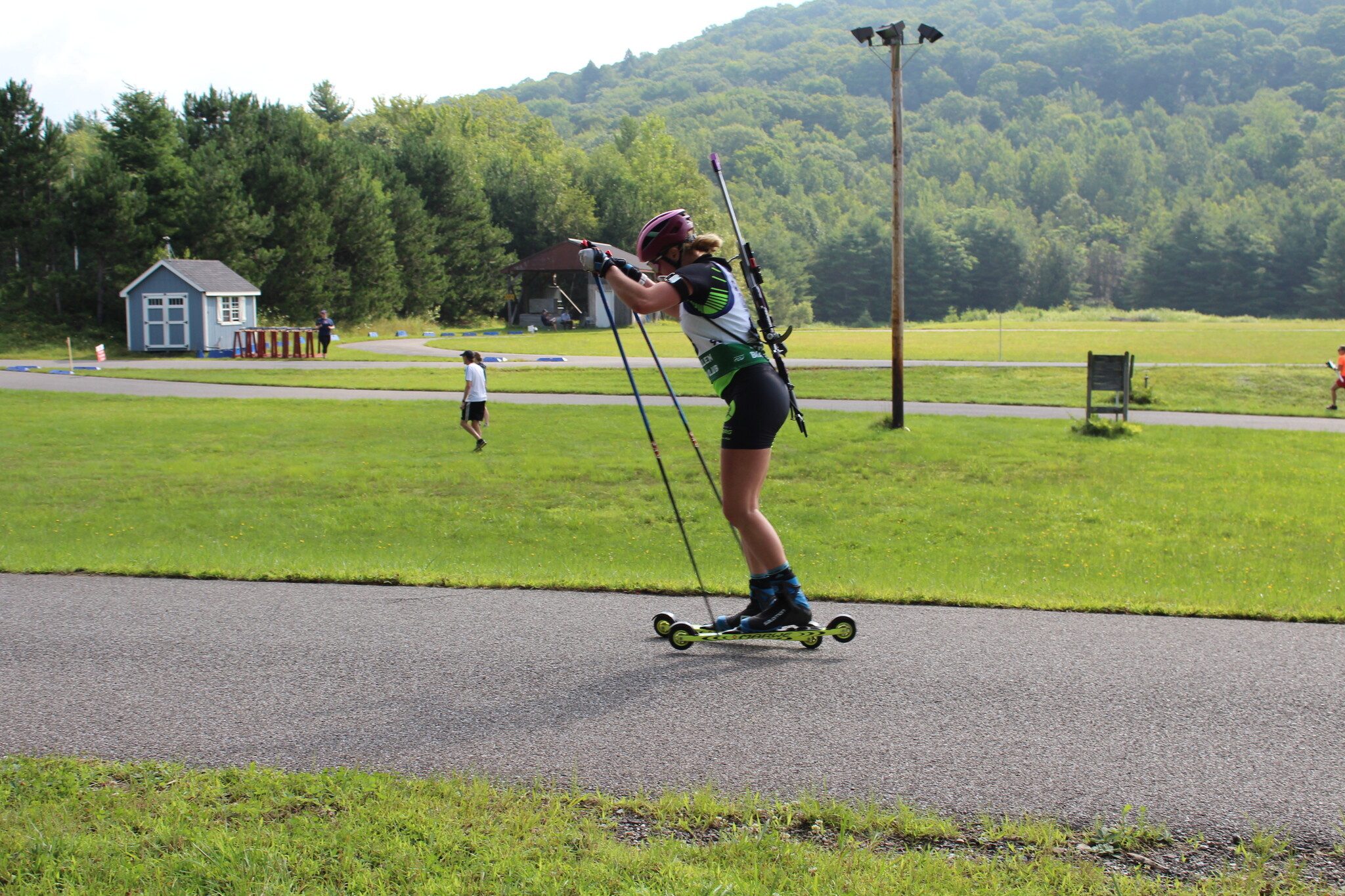 The Usual Summer Training with a Few Added Flairs 
In many regards, this summer has been much like any other summer of training. Long distance roller skis are followed by afternoon runs; morning intervals are paired with afternoon strength. This is repeated week after week, and training hours begin to pile up. Add recovery and work commitments to the mix and fall unwittingly approaches with unexpected speed. 
I've found that the key to summer training is consistency. I've spent the majority of my summer training with the Green Racing Project in Craftsbury, Vermont. We've had an awesome group of full-time and collegiate athletes this summer, which has made for quality training. As most skiers will tell you, there's no secret training plan. Accumulating training hours over weeks, months, and years, paired with lifting in the gym and intervals, leads to success come winter. I've been quite happy with my summer training; I've been working on technical improvements and sprinting speed, as well as continuing to dial in relaxed threshold (or Level 3) skiing.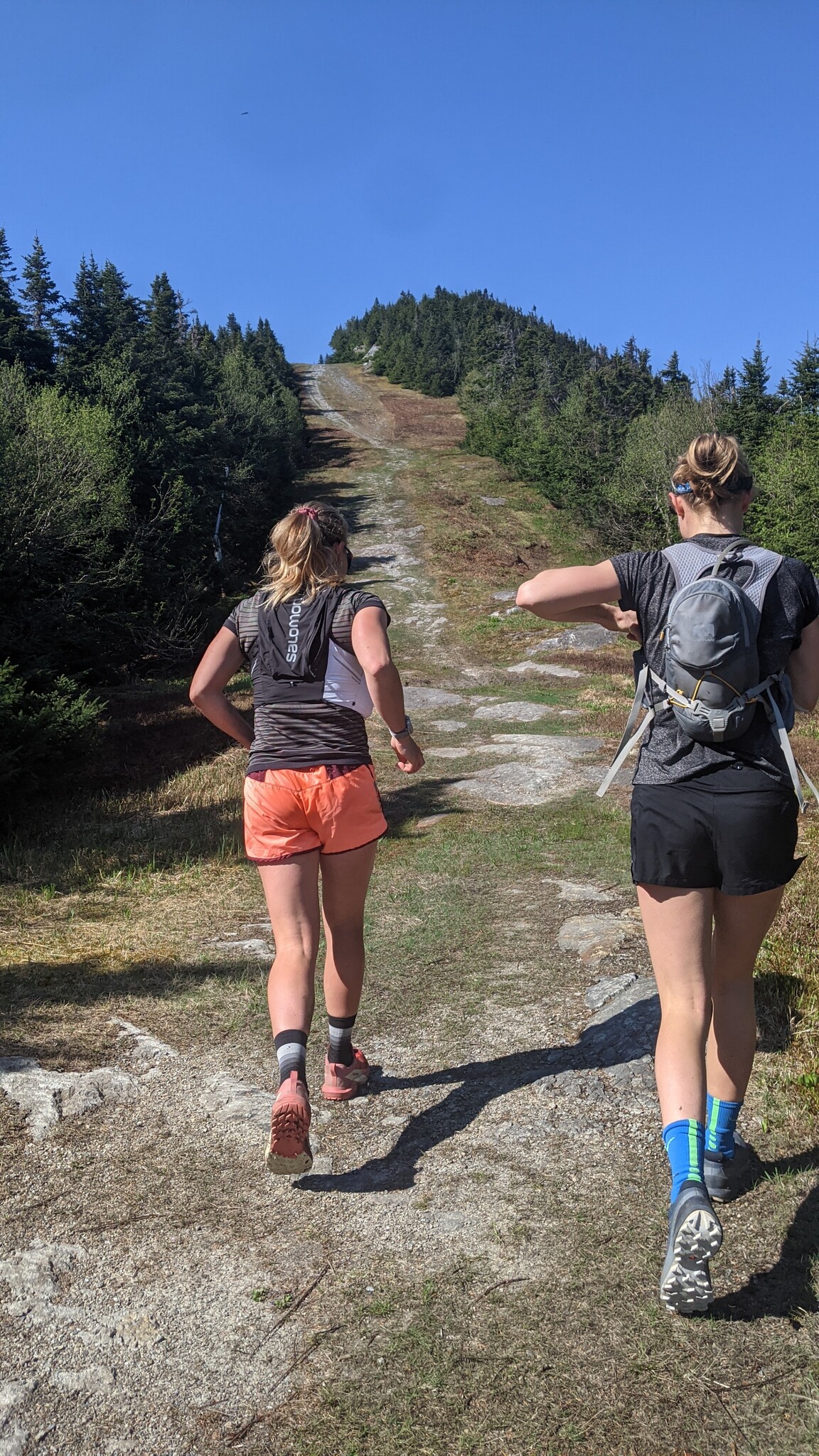 Midway through a long run with GRP teammates Kelsey and Margie.
The summer has been incredibly busy, as I've been balancing a full training load with working part-time as the finance coordinator for a local nonprofit and studying for the CPA exams. With a lot on my plate, I've had to be intentional about compartmentalizing ski training, work, and studying. While at practice, I think about my goals and what I want to get out of that session. For example, if the workout is 6x10 minutes Level 3 on the Craftsbury roller ski track, I choose one or two focuses. For Level 3, I like to think about skiing relaxed and "in zone," as pushing the pace at Level 3 defeats the purpose of a threshold workout. There's a place for race pace intervals, but Level 3 is all about finding sustainable speed that can translate to relaxed skiing when it is race time. Having training goals helps me to stay present when work commitments could cause my focus to drift.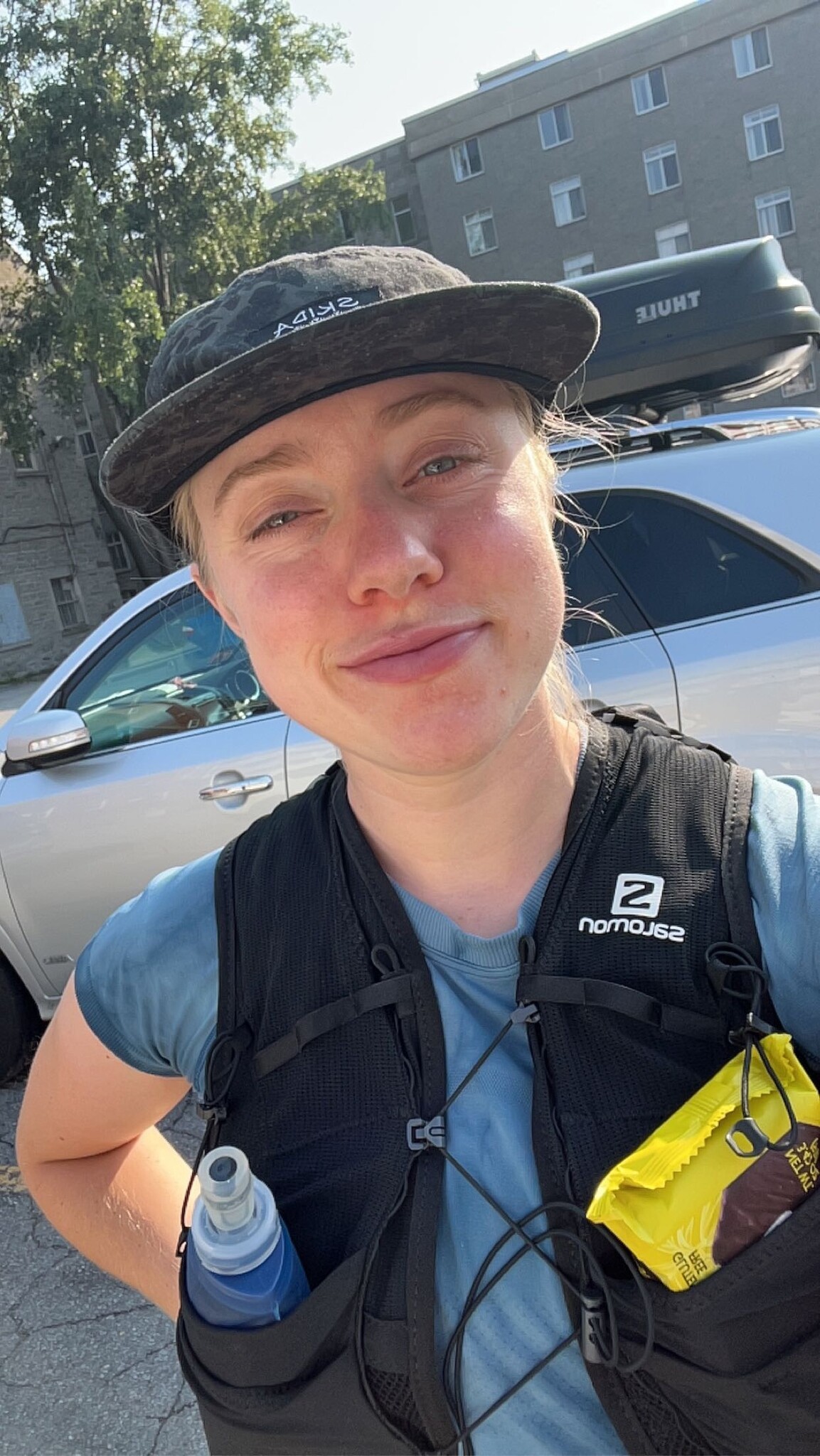 One of my favorite long runs of the summer was a 3-hour run exploring Montreal! Montreal is a little over two hours from Craftsbury.
Another key priority for me this summer has been sleep. Training through fatigue can be beneficial up until a point; knowing my body and realizing when additional training will become detrimental is essential. Fitting in a full nine hours of sleep each night has been crucial to staying below the detrimental fatigue tipping point, absorbing training, and staying focused throughout the day. 
My favorite part of the summer has been adding variety into training by challenging myself to new activities. These have included doing my first Olympic distance triathlon, going to USBA's Project X biathlon camp in Lake Placid, racing at the Beer Mile World Championships in Chicago, and at the Shoreline Sprints roller ski races in Wisconsin (okay, the roller ski races weren't a new activity, but they were still fun). 
After swimming to the end of Big Hosmer Lake and back in Craftsbury last summer (four miles!), my coach Pepa thought it'd be a good idea for me to do a triathlon this past June. I obliged, as I thought it'd be fun to try a different kind of race. The race was Olympic distance, which consists of a 1.5-kilometer swim, a 40-kilometer bike, and a 10-kilometer run. I don't own a road bike and I'd only used clipless pedals once before, so I found a bike to borrow and practiced a couple times before the big day.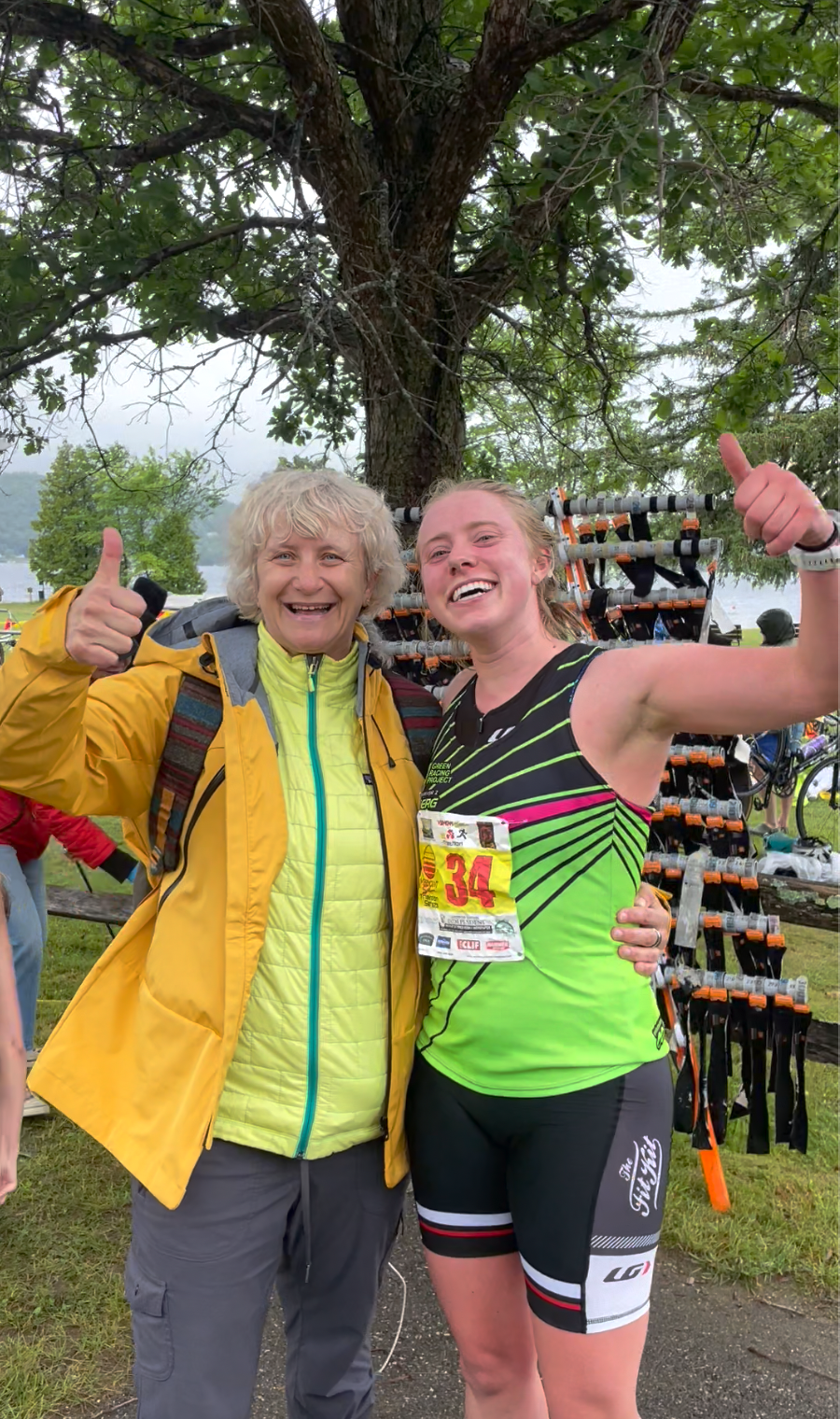 Post-triathlon with my coach Pepa.
Come race day, there were whitecaps on the lake and wind was blowing mist sideways across the bike course. Having only swam in relatively calm waters, I was momentarily panicked in the swim portion. After regaining my composure and swimming as straight as I'm capable (not that straight), I exited the water in fourth place. The bike leg was a bit of a wildcard for me. I knew I had ski fitness, but I wasn't sure how much would translate to the bike. I surprised myself by picking off the top three women heading into the run leg. Perhaps most surprising for me was how terrible running feels after biking 40-kilometers. My legs were on autopilot as I forced them ahead through the first couple miles. By the end of the run, I had worked into the effort and felt more capable of pushing, holding onto the lead for the win. All in all, I loved having a different goal to focus my energy on and to keep training interesting. 
The finish of my first triathlon!
I also went to Project X camp with US Biathlon in June. While I've learned the basics of shooting a biathlon rifle with the GRP biathlon coaches, Mike and Ethan, it was great to have a week with a concerted shooting focus. Biathlon is a very cool sport, and I'm constantly impressed by the dedication and hard work that my GRP teammates put into mastering both shooting and skiing. While I'm nowhere near their level, it has been great to join their practices occasionally and to focus on the process. I'm learning that there are numerous elements that go into biathlon, so focusing on the process, rather than the outcome, is key as I'm getting into the sport.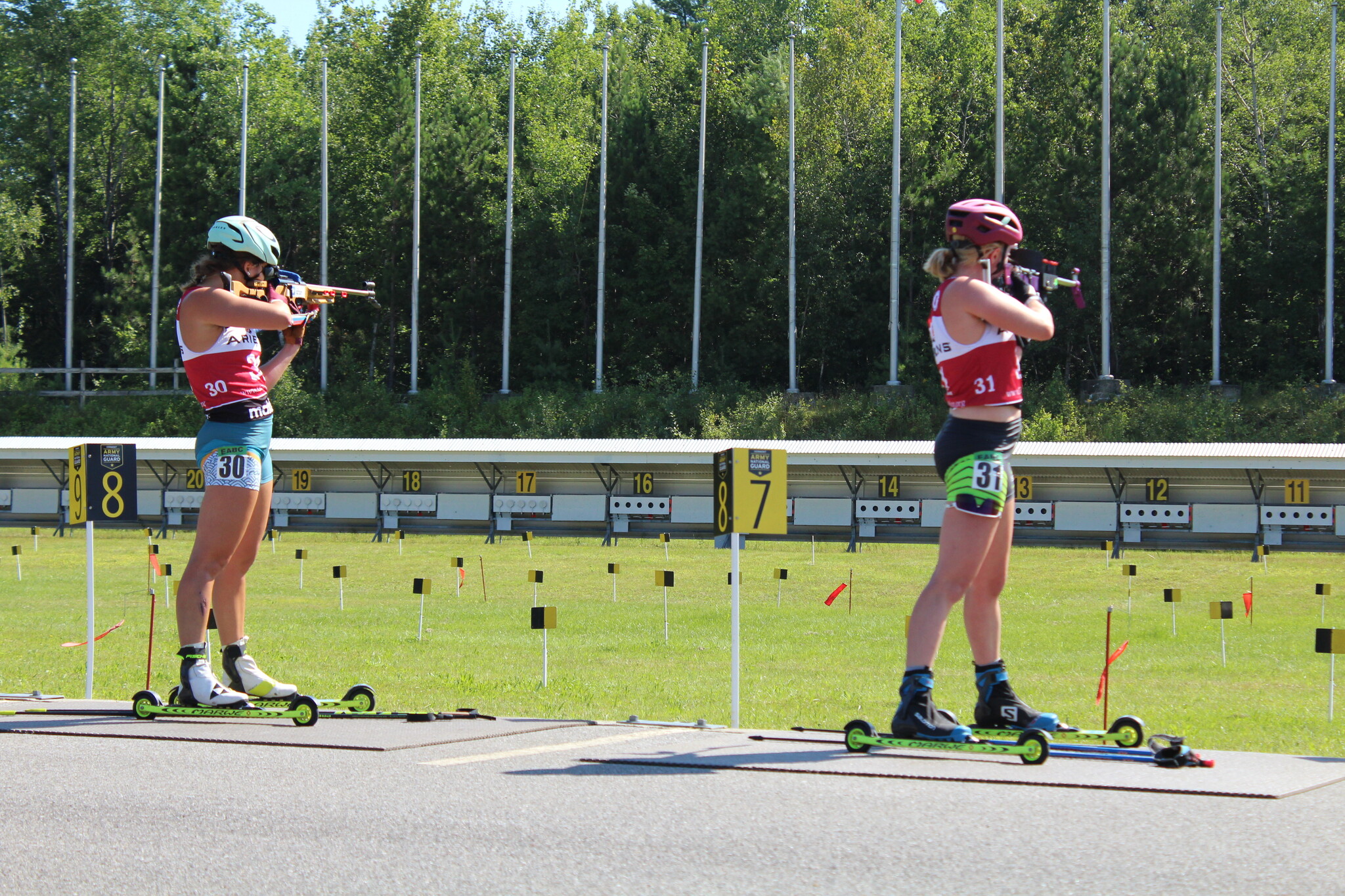 One of the standing shooting stages at US Summer Biathlon Nationals.
To put my new skills to the test, I hopped into US Biathlon Summer Nationals in Jericho, Vermont. There were two races: a sprint and a mass start. The sprint had two shooting stages, one prone and one standing, and was 7.5-kilometers. The mass start had four shooting stages, two prone and two standing, and was 12.5-kilometers. My goal was to focus on the shooting process and to make at least one target. I became very comfortable with the penalty lap; however, I met my goal of thinking about the process and hitting some targets! On the mass start day, I hit at least one target each stage, which I was happy with. As I continue learning and practicing biathlon, I look forward to honing the process so that the outcome will improve as well.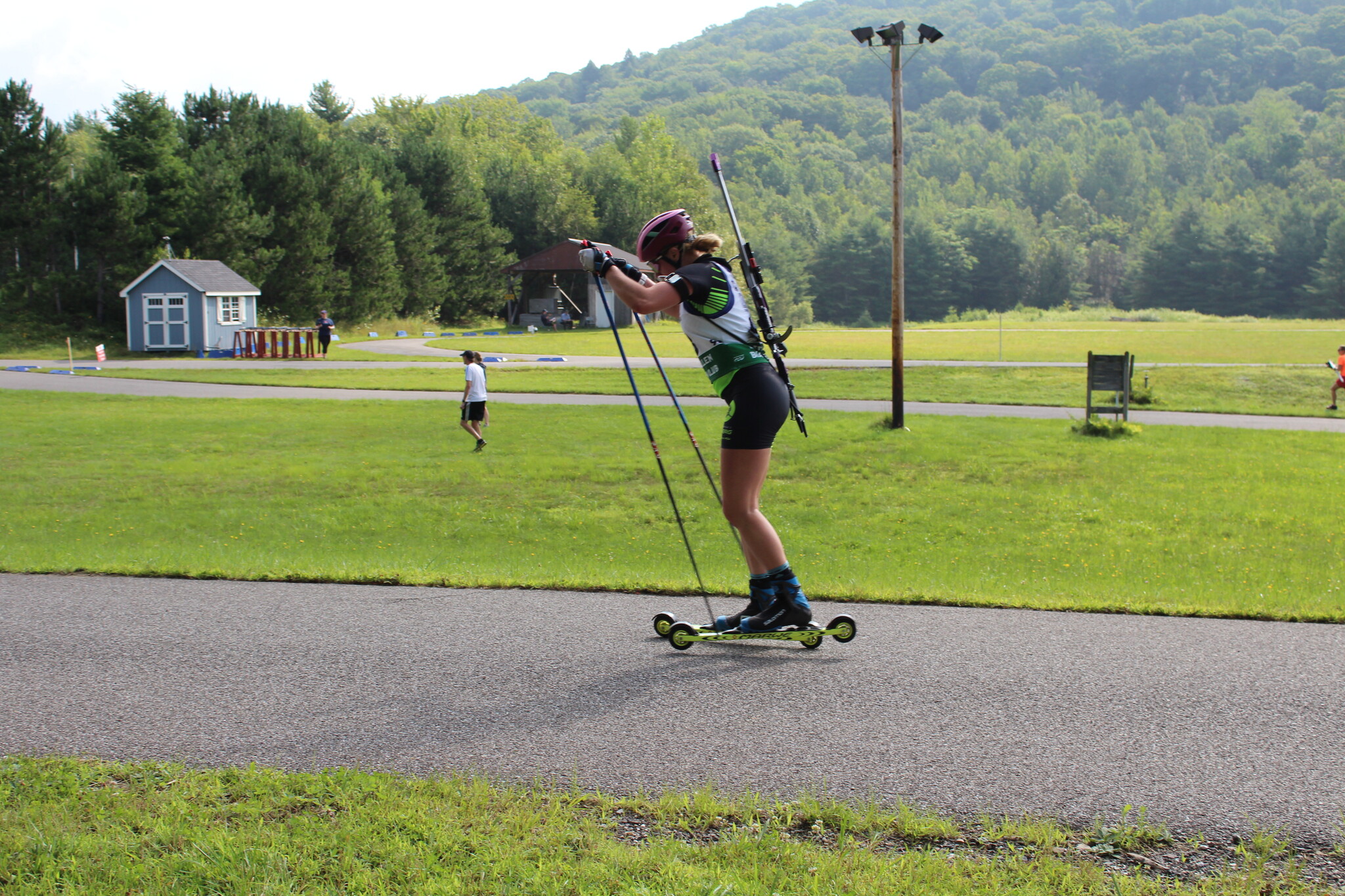 Racing at US Summer Biathlon Nationals.
In July, I went home to Minnesota for a week, where I got to co-host a rollerski clinic with Finn Sisu and my teammate, Margie Freed. I also raced the Shoreline Sprints in Wisconsin, which was hosted by Out There Nordic with matched Marwe roller skis sponsored by Finn Sisu. Summer roller ski races are a great way to check in on training progress throughout the summer and to get in a hard effort at the same time. There were two races: a 15-kilometer classic mass start and a skate sprint. The classic mass start was a fun way to practice trading leads and skiing relaxed in a draft. The pack separated up the final climb, and I hung on to finish in third place.  
Heading into the final climb in the Shoreline 15-kilometer classic race. Credit: Sunny Freed.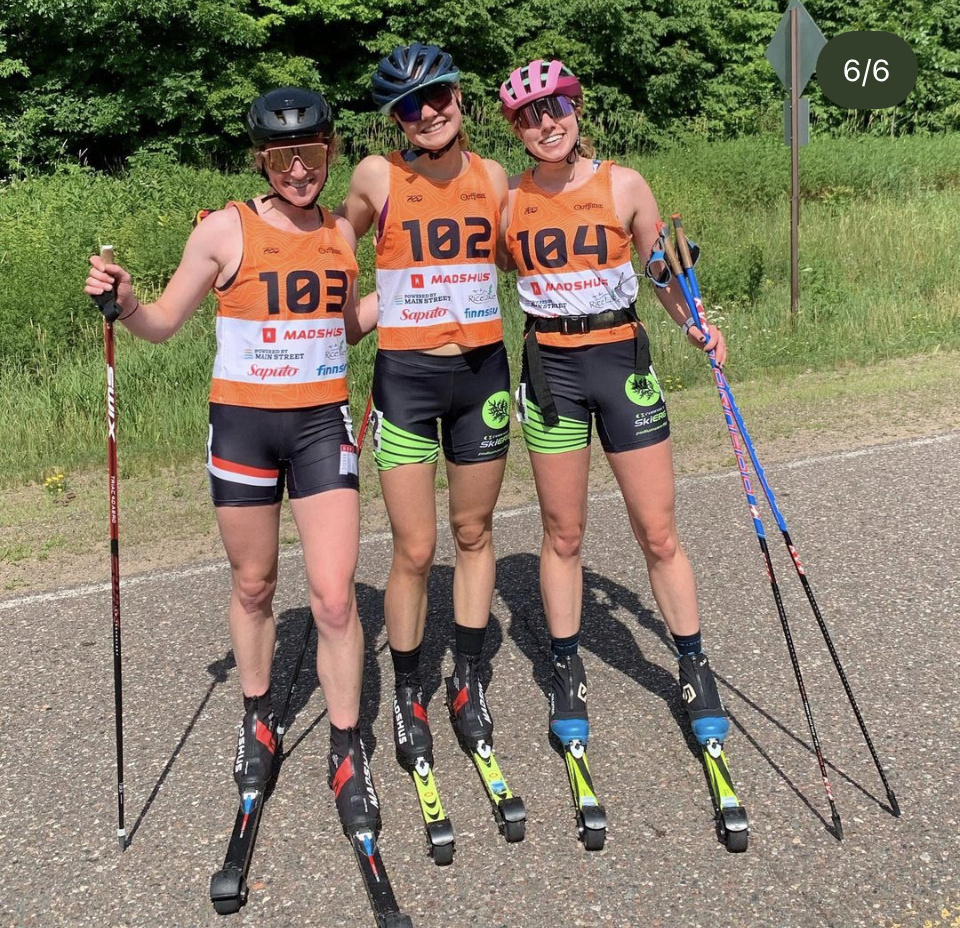 The top 3 finishers from the 15-kilometer classic.
Sprint day was a great opportunity to practice skiing through the heats and skiing relaxed at speed. A highlight of my day was getting to ski the heats on pink Marwe "leader" roller skis that Finn Sisu had brought for the qualifier winner. I decided to ski the quarterfinal and semifinal heats from the front, so I could control the pace. The final skied a bit differently, as everyone was quick off the line. I worked my way up to second at the turnaround point and ended up third at the finish line. It's been fun to see the Shoreline event grow over the past couple years and to see everyone's excitement for skiing in the summer. 
Racing the skate sprint qualifier at the Shoreline Sprints.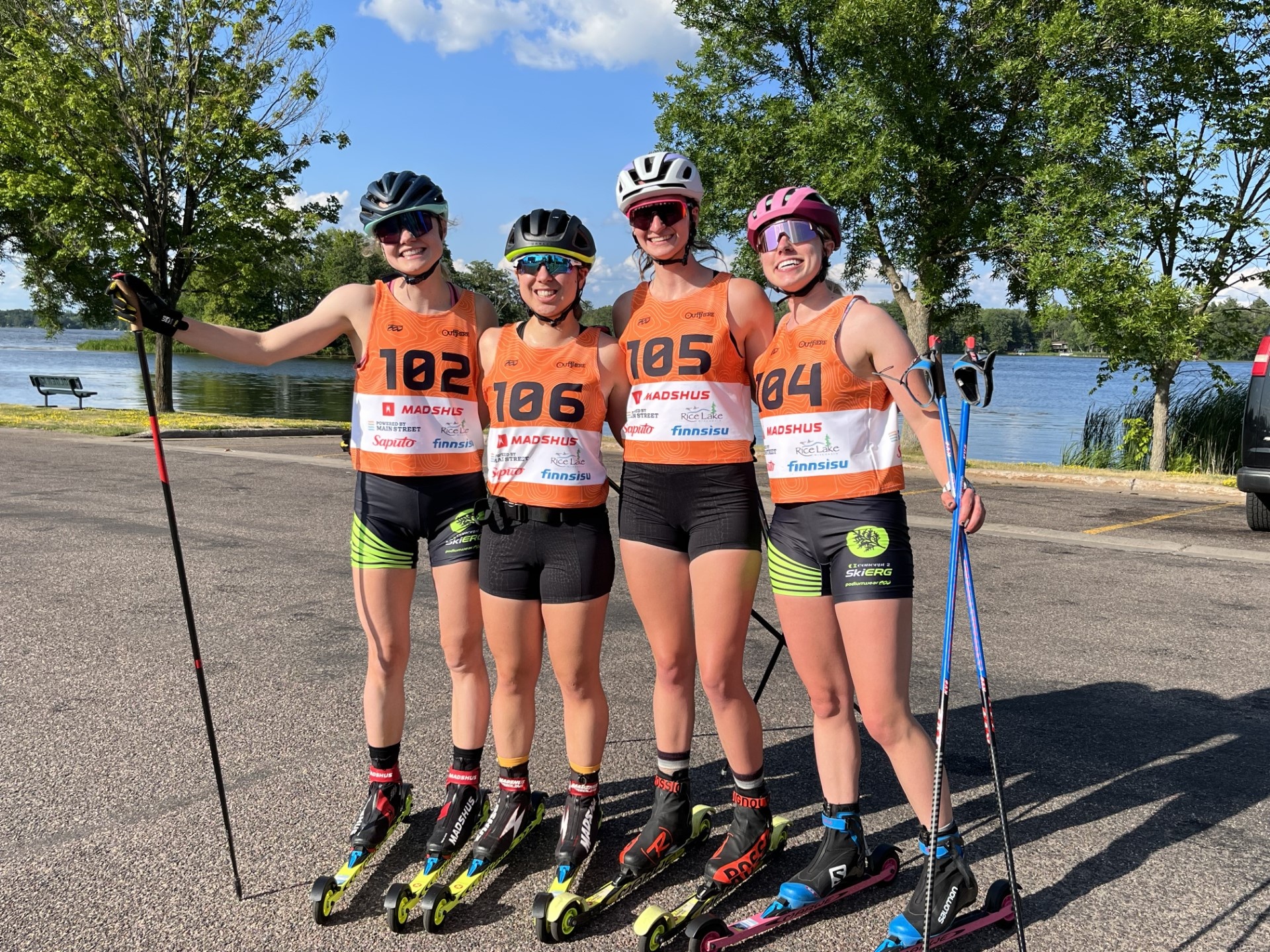 Post-race with fellow Minnesotans.
The final training extracurricular that I partook in this summer was the Beer Mile World Championships. After qualifying for the US team from a video submission showing I could run the qualifying time, I decided to stop in Chicago on my way home to Minnesota to compete at the Championships. For those unfamiliar, a beer mile consists of drinking four 12-oz beers of >5% abv, one at the beginning of the race before the first 400m lap and one before each of the remaining three laps. I definitely do not endorse this as good ski training; the one benefit is that beer miles always feel horrible, making beer-less hard intervals seem easier in the moment. The production value of this year's championships was wild, and it was cool to see how into running (and beer miling) the competitors from around the world were.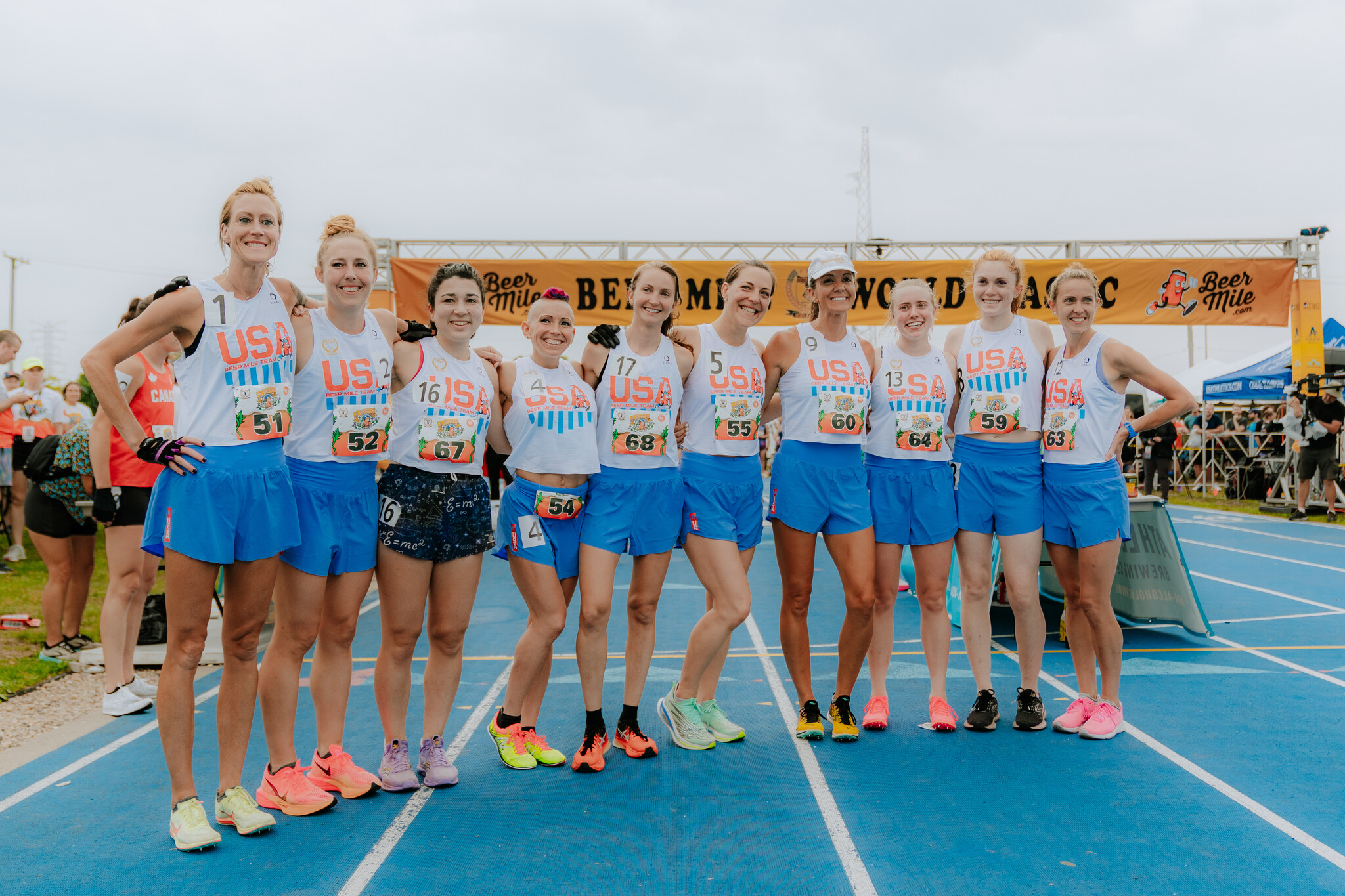 The US women's beer mile team. Credit: Christian Rasmussen.
I'm not sure I could construe the race itself as fun. The chugging portions took me a while, but the running felt surprisingly okay! I came away with a PR, going sub-seven minutes in 6:58 and placing seventh. Watching the men's race afterward was also very impressive, as the winner, a pro track runner from Canada, ran 4:30 after having one spike fall off in the first 100 meters. I firmly believe that it's important to carve out time for fun, even if it feels like this will be counterproductive for training. Breaks can act as a mental reset and allow me to be ready to push hard when it matters most.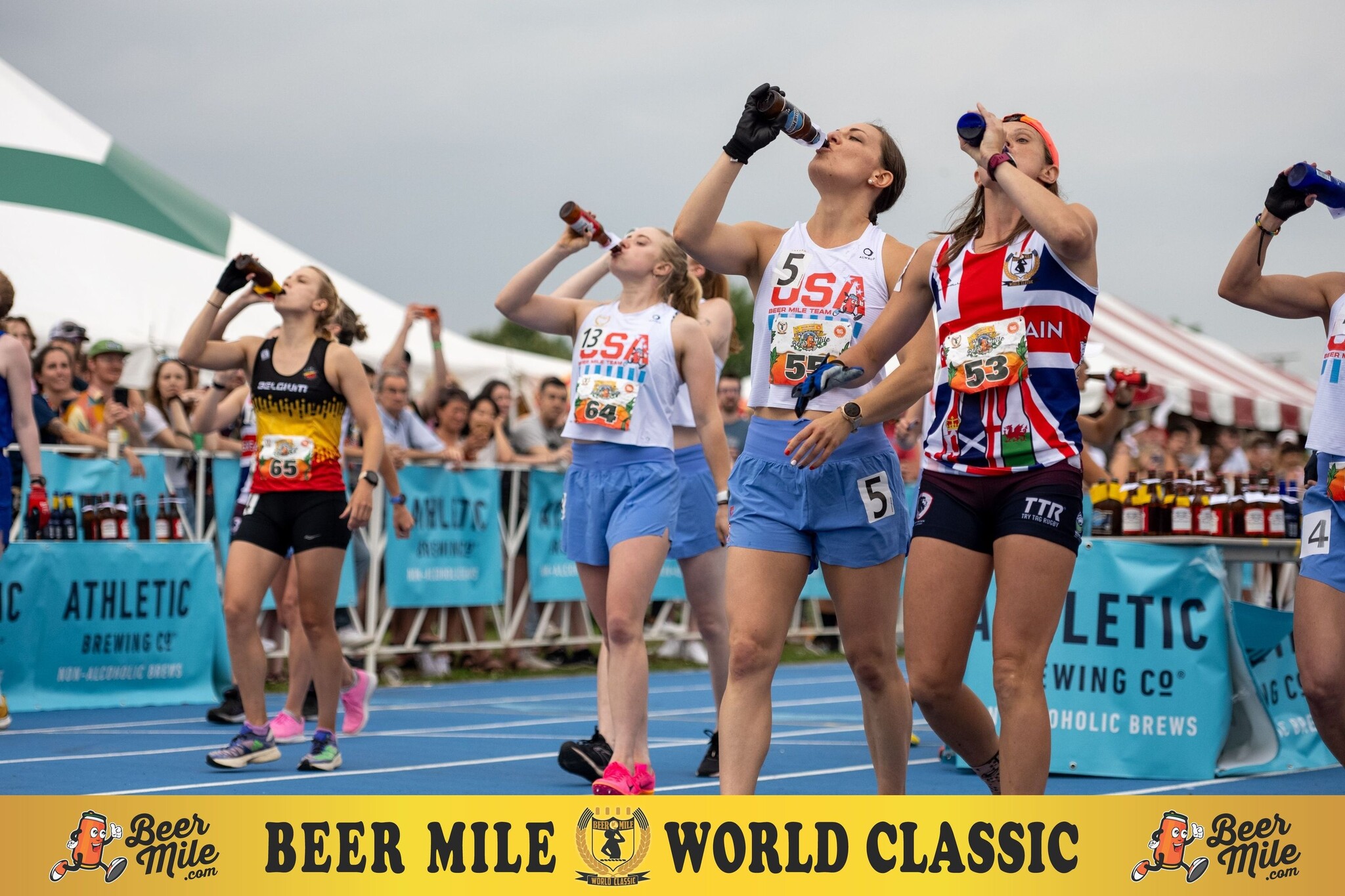 Beer mile racing at its finest. Credit: Lauren Zumbach.
With my summer extracurriculars behind me, I'm in Craftsbury working hard and preparing for the upcoming ski season. The Green Racing Project and I are heading to Utah in October for an altitude training camp, and I'm looking forward to putting in another hard training block before we hit the road.  
Until then, hope everyone is soaking up the last of the summer! 
Michaela Keller-Miller